Watch Avengers: Endgame's Director Trash Talk Chris Hemsworth And More Over Fantasy Football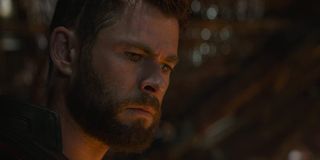 The MCU alum trash talk continues. This time, Avengers: Endgame director Joe Russo is tackling his fantasy football opponents. But instead of just going after one, he's got his sights on a whole lot of them, including Chris Hemsworth, Paul Rudd, Robert Downey Jr., and more. Here's the story.
Joe Russo is one of many taking part in the AGBO Superhero Fantasy Football League. It includes a big list of stars, like Chris Pratt, Anthony Mackie, Tom Holland, Ryan Reynolds, and more. Since Joe Russo has directed several of these actors in the past, it makes sense he'd try to push all their buttons in his latest trash talk video, released on AGBO's YouTube channel. Check it out:
Joe Russo, who's directed some of the most successful Marvel movies in the MCU, sounds distraught by his fantasy football rankings and obviously has a bone to pick with several of these actors. He argues many of them shouldn't really even be winning because they don't know what football is, like when he said Tom Holland thinks "football is quidditch." He makes a good point.
As of right now, Ryan Reynolds is standing in first place with Tom Holland and Simu Liu not too far behind. Team Russo is technically in eighth place, but he's tied right now with several other teams, like Team Pratt and Team Hemsworth. Team Russo is set to face off against Team Evans in Week 7.
Before Joe Russo threw down the gauntlet against his opponents, Paul Rudd released his own trash talk video. However, instead of going after a slew of his co-stars, he just had one target on his mind—Robert Downey Jr. In that trash talk video, he parodied Black Sabbath's "Iron Man" in what could be one of the best, most hysterical of these types of clips to date.
Robert Downey Jr., Karen Gillan, and Chris Hemsworth have all released their own trash talk video on the YouTube channel. But, of their videos, it looks like Joe Russo's is getting the most attention. At least for now.
This AGBO fantasy football league was put together by the Russo Brothers, who also lead AGBO Films. And while they're slinging dirt at each other on a weekly basis, it's at least for a good cause. In fact, the MCU stars have pledged to donate the money in memory of Chadwick Boseman.
While the Russo Brothers have put on this superhero fantasy football event together, it looks like their superhero days are behind them for the time being. Still, they have a ton of new non-superhero movie projects lined up, including Tom Holland's Cherry and a live-action remake of Disney's Hercules. For more movie news, stay tuned to CinemaBlend.
Your Daily Blend of Entertainment News
Thank you for signing up to CinemaBlend. You will receive a verification email shortly.
There was a problem. Please refresh the page and try again.