Paul Rudd Trash Talking Robert Downey Jr. In This Fantasy Football Music Video Is Hysterical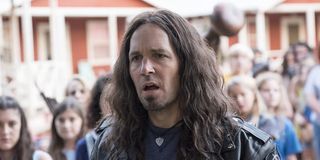 A little over a year after finalizing his war with Thanos in Avengers: Endgame, Paul Rudd has waged a new war with fellow co-star Robert Downey Jr., but this time the stakes are much lower and the jokes just as hilarious. The two have been trash-talking each other over fantasy football, and now Paul Rudd has released a hilarious music video, escalating the trash talk to eleven.
On top of being incredibly good at not aging, Paul Rudd knows a thing or two about the delicate act of comedy. He brings that charm and humor to the Ant-Man movies, and now he's using it to tear down Robert Downey Jr.'s fantasy football team in this new video on AGBO's YouTube channel. Check it out:
Look, I'm not going to sit here and pretend like I know anything about fantasy football. But what I will tell you is that this video is hysterical; I've already watched it several times. From the radical wigs to the phrase, "I love you 3000 but you're going to lose to an ant," this video is seriously on point and takes fantasy football trash talk to a whole new level.
Paul Rudd's fantasy football trash talk video comes shortly after Robert Downey Jr. threw down in his own video. In the video, Robert Downey Jr. primarily mocks the candy store Paul Rudd owns called Samuel's Sweet Shop. Take a look as a reminder below:
Obviously, all of this is in good fun, but it remains clear that these MCU alums take their fantasy football very seriously. If I had to grade these two based solely on their videos, I'd say Paul Rudd won by several touchdowns. But that likely means that RDJ is going to come back even harder.
Paul Rudd is known as a pro practical joker and comedian. Earlier this year he did another hilarious video as a "certified young person" encouraging millennials to wear a mask (which if you haven't seen yet, you should) and is known to play pranks on certain talk show hosts with a clip of the poorly reviewed 1988 kids movie Mac and Me. He's also been known to try to extract spoilers from the Avengers: Endgame directors.
Another unique quality to Paul Rudd is less about what he says and does and more about how he somehow doesn't age at all. Though he's 51 today, he looks like he hasn't aged since his early career in the 90s. It's funny and yet mind-boggling, and is the subject of countless memes.
If you're eager to see even more Paul Rudd, he's expected to return to play Ant-Man in the untitled Ant-Man 3. Unfortunately, that movie doesn't have a release date yet, so be sure to stay tuned to CinemaBlend for the latest movie news.
Your Daily Blend of Entertainment News
Your Daily Blend of Entertainment News
Thank you for signing up to CinemaBlend. You will receive a verification email shortly.
There was a problem. Please refresh the page and try again.