Why Gwyneth Paltrow Thinks Her Daughter's Sense Of 'Entitlement' Is 'Beautiful'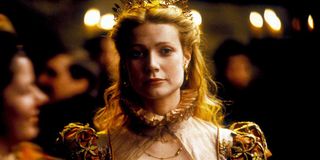 Gwyneth Paltrow has been known for her interesting word choice and commentary over the years. This week she threw out another doozy related to her famous daughter Apple, noting that her teenager is "entitled" but that she means that "in the best possible way." Normally, when we think of the word entitlement, it brings up thoughts of spoiled individuals getting the things they want without having to work for them or not understanding concepts like money or credit, but that's not exactly what Paltrow was intending here.
Instead the Avengers actress and mom of two was talking about her daughter's generation being able to grow up more as equals among their male compatriots. In an interview that came out as part of the Adobe Max conference, Gwyneth Paltrow spoke out about how herself and other females have been treated in the entertainment world throughout the course of her career. She spoke warmly of her daughter's generation, noting that they seem to have been brought up in a world that treats them more fairly or squarely, noting,
So rather than thinking her daughter is entitled due to growing up in celebrity culture, she's more talking about Apple Martin in terms of her daughter's generation and the opportunities they will now be entitled to that she lacked. Though I still have to say using that word was a choice, this isn't exactly the first time Gwyneth Paltrow's oddball way of saying things has made headlines. And it's nice to see Gwyneth Paltrow have positive things to say about Apple Martin as she's paving her way, just as her famous mother Blythe Danner has done for her.
As part of the Adobe Max talk (via InStyle), Paltrow also touched on how the #MeToo Movement really helped to sort of shape the worldview of her children's generation and has allowed women and people of color to be more open about their experiences in the workplace and elsewhere. In fact, Gwyneth Paltrow was integral to that movement when she spoke out about her experiences with Harvey Weinstein some time ago.
Gwyneth Paltrow and her daughter have been more in the news as Apple has grown into a young woman, often noted for being look-alike family members. Now that she is 16, Apple Martin has a say over what images of herself make it onto social media, and she once famously even chided her mother for not following the household rules. At the end of the day, she's growing into a young lady with her own personality and takes on life, and while she may be a little "entitled," her mom says it's in a good way.
Amazing Race & Top Chef superfan with a pinch of Disney fairy dust thrown in. If you've created a rom-com I've probably watched it.
Your Daily Blend of Entertainment News
Thank you for signing up to CinemaBlend. You will receive a verification email shortly.
There was a problem. Please refresh the page and try again.