Should James Bond's No Time To Die Skip Theaters And Sell To A Streaming Service?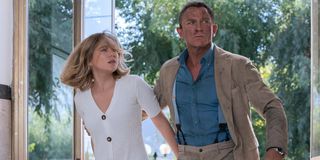 As it stands, there have been exactly two delays in the release strategy for Daniel Craig's final film as James Bond, No Time To Die, since 2020 began. The 25th 007 adventure is promising to be a huge finale for Craig, with huge promises for the future in store; promises that keep getting pushed off into the future in these unprecedented times. Which makes this latest, and particularly juicy, rumor surrounding the movie a good topic for discussion.
It turns out there might be another bidding war over the future of James Bond, and this time it's allegedly for the rights to take No Time To Die as a streaming exclusive. Let's discuss, starting with the brass tacks rumor itself.
The Rumor: Some Big Ticket Offers Are Being Made To Take No Time To Die Streaming
According to a supposed exclusive from Binged, some "monstrous sums of money" are apparently being offered to MGM and Universal in exchange for the privilege of debuting No Time To Die on the winner's streaming service. And to the shock and awe of absolutely no one, the two top bidders are Apple TV+, famous for keeping the Peanuts gang off of broadcast TV as of this year, and Netflix, which is always on the lookout in the world of streaming dominance. While this gigantic, salt-attracting rumor is something that may seem hard to swallow on the offset, it's not that strange considering recent James Bond history.
Why This 007 Rumor Doesn't Seem All That Strange
Back in 2017, the rights to the distribution of the James Bond series were up for grabs, as the exclusive agreement between MGM and Sony expired after 2015's Spectre. The eventual result of this scrum saw MGM and Universal splitting the duties, with MGM handling domestic theatrical rights and Universal grabbing the international theatrical distribution rights, as well as the home video honors.
There were tons of other bidders that took part of that free-for-all, with large studios like Warner Bros trying to park 007's Aston Martin on its lot. Not only was Apple part of that bidding, but so was Amazon and its Prime Video service. So hearing that Apple TV+ is in the mix to try and get No Time To Die into its hot hands isn't all that new or shocking in that respect. So let's talk about why this is, and isn't, a good idea, starting with the positives.
The Case For A Streaming Debut For No Time To Die
The prompt for this rumor about No Time To Die heading to streaming comes out of a very simple fear: the chance of yet another delay for the theatrical release of the 25th James Bond film. By the time director Cary Joji Fukunaga's film releases into theaters on April 2nd, 2021, there will have been roughly two years of press done for its release. We've seen tie-ins announced and delayed, the Billie Eilish title track put onto the market, as well as its music video, and even the last minute campaign that doubled down on a November release, shortly before being delaying yet again.
Fans have been waiting for this movie for some time, and if it was a choice between releasing No Time To Die onto a streaming platform or pushing the film back again, some might think the former option would be the best chance for EON Productions to maintain the level of cultural excitement surrounding this product's release. This is especially true when considering the longer the next 007 film takes to release, the longer the public will have to wait to see who the next James Bond is; despite some oddsmakers already calling the game in the favor of Tom Hardy. However, a streaming release would come with some heavy drawbacks.
The Case Against A Streaming Debut For No Time To Die
As of late, if a massive tentpole franchise like James Bond doesn't break $1 billion, at the very least, it's considered a potential failure, or at the very least a mediocre showing. Historical precedent for 007 in particular inflates those expectations, as Skyfall managed to do just that, and Spectre fell slightly short of that mark. Of course, box office results aren't everything, as No Time To Die is probably worrying its creative and marketing team for one larger reason: it's the most expensive James Bond movie to have ever been made.
Outdoing Spectre's $245 million production budget, the 25th James Bond film clocks in at an estimated $250 million. Those are pretty high stakes, and in a typical year of theatrical business, it probably wouldn' t be that hard for No Time To Die to bring in at least $650 million to "break even," should Spectre's similar situation be any indication. However, in the current, pandemic-riddled world, the biggest success at the movies has been Christopher Nolan's Tenet, which has brought in $334 million to date. Seeing as that film was estimated to spend north of $200 million on production alone, those numbers are extremely disheartening. So unless No Time To Die's "monstrous" bids come up to at least $650 million, if not higher, it's probably a horrible idea to sell the film to a streaming home. Then again, if Coming 2 America could sell for $125 million to Prime Video, there could be hope for a similarly scaled payday for Mr. Bond.
Should No Time To Die Go To A Streaming Service And Skip Theaters?
It all comes down to the question we started out asking ourselves at the beginning: should No Time To Die go to streaming? In my personal opinion, the answer is absolutely not. With the theatrical exhibition business catering its strategy of reopening and marketing around such a movie, we're going to need a movie like James Bond's latest adventure to bring people back to the movies. MGM and Universal are not going to want to lose out on the massive amount of money needed to make this picture solvent, and movie theaters aren't going to take kindly to losing out on a 007 film on their screens. Not to mention, the PVOD rentals and sales MGM and Universal could be putting onto the street instead could go a long way to helping reach the break even point.
While we're in uncertain times, moviegoers still miss going to the movies. They may not totally agree when the safest time to go back will be, but people can at least agree that the scope and style of a movie like No Time To Die is best displayed on the big screen. For all we know, this rumor is just a trick of the internet winds, and there's no real plans to bring Daniel Craig's tuxedoed swan song to home audiences. That doesn't mean it's not a conversation that should be had, as EON Productions, MGM and Universal are all anxious for the world to see what James will be getting himself into this time, and the world is just as excited to see the end result for themselves. At this point, it's not a question of if we'll get to see No Time To Die; but rather when and how.
Should current plans hold, No Time To Die will be in theaters on April 2, 2021. But if that changes, or should these streaming rumors be true enough for further discussion, we'll talk them out here at CinemaBlend. As always, James Bond will return, and we'll be there to greet him.
This poll is no longer available.
CinemaBlend's James Bond (expert). Also versed in Large Scale Aggressors, time travel, and Guillermo del Toro. He fights for The User.
Your Daily Blend of Entertainment News
Thank you for signing up to CinemaBlend. You will receive a verification email shortly.
There was a problem. Please refresh the page and try again.