Sacha Baron Cohen Also Comments On Borat 2's 'Fascinating' Rudy Giuliani Scene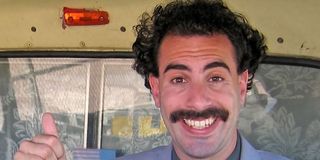 As soon as Borat Subsequent Moviefilm (or Borat 2) was announced, cinephiles knew the film would usher in a new era of controversy -- both for the film's star, Sacha Baron Cohen, and for whoever he happened to cross paths with while in production. While the sequel is predictably full of jaw-dropping moments, the most talked about scene features Rudy Giuliani caught in a compromising position. His response to the scandal has only led to more headlines, and it's something Sacha Baron Cohen himself admits is fascinating.
One of the hallmarks of the Borat franchise is the way in which Sacha Baron Cohen's fictitious alter ego, Kazakh journalist Borat Sagdiyev, can humiliate people by duping them into believing they're engaging in legitimate interviews. What's most surprising about the Borat schtick is how easily it still seems to work -- even on prominent public figures like Rudy Giuliani.
In Borat 2, actress Maria Bakalova adopts the persona of Borat's 15-year-old daughter and attempts to engage Rudy Giuliani in a, um, private conversation following what he believes to be an interview. Late in the film, the former New York City mayor and current lawyer for Donald Trump is seen entering a hotel room with her on the auspices of sharing a drink. He can be seen laying down on a hotel bed and reaching into his pants before Borat bursts into the room.
Once word about his appearance in Borat 2 got out, Rudy Giuliani tweeted that the scene in question is a "complete fabrication" and argued that there was nothing inappropriate about what went down. For his part, Sacha Baron Cohen told Digital Spy how he feels about the politician's response:
Sacha Baron Cohen then went on to say that more than anything, he wants fans to watch Borat 2 and make up their own minds about what happens on screen:
For what it's worth, Borat 2 also almost featured a moment in which the fictional journalist successfully infiltrated the White House, but it was left on the cutting room floor. Borat 2 is Sacha Baron Cohen's follow-up to the wildly controversial 2006 mockumentary Borat: Cultural Learnings of America for Make Benefit Glorious Nation of Kazakhstan. Due to the ongoing COVID-19 pandemic, like many other films this year, it debuted on a streaming platform -- in this case Amazon Prime.
Your Daily Blend of Entertainment News
Thank you for signing up to CinemaBlend. You will receive a verification email shortly.
There was a problem. Please refresh the page and try again.