Borat 2 Reviews Are In, Here's What The Critics Are Saying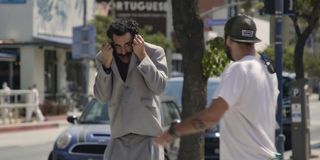 Sasha Baron Cohen is known not simply for creating characters but inhabiting them in a way that few actors even try to do. His most famous character has to be Borat, a journalist from Kazahkstan who travels the world, but mostly America, "reporting" on the world as he sees it. Borat became a cultural icon following the film, Borat: Cultural Learnings of America for Make Benefit Glorious Nation of Kazakhstan, and now he's back with the equally word count friendly sequel, Borat Subsequent Moviefilm: Delivery of Prodigious Bribe to American Regime for Make Benefit Once Glorious Nation of Kazakhstan. But how well does Borat work the second time around? Pretty well, as it turns out.
CinemaBlend's Eric Eisenberg reviewed Borat Subsequent Moviefilm and he gave the film four stars. While the Borat sequel has a significant hurdle to overcome that the first film did not, specifically, that hurdle is the fact that the first film exists, Eric felt that the new movie's attempts to outdo its predecessor largely work, with hilarious, and terrible results...
If there's already a general consensus emerging regarding the new Borat movie, it's that the sequel probably isn't as good as the first Borat movie simply because the first one came from nowhere and blew people away. Nobody really knew what they were getting themselves into the first time around, but now they do, and so there's an expectation that people are already going to have. It's difficult to truly surprise people when they are already expecting to be surprised.
Having said that, it seems likely that most audiences will still be shocked, amazed, and blown away by some elements of Borat 2, and even if they're not, they'll still be entertained because the movie is still hilarious. As i09's Germain Lussier puts it...
The fact that the world now knows Borat actually plays a part in the film itself. For the first film, Sasha Baron Cohen could just be Borat in public and nobody really knew what was happening, but he's a recognizable icon now. Borat is the same but the world has changed around him, which, in the opinion of Vulture, takes something away from the new film, but not enough to lose appreciation...
But that's not to say that everybody is in love with Borat. While many may revel in Borat's antics and the way he pokes fun at certain segments of the American populace, THR feels that doing that right now is part of the problem, not the solution...
Borat fans will love the new Borat movie. That's probably not any sort of revelation, but it does appear that those excited by the idea of more will be pleasantly surprised, and shocked, and possibly disgusted, just the way they hoped.
CinemaBlend's resident theme park junkie and amateur Disney historian. Armchair Imagineer. Epcot Stan. Future Club 33 Member.
Your Daily Blend of Entertainment News
Thank you for signing up to CinemaBlend. You will receive a verification email shortly.
There was a problem. Please refresh the page and try again.