Shazam! Director Jokes About A Costume Change For DC Hero And We Can't Look Away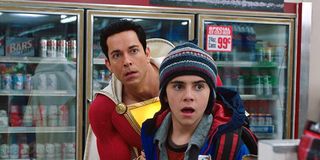 Shazam has a pretty by-the-numbers superhero costume. It's got the lightning bolt emblem on the front, the cape, the gold belt, and the red uniform that's hard to miss. Typically, whenever a superhero gets a sequel, filmmakers and studios try to tweak the old costume. So, it sounds like Shazam! director David F. Sandberg has just the idea for a costume change. And, well, it's something.
Most superhero costume changes in sequels, of course, are subtle. Sometimes there's no real explanation of why it's different; it just is what it is. Well, recently David F. Sandberg took to social media to joke about a potential costume change for Shazam! to "improve" upon the old one, and it's not subtle at all. Take a look:
Yikes. That's not what I was expecting at all. Perhaps this one should be filed under "never"? I'm going to go out on a limb and say Zachary Levi wouldn't be too keen to dawn this "new and improved" superhero costume. But that's just a wild guess.
Believe it or not, the original Shazam! costume design wasn't what he finally ended up getting. According to David F. Sandberg, the costume went through a number of versions, much of which was due to trial and error-- like Zachary Levi not being able to move his hands due to the gauntlets. But the image Sandberg just gave us on social media likely won't be another step of this evolution.
It's important to get the suits right, of course. After all, they aren't cheap and can cost a ton of money to make. Shazam!'s costume designer said last year that their costumes cost upwards of a million dollars each and they had 10 suits. So making such a drastic change would be especially shocking.
Superhero costumes have also been notorious for not being the most comfortable to wear. But Zachary Levi especially noted that when he wore the Shazam! suit for the first film, the inconvenience of not being able to go to the bathroom was the worst part of the whole process. Chances are, this new iteration would outrank that pretty quick.
Obviously, all of this is in jest and in great anticipation of Shazam!'s upcoming sequel, Shazam! Fury of the Gods. Recent global events have put a wrench in their plans to start filming, but from what Zachary Levi recently said, the plan is to start filming the sequel later next year. Anticipation for the sequel is at an all-time high.
What we know about Shazam! Fury of the Gods is pretty slim, but it's assumed it'll follow the tease at the end of the movie and have the new Shazam family team up and fight Mister Mind and Dr. Sivana. Stay tuned to CinemaBlend for the latest.
Your Daily Blend of Entertainment News
Your Daily Blend of Entertainment News
Thank you for signing up to CinemaBlend. You will receive a verification email shortly.
There was a problem. Please refresh the page and try again.