Tomb Raider 2 Director Reveals Why He Thinks Video Game Movies Are Making A Comeback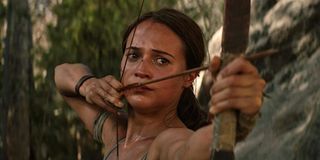 Since video game movies early days adapting properties like Super Mario Bros., they've struggled to please both video gamers and a wide audience. But, with the success of Sonic the Hedgehog and with several popular video game movies on the horizon, they could be primed for making comeback. Now Tomb Raider 2 director Ben Wheatley is providing some insight into why he thinks that is.
Back in the 80s and 90s, video games often piggybacked on a success of a movie, adapting movies into video games, like the infamous E.T. The Extra-Terrestrial video game for the Atari 2600. With so much history built up since then, a new generation is starting to do the opposite. Ben Wheatley told Polygon he thinks this could be why video games movies are seeing a new resurgence, but also why it's difficult to do:
It's no secret that video game movies have had a long history of failure. For Ben Wheatley, a big part of that is the interaction the video game provides that's taken away in a movie. Without that, video gamers might always feel like there's something missing, making it even more challenging for filmmakers to overcome that obstacle.
Despite that, filmmakers like Ben Wheatley are trying to adapt them out of a passion for the medium. For his part, Ben Wheatley, who directed Free Fire and Netflix's Rebecca, has been tapped to tackle Tomb Raider 2-- the sequel to the Alicia Vikander reboot that received middling reviews at best. He's got his work cut out for him. Not only will he have to overcome the trials of adapting a video game, but he'll have to improve on the first and hope audiences will be on board with it even though they weren't on board with the first, something Lara Croft Tomb Raider: The Cradle of Life struggled with.
Tomb Raider 2 could also have either welcome company or brutal competition, depending on how they look at it. There are a ton of new video game movies coming our way. The cast for the new Resident Evil reboot was announced recently and by the looks of it, they knocked it out of the park. On top of that, Tomb Raider 2 will also have to deal with another archaeology video game movie in Tom Holland's Uncharted.
Still, Ben Wheatley has proven to be a director to watch and seems to be a passionate video gamer that wants to inject video game magic into the movies. He might just be the one to bolster the video game movie renaissance.
Your Daily Blend of Entertainment News