The Resident Evil Reboot Has Assembled An Awesome Cast With Robbie Amell And More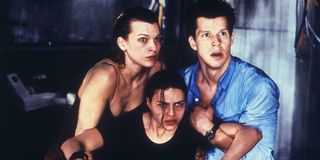 After Resident Evil: The Final Chapter ended in 2016, Constantin Films had already been working on rebooting the popular video game franchise. And Now those plans have taken a big step forward. The team behind the Resident Evil reboot has assembled an awesome cast, including Robbie Amell, Kaya Scodelario, and more.
Writer and director Johannes Roberts, known for directing 47 Meters Down, has been tapped to direct the Resident Evil reboot. According to Deadline, he's put together a doozy of a cast in hopes of harkening back to 1998 in Racoon City and staying more faithful to the original video game. Check out the cast:
Kaya Scodelario
Known primarily for her roles in The Maze Runner, Pirates of the Caribbean: Dead Men Tell No Tales, and Crawl, Kaya Scodelario will be playing Claire Redfield in the Resident Evil reboot. For those that aren't aware, Claire Redfield plays a big role against the Umbrella Corporation in the video game Resident Evil 2. So it's another major gig for the up and coming actress.
Hannah John-Kamen
You might recognize Hannah John-Kamen from her role as the Ghost in Ant-Man and the Wasp. She'll be taking on the especially huge role of Jill Valentine, one of the original characters in the first Resident Evil video game. It's another foray into genre work, with her time in the MCU no doubt helping the upcoming filming process.
Robbie Amell
An actor who likely needs little introduction, Robbie Amell will play Claire Redfield's older brother, Chris Redfield. Chris Redfield is also an early character in the video game series and continues on in several more games. Amell is best known for his role as in Ronnie Raymond/Firestorm in The CW's The Flash, with DC fans no doubt thrilled to see him join the Resident Evil cast.
Tom Hopper
Known for his roles as Dickon Tarly in Game of Thrones and Luther Hargreevesin The Umbrella Academy, Tom Hopper has been cast as Dr. Albert Wesker in the new Resident Evil movie. In the video games, he's a renowned virologist who eventually becomes a spy against Umbrella Corporation. He further proves that casting for the upcoming video game adaptation was going for experienced genre actors that will be familiar to audiences.
Avan Jogia
Of the actors on this list, Avan Jogia may have the most experience dealing with zombies, considering he played Berkeley in Zombieland: Double Tap. And for the Resident Evil reboot, he'll be playing Leon S. Kennedy. That character takes a lead role in games like Resident Evil 2 and Resident Evil 4, rounding out a strong cast of beloved characters.
Neal McDonough
A first-class working actor appearing in movies like Minority Report and Sonic the Hedgehog, Neal McDonough will play Dr. William Birkin in the reboot. Like Dr. Albert Wesker, his character is also another virologist that turns against Umbrella Corporation. Clearly the upcoming movie reboot is using plenty of iconic video game characters, rather than creating new ones from scratch.
To put it simply, this cast list looks pretty spot-on. Most fans will probably notice that Milla Jovovich's Alice is nowhere to be seen. Of course, she said goodbye in Resident Evil: The Final Chapter, but on top of that, her character was never in any of the video games in the first place. So perhaps the new movie will be a more faithful adaptation.
While it's been known for a while that the first Resident Evil movie series strayed far from the original games that inspired it, this reboot looks like it's really trying to be much more faithful to the source material, which is great news for fans of the games. Of course, the Resident Evil movie reboot isn't supposed to be the only thing fans will be getting. Last year, there were reports that a Netflix TV series is also in the works. How that will connect (if at all) with the movies is unknown, but be sure to stay tuned to CinemaBlend for the latest.
Your Daily Blend of Entertainment News