Iconic James Bond Actor Sean Connery Is Dead At 90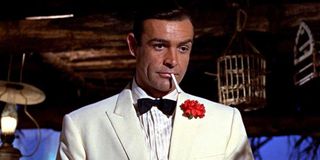 Sean Connery, the legendary Scottish actor known for his iconic portrayal as the original, big-screen James Bond has passed away. Connery reportedly died peacefully in his sleep while in Barbados after having been "unwell for some time," according to his son. The veteran actor was 90 at the time of his death.
Sean Connery's death was reported by BBC News, which confirmed the news through Connery's family. Just this past August, the actor celebrated his 90th birthday. As of right now, his family has not released a formal statement.
Connery earned numerous accolades over the course of his illustrious career. This included an Academy Award, three Golden Globes, two BAFTA Awards and a Henrietta Award.
Born on August 25, 1930 in Fountainbridge, Edinburgh, Scotland, Connery began his career as an aid at the King's Theatre in the early 1950s. This would help launch him onto a trajectory to becoming a budding stage actor, though he would initially struggle to make ends meet. The 1950s would see him mostly take on smaller roles in both film and TV productions as an extra but, but the end of the decade, Connery began to land larger roles. Arguably his biggest at that point would be the role of Michael McBride in Walt Disney's Darby O'Gill and the Little People in 1959.
Connery's career would take a major turn in the 1960s when he signed on to play James Bond in the big-screen adaptations of Ian Fleming's novels. The Scottish actor would become the first actor to portray the character in a film and, as such, he would set the tone for the various Bond performances that would follow in the decades to come. His suave appearance and relatively calm demeanor have been highlights for critics and audiences alike. And of course, his delivery of the line, "The name's Bond, James Bond." Is firmly woven into the fabric of cinematic history.
Sean Connery starred in the first five James Bond films – Dr. No (1962), From Russia with Love (1963), Goldfinger (1964), Thunderball (1965) and You Only Live Twice (1967). He would later reprise the role in Diamonds Are Forever (1971) and Never Say Never Again (1983).
Connery's relationship with the franchise was a bit strained at times, especially when he returned to play the character in Never Say Never Again. The film was plagued with production issues, which even included Connery damaging his wrist. With this, he would take a two-year break from filmmaking. Despite these conflicts, Connery did still attribute his rise to fame to James Bond.
Outside of his work on the 007 franchise, Sean Connery would go onto star in a number of other box-office hits, including The Hunt for Red October (1990), The Rock (1996) and Entrapment (1999). One of the most famous roles of his later career was that of the witty Henry Jones Sr. in Indiana Jones and the Last Crusade (1989).
In his later years, Connery would turn down key roles in iconic films, due to being disillusioned with the landscape of Hollywood. The most notable roles he turned down were Gandalf in The Lord of the Rings and the Architect in The Matrix franchise. By 2007, he had formally retired from acting and cited this as one of his reasons for not appearing in Indiana Jones and the Kingdom of the Crystal Skull. He did, however, briefly jump out of retirement to voice the lead role in Sir Billi the Vet. In 2012.
Sean Connery's legacy in both film and television is one that will never be forgotten by viewers. The actor helped lay the groundwork for what is still a viable franchise and embodied other iconic characters as the years passed. To say that he will be missed would be a massive understatement.
Connery is survived by his wife, Micheline Roquebrune, and his son from a previous marriage, actor Jason Connery. The late actor also has a grandson in Dashiell Quinn Connery.
We here at CinemaBlend extend our deepest thoughts and condolences to Sean Connery's loved ones during this time.
Your Daily Blend of Entertainment News
Covering superheroes, sci-fi, comedy, and almost anything else in film and TV. I eat more pizza than the Teenage Mutant Ninja Turtles.