Charlie Hunnam Explains Why He Bailed On Forgetting Sarah Marshall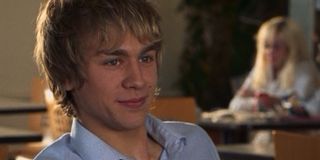 Most people probably know Charlie Hunnam from his work in Sons of Anarchy as Jax Teller, but before he dived into serious roles both in TV and movies, he appeared in comedies, primarily Judd Apatow's Undeclared. During that time, he had become good friends with Undeclared co-star Jason Segel, making him a prime candidate for a major role in Segel's Forgetting Sarah Marshall. But as it so happens, Charlie Hunnam bailed on it, even though he had the role in the bag.
Back when Jason Segel was writing Forgetting Sarah Marshall, he had Charlie Hunnam in mind to play Aldous Snow, the character Russell Brand ended up playing. Recently Charlie Hunnam told Collider he almost got the role, but decided to walk away from it, even though he knew it would rub people the wrong way. Here's what he said:
At first glance, Charlie Hunnam might seem like the wrong actor for this role considering the work he's done up to this point. However, it made a lot more sense back then because Charlie Hunnam played a similar role to Aldous Snow on Undeclared. Clearly though, Hunnam knew he wasn't right for it and wanted something else for himself.
Since then, Charlie Hunnam has carved out a much different path, working mostly on dramas and action movies, like Pacific Rim, Triple Frontier and his latest movie, Jungleland. It doesn't sound like he has any regrets either, mentioning later that he thinks Russell Brand was the best person to play Aldous Snow.
Charlie Hunnam obviously has maintained a very specific vision for his career, as this isn't the only time he's passed on a big acting gig before. He famously said no to a lead role in the steamy romance Fifty Shades of Grey. Looking back, he admits he'd be much wealthier if he had taken that job, but he doesn't regret passing on it because he always wants to do projects that excite him rather than just for the money.
Perhaps one thing fans are eager for Charlie Hunnam to do next is take on a superhero role. Since he's done genre movies in the past, he seems like a shoo-in for various superhero roles. However, it's unlikely this would ever happen, as he's said in the past he's not interested.
One has to wonder what things would have been like if Charlie Hunnam had caved and decided to take the Forgetting Sarah Marshall role. It's hard to imagine that movie, or Charlie Hunnam's career, being the same. Feel free to speculate on how things might have unfolded differently in the comments below.
Your Daily Blend of Entertainment News