Marvel's Kat Dennings Explains Why She Defended No Time To Die Singer Billie Eilish From Body Shamers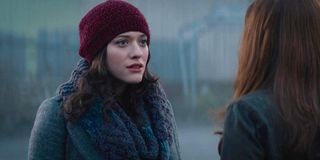 Kat Dennings isn't afraid to give you a piece of her mind, especially if you're about to body shame someone. That became readily apparent when the internet body shamed Billie Eilish after she ditched the baggy clothes and wore a tank top and shorts. Kat Dennings, known for her role as Darcy Lewis in Thor, wasn't having any of their hate and she recently explained why she went to Billie Eilish's defense against the body shamers.
She might not play a superhero in Thor, but Kat Dennings sure knows how to fight for what's right. After the Marvel actress saw how the internet treated Billie Eilish, she quickly took to social media to defend her. Now, she told ET what drove her to go against Billie Eilish's body shamers:
Body shaming, sadly, isn't a new phenomenon and is something actors, singers, and celebrities frequently have to combat online. From Celine Deon who pushed against body shammers saying she "lost too much weight" to Anne Hathaway who preemptively clapped back at body shammers when she was gaining weight for a role, there's a laundry list of stories about this happening, unfortunately.
This isn't the first time Kat Dennings has taken a stand online. The Marvel star, whose character will appear in the Disney+ TV series WandaVision, also took to social media when her Marvel colleague Chris Evans' nude photo leak, saying it was nice that the public wanted to respect his privacy but questioned why they don't want the same when that happens to women. After all, Dennings was a victim of of her own nude photos leaking online years back. As she explained,
Billie Eilish, of course, doesn't really have anything to prove to anyone. The multi-Grammy award-winning singer has done more in her career with one album than most with a dozen. And, as many Bond fans already know, the popular singer was tapped to write and sing the theme song to No Time to Die, which it sounds like was a dream come true for her.
But, good on Kat Dennings for standing up for what she believed in and being in the corner of a fellow artist. Here's hoping more will do the same when the time comes.
Your Daily Blend of Entertainment News