Why Kevin Costner Doesn't Think Of Let Him Go As A Western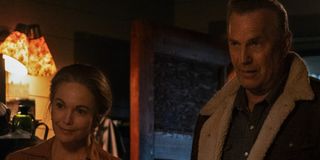 Looking at a film like writer/director Thomas Bezucha's Let Him Go, it's hard not to think of it as, at the very least, Western adjacent. The adaptation of author Larry Watson's novel that sees Kevin Costner and Diane Lane re-teaming to find their on-screen grandson in a world that feels very much like a classic Western tale set in the 1960s. But depending on who you ask, that distinction is a bit of a misnomer, and Costner himself is among those who don't think that Let Him Go fits so neatly into that particular box.
Hearing this from the man himself was an honor I was able to enjoy, as I got to speak with several of Let Him Go's key participants during a recent press day. Attending on behalf of CinemaBlend, it felt like a good time to ask how the Western has persisted in pop culture, as in my eyes, Thomas Bezucha's film feels very much like a western noir. That being said, Kevin Costner doesn't think of this movie as a standard Western, and for the following reasons:
Trying to classify a film like Let Him Go, or any movie for that matter, is always an interesting exercise in what we consider to meet the qualifications of a particular genre. Hearing Kevin Costner talk about arbitrating problems in the Midwest sounds mighty close to the sorts of things we've seen in other Costner films like Open Range and even TV shows like Yellowstone, but that same top-down description could also be applied to a film like Alexander Payne's Nebraska.
It all comes down to a subjective lens really, but even in that sort of nuanced debate, there's plenty of evidence for landing on one side of the fence or the other when evaluating how the central couple of George and Margaret Blackledge fits into this viewpoint. Which is why I continued to ask this question when possible as I made the rounds for Let Him Go, leading to a couple other answers that drew the film in an interesting light. Posing that question to star Diane Lane was just as interesting, as she seemed to share a similar wavelength to her co-star, thanks to the following answer:
Bringing in the reaction of Diane Lane to the table, Let Him Go becomes a bit murkier to place, especially when mentioning the factor of the time period. Most Westerns happen to take place in a bygone era closer to the Civil War, while Thomas Bezucha's treatment of the material changes the setting from Larry Watson's original 1951 setting to a 1962 time frame. With that sort of qualification, seeing something like HBO's Deadwood is absolutely classified as Western without much thought; while Let Him Go is very much removed from the typical timeframe one would expect. In fact, the only thing you can really be certain of with a question about why Westerns are so prevalent through pop culture is the fact that it's hard to nail things down to one, uniformed answer.
Nowhere was that more clear than when I spoke with writer/director Thomas Bezucha himself, as the Let Him Go press day allowed me to bring my question to the source. Mr. Bezucha does indeed address why the Western has loomed so large in our collective consciousness, but if you were hoping for a clear cut answer on how Let Him Go fits into the genre picture, it's still very much in the open. Per his answer, here's how the writer/director feels about the allure of the Western genre:
While you can draw your own conclusions as to whether Let Him Go is a Western or not, it's without a doubt that collaborators like Kevin Costner, Diane Lane and Thomas Bezucha respect that style of film immensely. That respect makes the prospect of calling this film a definitive entry in any genre a little more sensitive, but it only enhances the work that was done to turn Larry Watson's tense and heartfelt novel into a top-notch thriller with heart. Judge the film for yourself, dear readers, as Let Him Go opens in theaters tomorrow, with some early showings available tonight. Though if you want to see what else is coming down the dusty trail, you can check out our 2020 release schedule and look at future debuts heading to a theater near you.
Senior Movies Contributor
CinemaBlend's James Bond (expert). Also versed in Large Scale Aggressors, time travel, and Guillermo del Toro. He fights for The User.
Your Daily Blend of Entertainment News
Thank you for signing up to CinemaBlend. You will receive a verification email shortly.
There was a problem. Please refresh the page and try again.