Eddie Redmayne Confirms Fantastic Beasts 3 Filming Has Resumed And Describes The 'New Normal' On Set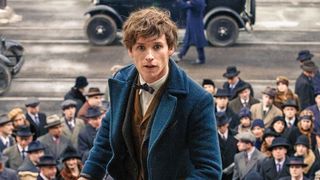 Fantastic Beasts fans have endured a bit of a roller coaster ride when it comes to awaiting the third film in the series. After a long delay, it seemed like it was finally coming together -- only for the COVID-19 pandemic to force Warner Bros. to pause production. Now, according to Eddie Redmayne, it appears that Fantastic Beasts 3 has resumed filming, and the cast and crew are adjusting to a new normal on set.
Like many other films, Fantastic Beasts 3 was put on hold in early spring. While we got word earlier this summer that production would resume soon, the official start date wasn't certain. However, now it appears that they're back in business. During a recent interview for his upcoming film, The Trial of the Chicago 7, Eddie Redmayne told CinemaBlend's Sean O'Connell that the cast and crew of Fantastic Beasts 3 are back to work:
Eddie Redmayne didn't go into great detail surrounding safety protocols on the Fantastic Beasts 3 set, although he seems to confirm that crew members are required to wear masks on set. This news shouldn't come as a surprise to those who've been watching the way Hollywood has adapted to the COVID-19 pandemic.
In July, Warner Bros. executives stressed that the studio would be enforcing strict protocols to keep casts and crews safe as they headed back into production. The Batman had to close up shop shortly after resuming filming after a crew member -- allegedly Robert Pattinson -- tested positive for COVID-19. But if anything, that's a sign that the studio's reporting system works.
Hopefully, the Fantastic Beasts 3 crew will be able to complete the film without further delay. There are still a lot of unknowns regarding what fans can expect to see in the latest installment of the franchise, though we do know the characters will be heading to Hogwarts. While cast members like Dan Fogler have hinted at big events on the horizon -- and the potential introduction of other Harry Potter characters into the prequel series -- the filmmakers aren't revealing all of the film's secrets yet. Fantastic Beasts 3 is currently scheduled to hit theaters on November 12, 2021.
Are you excited to finally get to see Fantastic Beasts 3? Let us know in the comments!
Your Daily Blend of Entertainment News
Thank you for signing up to CinemaBlend. You will receive a verification email shortly.
There was a problem. Please refresh the page and try again.