Mission: Impossible 7 Star Hayley Atwell Shares Fun New Video From The Set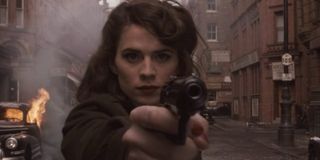 The Mission: Impossible franchise is renowned for its stunts, something it'll continue to improve in Mission: Impossible 7. Now that Hayley Atwell has joined the cast, she seems like she wants to carry on that tradition in her own way. She recently shared a fun new video from the set, highlighting her own unique stunt.
So far Tom Cruise has leaped across buildings, hung outside of flying airplanes, and flown helicopters-- among many other things while filming on Mission: Impossible movies. But, has he gone down a bumpy slide on set? I don't think so. Hayley Atwell took to social media to show off her slide riding skills in this funny video. Check it out:
Whoa, that looked like a super steep slide. Glad to see Hayley Atwell and some of the crew on the Mission: Impossible 7 set are having some fun, though. I'm sure with all the safety protocols in place, it makes their jobs a little more stressful.
Mission: Impossible 7 will be the first movie in the franchise for Hayley Atwell and her character. The MCU star hopped on the production last year and has since been working hard training for the role. After all, she's working witih the one and only Tom Cruise.
As she prepared, Hayley Atwell frequently shared photos to her social media. She has undergone some pretty extensive training that has made her look ripped. In another photo, she showed her fans that she had been training with ice skates as a Frozen homage and was doing some intense rock climbing, as well. So her character likely won't be behind a desk and will be doing some serious action.
Other than the fact that she's been training hard and going down slides in her spare time, details about Hayley Atwell's character are slim at this point. We do know, however, that her character will not be friendly to Tom Cruise's team. Director Christopher McQuarrie shared that her character will be something of a foil to "the core team," calling her character "a destructive force of nature" that will force the core team to evolve.
This time around, Christopher McQuarrie has decided to shoot Mission: Impossible 7 and Mission: Impossible 8 back to back, making them virtually one movie split into two. But will Hayley Atwell's character be in both? It sounds that way. Christopher McQuarrie confirmed she'll be returning for Mission: Impossible 8, which, all things considered, makes her character a vital cog in the story.
Since Hayley Atwell's character looks to be an important piece to the Mission: Impossible puzzle, it'll be interesting to see just how important when the movie eventually lands next year. Until then, stick around as we give you the latest news as it develops. And check out the seventh installment on November 19th, 2021.
Your Daily Blend of Entertainment News
Thank you for signing up to CinemaBlend. You will receive a verification email shortly.
There was a problem. Please refresh the page and try again.