Don't Get Excited About Seeing Agent Carter's Hayley Atwell On Agents Of S.H.I.E.L.D.'s Final Season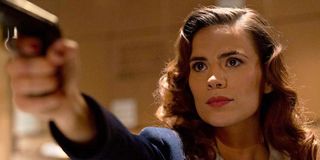 Light spoilers for the latest episode of Agents of S.H.I.E.L.D. -- "Alien Commies from the Future!" -- lie ahead.
As Agents of S.H.I.E.L.D. strolls through its final season, the show is revisiting some major points within the Marvel Cinematic Universe, thanks to its time travel plot. This even includes a pit stop in the '50s, where the gang encounters Daniel Sousa. With this, many have been wondering and hoping that there will also be an appearance from his famous partner (and former lover) – Agent Peggy Carter. However, those hoping to see the S.H.I.E.L.D. co-founder appear in the flesh are about to be disappointed.
Recently, Peggy Carter actress Hayley Atwell responded to a fan on Instagram who voiced his hope that she would appear during the final season of Agents of S.H.I.E.LD. Unfortunately, her reply a simple "no" and a peace sign:
It's a brief answer but one that does crush some potential hopes and theories that S.H.I.E.L.D. fans undoubtedly had while watching the new season. While it was never a sure thing, the idea of Hayley Atwell appearing on the show was reasonable, as she previously appeared in a Season 2 episode.
Despite not actually showing up, Peggy's influence has still been felt within Agents of S.H.I.E.L.D., especially in the most recent episode. In the latest installment, Agent Jemma Simmons impersonates Carter to gain access to a S.H.I.E.L.D. base. Unfortunately for her, her cover is blown when Daniel Sousa just happens to arrive at the facility. And as you can expect, madcap shenanigans ensue as a result.
The last time Peggy Carter was seen in the MCU was during the events of last year's Avengers: Endgame in which she ultimately ended up with Steve Rogers, who chose to return to the past. Aside from their marriage, it's unclear exactly how things panned out for the two once they were reunited but, judging by the elderly Steve Rogers' sentiments at the end of the film, everything was beautiful.
Endgame may have brought Carter's story to a mostly satisfying conclusion, but it won't be the last time fans see Hayley Atwell take part in a Marvel project. The actress is next slated to reprise her role in animated form through Marvel Studios' What If…?. Peggy Carter will be featured in the premiere episode in which she'll take the Super Soldier Serum in Steve Rogers place and become a hero in her own right. Needless to say, this will be Peggy Carter like we've never seen her before.
Although we'll still be able to see Peggy on that show, it's bittersweet that one of the biggest figures in S.H.I.E.L.D.'s history won't be coming back for Agents of S.H.I.E.L.D.'s last hurrah. On the bright side, at least Hayley Atwell was honest and didn't leave us guessing only to be disappointed in the end.
New episodes of Agents of S.H.I.E.L.D. air Wednesdays at 10 p.m. ET on ABC.
Covering superheroes, sci-fi, comedy, and almost anything else in film and TV. I eat more pizza than the Teenage Mutant Ninja Turtles.
Your Daily Blend of Entertainment News
Thank you for signing up to CinemaBlend. You will receive a verification email shortly.
There was a problem. Please refresh the page and try again.