Why Do Critics Hate Netflix's Holidate With Emma Roberts?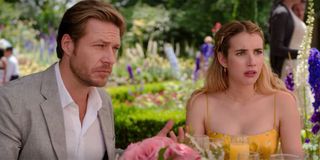 There are a lot of people who are suckers for Christmas movies, particularly of the romantic variety, and I am no exception. In fact, networks from Lifetime to Hallmark and streamers from Amazon to Hulu and even Netflix have all tried to capitalize on the trend. Recently, Netflix released Holidate, one of its more unusual ventures into the holiday space. It's earning a lot of views, but unfortunately hasn't dominated quite as hard in reviews.
In fact, the critics numbers skew decidedly negative on Holidate. Not hard negative, as if it's the worst movie they've seen ever, but it's been running between 46% and 48% on Rotten Tomatoes over the past few days, which decidedly gives it a tomato splat and not a fresh rating. On Metacritic, it's running at a meh 44%, but to me it feels a bit askew.
Every year around this time, we get a slew of feel-good holiday rom-coms intended to bring joy without making anyone think too hard. In some ways, Holidate is no exception. It's certainly not asking serious questions about relationships or bringing something new to the table in terms of its cinematography and script. It's closer to a TV movie than an Academy Award winner like Moonlight.
However, Holidate is delightfully weird, it's filled with f-bombs, it has romantic leads with believable chemistry in Emma Roberts and Luke Bracey (who are both higher-tier actors than are found in many streaming or TV rom-coms). It's a fun movie and it's hard to believe that many people could find so much fault when it brings likable and believable characters to the table and its runtime flies by.
This has long been an issue for many rom-coms however. The Holiday? Splat. Netflix's own Love, Guaranteed? Splat. The Proposal? Splat. I could go on, but the point is, there are a lot of splats.
Beloved rom-coms like Love, Actually are often barely pushing into a fresh rating; that film, in fact, has just inched into a fresh 63% positive rating. 13 Going On 30 also just scrapes into the positives. Every once in a while you get a major hit with audiences and critics alike with rom-coms like Always Be My Maybe --also on Netflix --but in general it can often be tougher for the rom-com formula to feel totally fresh and gain some additional points from the critics who see a hundred movies or so a year.
Having said this, if you are the type of person who plows through 25+ Hallmark movies a year (with maybe a smattering of Lifetime and Netflix movies in between) and you are a person who doesn't mind potty mouths or kinky conversations, Holidate will probably feel like a breath of fresh air. It also feels realistic to what dating can feel like in the era of apps, and features characters who aren't perfect and who make mistakes. It's goofy and sometimes its characters are a little too zany, but it's certainly not scraping the bottom of the barrel of all the TV rom-coms out there, despite what it's splat may lead you to believe.
So, if you haven't caught the comedy yet, it's currently streaming on Netflix and is still hanging on the Top 10 list, which means that whether or not the critics love it, it definitely seems to have found a sizable audience. Plenty of other rom-coms are currently on Netflix as the subscription streamer continues to amp up it's holidate --erm holiday-- game. If that doesn't suit your fancy, take a look at the holiday movies coming to Netflix in 2020. You can thank me later.
This poll is no longer available.
Reality TV fan with a pinch of Disney fairy dust thrown in. Theme park junkie. If you've created a rom-com I've probably watched it.
Your Daily Blend of Entertainment News
Thank you for signing up to CinemaBlend. You will receive a verification email shortly.
There was a problem. Please refresh the page and try again.