10 Best Romantic Movies On Netflix Right Now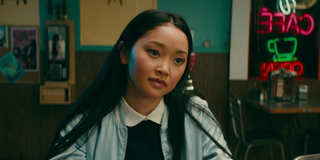 (Image credit: Netflix)
When it comes to seeking out the best romantic movies on Netflix, there are thankfully lots to choose from. From quirky comedies to intense dramas, the streaming giant has subscribers covered with an array of romances that would leave Cupid delighted.
Among them are familiar favorites like PS: I Love You and The Ugly Truth, and Netflix also currently has Rumor Has It…, starring a pre-Yellowstone Kevin Costner and post-Friends Jennifer Aniston. Not to mention Netflix's own Adam Sandler & Aniston vehicle, Murder Mystery, which is getting a sequel! When it comes to the best romantic movies on Netflix right now, they are good. However, these made our top ten as the best.
Always Be My Maybe
Comedian Ali Wong and Aquaman's Randall Park co-wrote (with Michael Golamco) and star in the beyond charming romantic comedy Always Be My Maybe. In the Netflix original movie, Wong and Park respectively play Sasha and Marcus, a pair of long-time friends who abruptly grow apart. Reunited sixteen years later, all the sparks resurface, but can they make a romantic relationship work? I will not give that answer away!
Always Be My Maybe is one of the best romantic movies on Netflix due to its hearty blend of laughs and emotional highs and lows. That is not usually the easiest balance to strike, but it's Always the case here. Ali Wong and Randall Park's dazzling natural chemistry readily makes viewers believe in Sasha and Marcus' friendship and time-honored bond. Accordingly, their romantic chemistry registers in equal measure! There is no maybe about it, you need to watch Always Be My Maybe.
Something's Gotta Give
Hollywood icons Diane Keaton and Jack Nicholson spark things up in Something's Gotta Give, playing characters who aren't immediately so fond of each other. It is a hilarious journey to get to true romance in this 2003 rom-com written and directed by romance extraordinaire, Nancy Meyers.
Things start with Diane Keaton's daughter having been in a relationship with Jack Nicholson's Harry, a womanizer who never settles down for long. After a heart attack, everything in Harry's world changes, and meets his match in a grand and humorous fashion in Keaton's feisty Erica. (Also, starring is a post-Neo, pre-John Wick Keanu Reeves as Harry's doctor!) It is tough to believe this film is sixteen years old! Something's Gotta Give doesn't give an inch when it comes to its humor (though it has admittedly been a while since I saw it). If you are into couples starting off cold before turning things warm, then this 2003 rom-com should do the trick.
The Spectacular Now
Miles Teller and Shailene Woodley deliver career-making turns in this heartfelt coming-of-age teen romance, with Teller as the hard-partying Sutter Keely and Woodley as good girl Aimee Finecky. The Spectacular Now is a drama with an intense romance at its core, and everyone who wondered what had critics raving can stream the movie right now on Netflix.
The connection between Sutter and Aimee is definitely palatable, but it is at times prone to tragic consequences. What makes The Spectacular Now one of the best romantic movies on Netflix is that it makes you step back and consider if the core relationship is a good one to be embarked on. In that regard and many more, The Spectacular Now is a thought-provoking must-watch, and Shailene Woodley and Miles Teller's chemistry will have you wondering when on earth they are planning to re-team again.
Sadece Sen
Another strong early entry, Sadece Sen centers on Ali, a former boxer with a dark past, who is befriended by Hazal, a lovely and effervescent blind woman. As their romance builds, so does the suspense and the surprises. And yes, the chemistry between leads Ibrahim Celikkol and Belçim Bilgin is downright mind-blowing. I do not know about you, but that is an absolute must when it comes to a great movie romance.
You will be hard-pressed to find a more purely romantic movie on Netflix than Sadece Sen. It is one of the best because it hits all of the buttons, and I do mean all of them. There is intrigue, excitement, and even an edge-of-your-seat tension surrounding the fate of its main characters.
To All the Boys I've Loved Before
Fans seeking out Netflix's more current romance titles will want to get in on the pop culture sensation To All the Boys I've Loved Before, directed by Susan Johnson. The film centers on the chaos that ensues when Lana Condor's Laura Jean has her love letters leaked to the public by her little sister.
There is a reason that Netflix subscribers who love rom-coms have gone gaga for To All the Boys I've Loved Before. It is a cute, sublime, and easily re-watchable romantic gem of a movie that possesses loads of breezy '90s-esque charm to anchor this lovely entry. Lara Jean and Noah Centineo's Peter spark up a lovable romance that the two leads' chemistry sets the stage for. It is no wonder that the smash hit for Netflix is getting a sequel (that will possibly have David Spade feeling feisty) and Susan Johnson returning to executive produce.
Falling Inn Love
Christina Milian's Gabriela Diaz is on top of the world when two bad things happen at the same time in the romantic Netflix original Falling Inn Love. The design firm that Gabriela works at folds, and she then breaks up with her long-time boyfriend. She is not giving up on happiness, though! After entering a contest in the dead of night, Gabriela wakes up to learn she won an inn! She heads to New Zealand, where friendly locals greet her, yet has a prickly first encounter with Adam Demos' Jake.
Thankfully, as the title suggests, those feelings prove temporary, and the duo soon begins to fall "inn" love. Falling Inn Love has all of the hallmarks of a feel-good romance replete with loads of charm, laughs, and genuine chemistry between Christina Milian and Adam Demos. It might make you want to start making your own romantic puns after watching. Or not.
About Time
Domhnall Gleeson and Rachel McAdams star in this captivating romance that would be one of the best lovey-dovey Netflix offerings in any time period. Told with the complicated framework of a time-travel premise, About Time finds its way to cut into searing emotional territory. Directed by Notting Hill helmer, Richard Curtis, About Time is a tear-jerker for reasons you may not entirely expect, since it is as much about life as it is love and romance. Its central character's questions about the human existence's various intricacies remain straightforward and relatable.
Worth noting is that this is the better of Rachel McAdams' romantic time-travel ventures. The actress' other drama in this realm, (The Time Traveler's Wife), is also available to stream on Netflix. If you have to make a choice, though, you will not want to miss About Time!
Crouching Tiger, Hidden Dragon
The global smash-hit Crouching Tiger, Hidden Dragon offers up lots of stellar sword fights on top of its powerful romance. The Ang Lee-directed masterpiece is now on Netflix, and it is among the best and most unique romantic movies on the service right now, with a star-studded cast that includes Yun-Fat Chow, Michelle Yeoh, and Ziyi Zhang.
At its core, Crouching Tiger, Hidden Dragon is a love story on top of being a breathtaking epic. It centers on the theft of a sword amidst a backdrop of romantic intrigue between multiple characters in ancient China. This is one of those movies that never fades after watching, thanks to stellar performances and sweeping choreography. It is one of the most exciting romantic movies on Netflix, with high stakes that lead up to a truly unforgettable ending.
The Lighthouse of the Orcas
Are you looking for romance and a story of self-discovery and maturation? Then our last entry, The Lighthouse of the Orcas, is the romantic Netflix movie for you! The film centers on a mother, Maribel Verdú's Lola, who travels to Patagonia so that her autistic son can connect with wild orcas. Once there, they meet Beto (Joaquín Furriel), an unfriendly ranger who begrudgingly agrees to help.
The romance that ensues between Lola and Beto is sweet, tender, unexpected, and intense. It also plays very authentically, despite its potentially quirky logline. Nothing comes easy to them or for them. The Lighthouse of the Orcas possesses a lot of moving parts, emotional layers, and heavily relies on the unspoken dynamic between its leads to tell its story. Mission obviously accomplished, since it made the cut here.
Just Friends
Let's head back to the get light-hearted side of romance again! Just Friends is a non-Deadpool-esque Ryan Reynolds vehicle that brings the romance and the laughs. Reynolds plays Chris Brander, a guy who was stuck in the friend zone back in high school by his crush, Jamie (Amy Smart). Many successful years later, a high-flying Chris gets stranded in his hometown, and he soon decides to try to win Jamie's love, once and for all!
Just Friends is sweet and, at times, hilarious to the point of laughing-crying. When it comes to romantic movies with a sense of humor, Just Friends is one of the best feel-good offerings on Netflix.
If you are in the mood for even more romantic movies, I would also suggest Our Lovers, We Need to Talk, Carrie Pilby (directed by To All the Boys I've Loved Before helmer Susan Johnson), and Like Water for Chocolate; a great romantic Netflix quadruple feature if I ever heard one, and something to keep in mind when searching for Netflix's best romantic movie offerings.
Romance can be hard enough to find in life, so let finding the best romantic movies on Netflix be one less thing filling up your plate. There is a lot of upcoming content heading to Netflix (opens in new tab) before the end of the year. Hopefully, even more romantic movies will be among them, since everything mentioned above could certainly always use the company!
Like a contented Hallmark movie character, Britt happily lives in the same city she grew up in. Along with movies and television, she is passionate about competitive figure skating. She has been writing about entertainment for 5 years, and as you may suspect, still finds it as entertaining to do as when she began.
Your Daily Blend of Entertainment News
Thank you for signing up to CinemaBlend. You will receive a verification email shortly.
There was a problem. Please refresh the page and try again.