Chris Pratt's Brother-In-Law Responds To Him Being Called The Worst Chris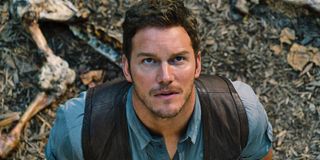 These days, it seems like if you're a celebrity, navigating online smack-talking is just a part of the job. That doesn't mean it's easy on those who fall under the Internet's ire -- especially when the scrutiny pointed at you ends up going viral. Just ask "The Worst" Chris Pratt, whose reputation recently took a beating on Twitter. The backlash toward his general existence got so big, that even other celebrities, including his brother-in-law, had no choice but to weigh in.
Some quick background for those who are may be asking: a few weeks ago, Twitter users began to debate who the worst of the Hollywood Chrises (i.e. Chris Hemsworth, Chris Evans, Chris Pine and Chris Pratt). For a myriad reasons, including his political beliefs and a recent plea for fans to vote for his movie at the People's Choice Awards, Jurassic World and Guardians of the Galaxy star Chris Pratt was deemed to be the least best.
While these kinds of conversations and lists aren't new -- CinemaBlend even did their own Hollywood Chris ranking once -- it ended up becoming one of the highest trending topics on Twitter. Eventually, some of Chris Pratt's Hollywood friends, including James Gunn and Mark Ruffalo, came to his defense, which only ruffled more feathers. While Chris Pratt himself hasn't responded, his brother-in-law, Patrick Schwarzenegger, did tell Variety what he thought about the ordeal -- and about Internet discourse in general:
Patrick Schwarzenegger made it clear that if Chris Pratt needs any advice on weathering criticism, he knows of a couple of people who might be able to help:
His dad, of course, being Arnold Schwarzenegger -- who definitely is not a stranger to doling out some wisdom from time to time. Still, Chris Pratt may be too busy at the moment to seek out advice from his father-in-law. The actor has been hard at work on Jurassic World: Dominion and recently welcomed a new child with his wife, Katherine.
Your Daily Blend of Entertainment News