Ranking The Hollywood Chrises Based On 2018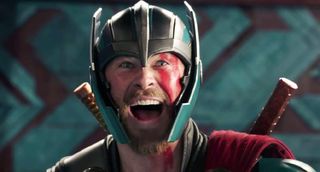 Unlike Ryan Reynolds, some of us are perfectly comfortable ranking the four main Hollywood Chrises. Chris Evans, Chris Hemsworth, Chris Pine and Chris Pratt are all beloved superhero stars, but they have not had equally strong years. We all have our personal favorites -- and for me it's Pine all day, every day. But this particular ranking looks at which Chris is having the best 2018.
When it comes to film and TV projects, after Chris Pine's Outlaw King hits Netflix this Friday, it looks like the Chrises are done giving us major content for the year. (Except for the Avengers 4 trailer, of course.) So it's a fair time to rank the lads based on box office, critic/audience reactions, and also less concrete factors like social media use (or lack thereof).
4. Chris Pine
Pluses: The most unique Chris, dares to question Marvel, bold Outlaw King full frontal
Minuse: Box office and critical disappointments, Star Trek dispute stalls next movie
This is painful. On any other year, I'd never put Chris Pine last. He is, in my humble opinion, the most fascinating Chris. He has a bold fashion sense, refuses to use social media and still rocks a flip phone. The only non-MCU Chris has a refreshing IDGAF attitude about modern mores and celebrity self-promotion. His personal life is also largely a mystery, which adds to the intrigue factor. This Chris was even bold enough to take a little shot at Marvel last year, nonchalantly questioning Infinity War as a title with "We need more war for all time?"
Chris Pine has shown some solid range in the past, from an Oscar-worthy (but not nominated) role in Hell or High Water to his scene-stealing role as Eric in Netflix's Wet Hot American Summer. He also gets bonus points for singing in various films, including in Into the Woods, as well as major props for singing about the Hollywood Chrises while hosting Saturday Night Live last year. Yes, that was last year, so it doesn't technically count here, but the man actually sang about the Chrises. It was glorious.
But there's no question this particular year hasn't been his best -- not at the box office, and not creatively. Chris Pine has only been in two movies this year -- A Wrinkle in Time and Outlaw King. The former was not a big success with critics or audiences, and only picked up $132 million worldwide off a budget reported to be over $100 million. Pine didn't have the lead role in Wrinkle, but he is Robert the Bruce in Outlaw King, which is heading straight to Netflix this Friday, November 9. Outlaw King is giving Chris Pine some pluses and minuses. It debuted to less-than-stellar reviews at the Toronto International Film Festival, except for the scene where Pine shows full-frontal nudity. Not every major franchise actor is willing to be so exposed on screen, so Chris Pine gets points for boldly going where the other Chrises have not gone before. (Chris Hemsworth used a fake penis for Vacation.)
Another minus for Chris Pine this year is the news that he may not return as James T. Kirk for Star Trek 4. Both he and Chris Hemsworth don't want to take pay cuts. Some fans think the new film doesn't need Pine's Kirk at all, others think they shouldn't make the film without him. Either way, he is the face of the rebooted franchise, and the most recent film in that franchise, Star Trek Beyond, wasn't as successful as they had hoped. Hence, the pay cuts.
Chris Pine is currently filming Wonder Woman 1984 for its release in 2020. It was certainly a plus to learn we'd see more of Steve Trevor, although director Patty Jenkins still has some 'splainin' to do on how that will work.
3. Chris Evans
Pluses: Bearded Captain America, final Cap filming, Robert Downey Jr. bromance, social media, his dog
Minuses: Only one movie this year, potentially polarizing political posts
If there's a 2019 version of this list, I fully expect Chris Evans to be on top. But Evans was only in one movie this year, a little indie called Avengers: Infinity War. So, yeah, if you're only going to be in one film, it may as well be the No. 1 movie of the year, playing one of its most popular characters. Evans had audiences cheering for his entrance as Steve Rogers/Captain America, looking particularly fine with that new facial hair. Unlike Chris Pratt, no one walked away mad at bearded Cap. Plus, Cap survived the snap, so that's a bonus.
We know Chris Evans will have a huge role in Avengers 4, which is very possibly his last time suiting up as Captain America. He tweeted a nostalgic note after filming what might've been his last scene, then had to clarify that he wasn't trying to spoil anything in terms of Cap's fate. But it's too late, and some fans were left in tears, anticipating The End for Evans as Captain America. It looks like next year Evans should be releasing The Red Sea Diving Resort, Avengers 4, and Knives Out, his crime mystery with Daniel Craig, directed by Rian Johnson. We're expecting to see Evans everywhere next year. But since he wasn't everywhere this year, we can't put him in the top two.
Even missing from the big screen for most of the year, Chris Evans had a strong presence online and on the small screen. He was on an episode of Jay Leno's Garage over the summer, showing off the custom 1967 Camaro RS that Robert Downey Jr. had made for him. Yes, Iron Man made him a Camaro. He gets huge points for that. The Cap/Iron Man bromance is a beautiful thing to behold, and the actors kept it going several times throughout the year on social media.
Chris Evans often uses his Twitter for political posts, which would mark a downside for everyone not sharing his views. But when he's not posting political stuff, he often posts fun things with his fellow Avengers, or posts photos of his adorable dog Dodger, which gets him extra points.
On a personal level, he dated actress Jenny Slate for a while, but they broke up again earlier this year. But Chris Evans being single may be an upside to anyone hoping the Boston boy will look their way next. If he's not attached, fans can still dream.
2. Chris Pratt
Pluses: Best box office, Star-Lord reaction, James Gunn reaction, Chris quiz
Minuses: Star-Lord blame, Fallen Kingdom reaction, loss of two big movies
Li'l Sebastian would be so proud of the superhero Chris Pratt has become. When it comes to 2018 box office, he leaves the other Hollywood Chrises in the dust. Three of the four Chrises starred in Avengers: Infinity War, which has earned more than $2 billion at the worldwide box office. But Pratt also had Jurassic World: Fallen Kingdom, which earned more than $1.3 billion. Infinity War and Fallen Kingdom are currently the No. 1 and No. 3 top-grossing movies of the year, respectively. No one -- Chris or Other Name -- can top that so far this year.
On the downside, many fans left Avengers: Infinity War ticked off at Star-Lord, blaming him for what happened. That's not Chris Pratt's fault, he has to play the cards he's dealt as an actor. But he gets bonus points for handling that hate [chef's kiss] perfectly. He acknowledged the fan anger on Instagram, showing a Star-Lord figurine getting, um, intimate with another Star-Lord figurine to reveal Pratt planned to go fuck himself. Classic. Pratt gets more social media points for taking Disney's "Which Chris Are You?" quiz, getting Chris Evans instead of himself, and tweeting the results with a self-deprecating note.
However, in another downside, despite its financial success, Jurassic World: Fallen Kingdom wasn't exactly universally loved. It got some pretty meh reactions and only a 51% audience score on Rotten Tomatoes. Again, that's not entirely Pratt's fault, but it takes away some of the shine. Right now, Pratt should be getting ready to start filming Guardians of the Galaxy Vol. 3 in early 2019, but that film famously lost director James Gunn when he was fired for past tweets. Pratt joined the other cast members in a statement of support for Gunn, and struck a very careful tone in interviews to show his support, while not condoning the content of Gunn's old tweets. He handled it pretty well, as well as anyone could.
Unfortunately, in addition to losing Guardians 3 filming -- at least for now -- Chris Pratt also saw his Cowboy Ninja Viking movie pulled from the release schedule right before production was supposed to begin. That's a bummer. But he seemed to fill that slot with an upcoming project with writer-director Taylor Sheridan. That partnership sounds like a perfect fit for Pratt.
On a personal note, after finalizing his divorce from Anna Faris, Chris Pratt now seems to be happy in a new relationship with Katherine Schwarzenegger, daughter of Arnold Schwarzenegger and Maria Shriver. So he's this close to be a Kennedy and Ahhhhnold's son-in-law. All told, things seem to be going pretty well for Chris Pratt.
1. Chris Hemsworth
Pluses: So many movies, great Super Bowl ad, biggest payday
Minuses: Not all films successful, Star Trek pay dispute
Yes, sweet rabbit, your new BFF is No. 1! Arguably the most naturally charming Chris, Australian Chris Hemsworth has been everywhere this year. Not all of his projects have been successful, but he gets points for stretching in so many directions.
Chris Hemsworth got on the big screen bright and early in January as lead Captain Mitch Nelson in 12 Strong. The war drama got mediocre reviews and didn't exactly light the box office on fire, but at least it performed better commercially than Bad Times at the El Royale, which just came out in October. That one pretty much flopped, but got a better critical reception. But, of course, between those two films, Hemsworth had a huge role in the biggest movie of the year -- Avengers: Infinity War. His role was larger than Chris Evans' Captain America and more appreciated than Chris Pratt's Star-Lord. Thor was both funny with his new pals "Rabbit" and "Tree," and moving in his heartfelt speeches. Out of everyone, he might've had the best overall showcase.
Speaking of Thor, Thor: Ragnarok came out on DVD/Blu-ray in March, and Chris Hemsworth had some fun promoting that on social media, showing his kids watching the film. He always seems to be filming, so it's not clear how he even makes time for his wife actress Elsa Pataky and their three children. But Hemsworth tends to show off everything on social media, and also keeps fans up-to-date when he's filming other projects. Hemsworth and his Ragnarok co-star Tessa Thompson filmed the Men in Black spinoff MIB together, showing off photos along the way. Depending on your position, you might see MIB as a minus, but I'm going with a plus. Now he's filming Dhaka from a screenplay by Avengers co-director Joe Russo, sharing more behind-the-scenes goodies.
Chris Hemsworth somehow even made time to film a mock movie trailer with Danny McBride, leaving us wishing Dundee: The Son of A Legend Returns Home wasn't just an Australian tourism ad that played during the 2018 Super Bowl. Hemsworth also made the most money of the Chrises in the past year. Despite Chris Pratt being in the top movies of 2018, Chris Hemsworth and Chris Evans are the only two to make Forbes' list of the top 10 highest paid actors in the world for June 2017 to June 2018. Hemsworth landed at No. 4 with $64.5 million, with Chris Evans just making the list at $34 million.
On the downside, Chris Hemsworth is in a contract dispute alongside another Chris -- Chris Pine. That's reportedly keeping Star Trek 4 from moving forward, with both Chrises meant to reprise their roles as father and son. Neither Chris wants to take a pay cut, which is understandable. If one of the Chrises has to go, I'm thinking it should be Hemsworth. Still, his popularity has exploded since first playing George Kirk, so you can't blame him too much for playing hardball.
Now it's your turn to rank the Chrises for 2018!
This poll is no longer available.
Gina grew up in Massachusetts and California in her own version of The Parent Trap. She went to three different middle schools, four high schools, and three universities -- including half a year in Perth, Western Australia. She currently lives in a small town in Maine, the kind Stephen King regularly sets terrible things in, so this may be the last you hear from her.
Your Daily Blend of Entertainment News
Thank you for signing up to CinemaBlend. You will receive a verification email shortly.
There was a problem. Please refresh the page and try again.