The Now-Hilarious Concern The Studio Had When Vince Vaughn Signed On For Old School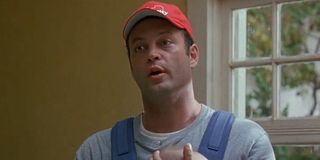 Vince Vaughn has an eclectic body of work, ranging from horror to action thrillers to comedy. While he's recently been showing up in more serious movies, like Dragged Across Concrete, he's still widely known for his comedy, such as the newly-released horror romp Freaky. So it's now pretty hilarious when you hear that the studio was concerned about Vince Vaughn signing on to star in Old School.
Old School, the Todd Philips-directed comedy made waves back in 2003, and it gave Vince Vaughn and Will Ferrell's careers a nice boost. But if DreamWorks Pictures had its way, Vince Vaughn might not have been cast. Vaughn recently told GQ that Todd Phillips had to convince those in charge to keep him on. Here's what he said:
This actually makes a lot of sense. At the time, Vince Vaughn had become more noticeable for his performances in The Lost World and in horror movies like the Psycho remake and The Cell. You can't really blame the studio for judging him from his recent work. Fortunately, Todd Phillips knew better.
At the same time, it's hard to imagine the 1996 comedy Swingers being a reason the studio wouldn't want him to be in the comedy. Sure, Swingers isn't Old School-style comedy, but he still was pretty funny in the movie and showed a lot of charisma. When it was released, Swingers made a big impact on the movie community, even though it was a relatively small film by a couple of unknowns at the time, namely Vince Vaughn and Jon Favreau. But once it landed, it put them on the map.
It was Old School, though, that set the comedy course for Vince Vaughn. Afterward, he appeared in more comedies, like Starsky & Hutch, Dodgeball, Anchorman: The Legend of Ron Burgundy and Wedding Crashers, and he later re-teamed with Jon Favreau in Couples Retreat. Of those comedies, he's said Wedding Crashers might get a sequel, as they're in early talks with a "pretty good" idea.
If I'm being honest though, with Old School hitting its 20th anniversary here soon, I'd say that movie getting a sequel with the whole cast returning would be quite a treat. Plus, now that they're all older, it would certainly lend itself closer to the name.
Your Daily Blend of Entertainment News
Thank you for signing up to CinemaBlend. You will receive a verification email shortly.
There was a problem. Please refresh the page and try again.