Netflix's Jingle Jangle: Forest Whitaker Explains Why Singing Made Him 'Nervous'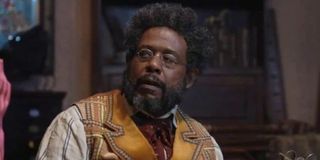 When you think Forest Whitaker, the first thing that comes to mind is probably not upbeat musicals. The Academy-award winning actor is known for taking on more dramatic and nuanced roles throughout his career. So, with Netflix's Jingle Jangle: A Christmas Journey, he's made a big shift into singing for the part and apparently that made him "nervous."
To be clear, Forest Whitaker knows how to sing. And, he's been in musicals in the past, but he put that behind him and primarily focused on acting and working on that craft. So when asked by Collider what the difference was going from being a professionally trained singer to musicals, Forest Whitaker had some thoughts:
Hearing Forest Whitaker admit to being nervous definitely says something about the challenge he decided to take on with Jingle Jangle. It can't be easy trying to go outside your comfort zone and break into new territory, but it sounds like the risk paid off. Jingle Jangle was trending on Netflix and has received warm reviews from critics.
On top of singing, Jingle Jangle includes dancing and has set pieces similar to something you might see on a live stage. Plus, the movie's warmth, whimsy, and a general sense of wonder is far different from some of Forest Whitaker's previous projects and roles, like his character, Saw Gerrera in Rogue One: A Star Wars Story.
In Jingle Jangle, Forest Whitaker plays Jeronicus Jangle, a brilliant, but eccentric toymaker that has one of his creations stolen by a trusted apprentice, played by Keegan-Michael Key. Jeronicus' granddaughter, Journey Jangle, discovers an old, forgotten invention from her grandfather and sets out to heal wounds and find the magic within.
Still, with all that said, it sounds like Forest Whitaker was able to overcome his nerves and deliver in his performance. If you're wanting a joyful and warm Christmas movie to watch this season, consider putting Jingle Jangle on your nice list.
Your Daily Blend of Entertainment News
Thank you for signing up to CinemaBlend. You will receive a verification email shortly.
There was a problem. Please refresh the page and try again.