Freaky's Misha Osherovich Talks About The Queer Representation In Horror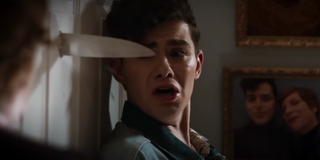 Mild spoilers ahead for Freaky.
If you've checked out Blumhouse's Freaky, chances are you've bookmarked Misha Osherovich's Josh in a tab in your brain already as one to watch. There's a lot going on within Christopher Landon's follow-up to the Happy Death Day films. It's a body-swap movie along the lines of Freaky Friday, but with a high school student switching bodies with a serial killer. It's a bloody slasher filled with memorable gory kills and it's a high school comedy. In between all of this, Osherovich makes a big impression through their character's charisma and ability to inspire sharp laughs during Freaky.
Josh is this rare self aware character who knows that he is in a horror movie. Throughout Freaky, Josh has opportunities to call out how privileged he is to make it through to the end of a horror movie (because as the odds go for the genre, it's usually only up to the final girl). Not only is it refreshing to see the filmmakers discuss LGBTQ+ dialogue in the middle of fun tributes to slashers and hilarious sequences, but the movie also cast Misha Osherovich in a role that speaks to them on a personal level. In their words to CinemaBlend:
The movie centers on Kathryn Newton as Millie, a quiet high school girl with a couple of badass friends Nyla and Josh, played by Celeste O'Connor and Misha Osherovich. Her besties go through what the audience does during the body swap that leaves Millie in the body of Vince Vaughn's Blissfield Butcher, thinking they're going to die. At first, they are well aware that characters such as themselves are usually the first to go in the horror genre, with the funny line Osherovich repeated during our interview, but the actor feels as though it's something that often rings true on film. In Freaky, the gay and Black best friends are not casualties in a major studio film! Yay, finally!
The Coming Out Scene In Freaky
Another standout moment in the film happens in the second half, when Josh's mother walks in on her son with Newton's Millie, who is tied up in a chair (since in this moment, she's really the Butcher). In an attempt to cover up the awkward scene his mother has entered, Josh comes out to his mom as straight. She quickly brushes off the fake coming out and shows concern for what's going on around him, rather than placing any extra attention on his sexual identity. Misha Osherovich commented on the scene:
The 'coming out scene' has become a popular element of movies with gay characters involved, but Freaky does something different with it that chooses to focus on the unspoken acceptance within a relationship instead of the rejection/approval aspect of the moment. Freaky touches on it in a really clever way that still gives Josh's identity visibility, but also flips the typical dialogue by giving it some levity. Here's what Osherovich said when asked about what they are most proud about playing the Freaky character:
The actor came out as nonbinary during quarantine this year after being out as gay for some time, per Variety. Misha Osherovich grew up in a conservative Russian household where they did not have a lot of exposure to television and pop culture at a time when more actors and characters were 'out' more than ever before. Also, they didn't get exposed to horror until recently.
Queer Representation In Horror Goes Way Back
The conversation linking the LGBTQ+ community to the horror genre outstretches Misha Osherovich's character in Freaky, which the actor has been given an education on since working with the filmmakers behind the new film. The Goldfinch actor also spoke about how their relationship with horror has changed since boarding the Blumhouse movie:
2009's Jennifer's Body has long been an underdog in horror cinema, especially considering its tone deaf marketing rollout at the height of Megan Fox's Transformers stardom. The cult hit was an entry point for Misha Osherovich's newfound love of horror, since the movie discusses themes of toxic masculinity and the place of female sexuality in society. Horror has long been discussed for it's subtext that has identified with LGBTQ+ community, dating back to the '30s with director James Whale, who was a openly gay filmmaker (even at the time despite how rare it was) who championed some of the most seminal horror films to this day including Frankenstein, The Invisible Man and Bride of Frankenstein.
Almost 100 years later, horror continues to explore queerness, recently with The Haunting of Bly Manor's tragic love story. Freaky has a fun take on horror's legacy on the side of its body swap antics with Osherovich, who hopes to see more of their character in a potential sequel. They continued to CinemaBlend with:
Freaky is in theaters now and will be available on PVOD in December. Check out what other horror films are coming next through 2021 with CinemaBlend's upcoming scary movies list.
Your Daily Blend of Entertainment News
YA genre tribute. Horror May Queen. Word webslinger. All her writing should be read in Sarah Connor's Terminator 2 voice over.