How Do You Get Cast In A Sacha Baron Cohen Movie Anyway? Here's How Borat 2 Worked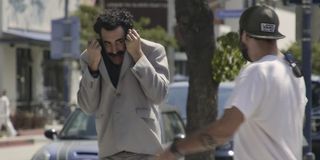 Besides being considered outrageous and funny, Sacha Baron Cohen's Borat 2 excels at making a mockumentary look convincing and authentic. We have plenty of questions after watching Borat 2, but one that sticks out is how the casting process works. Well, now one star recently shared how they got cast in the sequel.
In Amazon Prime Video's Borat 2, a.k.a. Borat Subsequent Moviefilm, Sacha Baron Cohen travels the United States playing the character Borat and meets real people on his journey, whether that be a cake decorator at a bakery or a babysitter taking care of his daughter Tutar. In this case, Tutar's babysitter, Jeanise Jones, shared with Bleeding Cool how she was cast in Borat 2 in the first place. Here's what Jeanise Jones had to say:
That's surprisingly straightforward. It also seems to show that the casting process for Borat 2 is fairly authentic, as they look for real people rather than cleverly find professional actors. Still, it raises lots of questions, like how much information they told her about the project and what they asked her to do during her scenes.
Of the characters in Borat 2, Jeanise Jones is certainly a standout who warmed many hearts. While taking care of Tutar, played by the other standout star, Maria Bakalova, Jeanise Jones learns that Tutar believes some disturbing things about her body and tries to help educate her to a more healthy viewpoint. She also confronts Borat near the end of the movie when Borat wants to give his daughter away to Rudy Giuliani. Overall, she's the voice of reason in a movie full of insanity.
Jeanise Jones spoke earlier about how she felt "duped" when she heard about actually being in the Borat 2 movie. She believed it was for real and felt betrayed when she learned otherwise. Still, it looks like some good is coming out of it. A GoFundMe page was set up for Jeanise Jones and the internet showed up, donating (as of this date) over $181,000.
Obviously Borat 2's satire and comedy heavily depends on its characters not knowing they're in a mockumentary. So it's doubtful they would ever change this casting process for Borat 3, if that ever happens. If they do cast like that again, hopefully, they get people like Jeanise Jones.
Your Daily Blend of Entertainment News
Thank you for signing up to CinemaBlend. You will receive a verification email shortly.
There was a problem. Please refresh the page and try again.