Is Borat 3 Coming, And Could We Actually Get It Fairly Soon?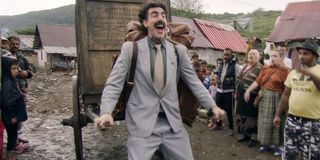 Warning: some spoilers for Borat Subsequent Moviefilm are in play. If you haven't seen that cultural learning showcase just yet, turn back if you're looking to keep it spoiler free.
Borat Subsequent Moviefilm, or as it's more readily and easily been identified, Borat 2, somehow took the world by surprise. In quick succession we went from hearing whispers that a Borat sequel was actually filmed to the knowledge that Prime Video had bought the film for distribution, and this past weekend's release shows that the public is, at the very least, ready to discuss the fallout of another Borat adventure. But recent developments have left a pretty big question lingering in the sequel's wake: could we get another movie with Sacha Baron Cohen's iconic prankster; and if so, when could Borat 3 happen?
It's not a bad question to ponder, especially when looking a little harder at what Borat Subsequent Moviefilm has continued to put on the table, even in mere promotional materials for the movie at hand. Come to think of it, recent ads opened the door to a distinct possibility that, for all we know, could be waiting in the wings. The scenario is that there might be another movie either in the works in order to keep the fun going. Here's where my head's at in this respect, and why I think we could see another Borat adventure sooner than you might think.
Borat 2 Happened Under The Radar, And So Could Another Sequel
The first stake in the seemingly frozen ground of a sequel to Borat Subsequent Moviefilm is the fact that Borat 2 itself appeared out of nowhere. Secrecy is a comedic ninja's greatest weapon, and Sacha Baron Cohen has a black belt in that very art. With that very concept planted firmly in the mind, there's a potential for anything and everything to happen. Should this film be popular enough with streaming audiences that they'd want to see more, and if those numbers are especially beneficial to Prime Video in terms of bringing in new members, another new Borat movie would be something that almost instantly would be talked about. Which is good news, because if Amazon is interested, it could probably get a sequel going really easily. Borat 2 filmed during the pandemic, after all.
A Borat Sequel Could Probably Happen Without Additional Shooting
Were Amazon and the Prime Video decision makers ever keen to make a sequel to Borat Subsequent Moviefilm, the studio would probably want to move really fast. It's kind of a lucky break Sacha Baron Cohen's character has lasted for so long in the cultural memory without a sequel, and the quicker the studio could get Borat 3 off the ground, the better. Which makes one particular fact about Borat 2 -- and other movies of this sort -- rather efficient beasts: they shoot way more footage than is shown on screen. If there's any additional photography leftover, there might be enough of a storyline for another movie with limited filming involved.
Some Pretty Wild Unused Scenes Are Debuting To Promote Borat 2
Ads for Borat Subsequent Moviefilm have been fast, funny, and very on-brand. There's been a pretty impressive turnaround for how Amazon has sold its latest Prime Video debut, and part of that strategy has come from using some scenes that weren't presented in the film proper. Examples range from the original trailer for the film including a sequence where Borat's daughter, Tutar (Maria Bakalova) rode in a chair on top of her father's truck, to another sequence where she actually found her way into the White House, as part of her own burgeoning career as a reporter. That last scene in particular sticks out as a moment that sees the young Kazakhstani journalist breaking into the inner circle of American politics and it feels like something so major it should have been included in Borat 2.
It Looks Like Tutar's American Journey Could Be An Entire Movie Itself
Everything leads to one basic fact about Borat Subsequent Moviefilm: while Sacha Baron Cohen's skills are sharp as ever, the film's breakout star has to be Maria Bakalova as his on-screen daughter, Tutar. If there were going to be another film, and if Cohen wanted to hang up the character for good, then Bakalova's co-lead would be a perfect protagonist for the future of the Borat legacy. Thinking back to the White House prank, and the fact that Tutar is missing from Borat 2 for some time, it feels like a whole second film could be culled from the unused footage from the sequel's production; and it could focus solely on the gap of time Tutar uses to become a journalist covering right wing politics.
Releasing Another Borat Movie Could Help Determine The Franchise's Future
Whether it's through another series of adventures following Borat himself, or if a Borat Subsequent Moviefilm sequel/spin-off follows Tutar's unseen journey, dropping a new film into the consciousness as soon as possible could show just where and how the franchise should go to keep moving forward. While no one knows how much Amazon spent to secure Borat 2, if it's anything as impressive as the winning bid for Coming 2 America, the studio might have made a significant investment. Having a property such as the Borat Universe of Cultural Learnings in your court isn't something to be taken lightly, as we've seen. If the company wants to get more bang for its buck, as well as determine whether a post-COVID continuation of the series is worth it, then giving us a sequel much sooner than expected could honestly be a strategic win.
Speculation is the word that rules the day, as everything we've just discussed are hypotheticals constructed around key reactions to the movie and stuff we know about what else was filmed. That said, there's enough of a case presented that, should there actually be a sequel to Borat 2, it could easily come sooner rather than later. As it stands for the moment, there are only two Borat movies, and both are available to Prime Video subscribers! So if you somehow haven't seen Borat Subsequent Moviefilm, or you want to see it again to pick up on where some of those unused scenes could be hiding, that's something you could do at this very moment.
This poll is no longer available.
CinemaBlend's James Bond (expert). Also versed in Large Scale Aggressors, time travel, and Guillermo del Toro. He fights for The User.
Your Daily Blend of Entertainment News
Thank you for signing up to CinemaBlend. You will receive a verification email shortly.
There was a problem. Please refresh the page and try again.