The Johnny Depp Pirates Of The Caribbean Petition Is A Bad Idea, But Not For The Reason You Think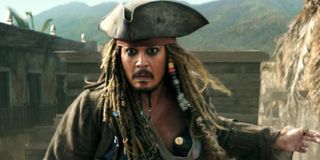 There's been a whirlwind of Johnny Depp news lately as the actor lost his libel case against The Sun and then was asked to step down from his role in Fantastic Beasts 3 by Warner Bros. Amidst this, the "Justice for Johnny" crowd is also tossing Disney's Pirates of the Caribbean into the narrative and a petition has amassed a slew of signatures so far asking that Depp return for Pirates of the Caribbean 6. However, returning Johnny Depp to the Pirates universe is a bad idea, though not for the reason you'd think.
What's Going On With The Johnny Depp Pirates Of The Caribbean Petition
A few days ago, we shared the news that zealous fans of Johnny Depp's famous Captain Jack Sparrow character had started a petition to bring the actor back to the Pirates of the Caribbean franchise. The petition gained a lot of traction, and by a lot it's nearing 330,000 signatures at the time of this writing and has reinstated a new goal of 500,000 signatures after it blew past the 300,000 signature mark. The petition reads:
Look, a lot of people love Johnny Depp in Pirates of the Caribbean. I think most of us have fond memories of at least one Captain Jack Sparrow scene or movie, but really what's stopping Johnny Depp from returning is NOT necessarily his reputation or personal life. In short, Johnny Depp may have his avid fans, but Captain Jack Sparrow-led franchise was not reeling in as much at the box office and simultaneously the movies were costing more to make.
Why Captain Jack Sparrow Is No Longer Viable For Pirates Of The Caribbean
This petition makes it clear that a lot of people feel Johnny Depp was (fairly or unfairly) booted from the Pirates of the Caribbean movies because of his personal life drama. This has included allegations of abuse by and against his ex-wife Amber Heard, depositions admitting to drug abuse during a break from filming a Pirates of the Caribbean movie, and rampant lawsuits related to money mismanagement, and that's all just recently.
All of that is a mess, but ultimately I'd argue it's not why Johnny Depp is out as Captain Jack Sparrow. His personal life may certainly factor, but even if he was a totally buttoned up gent and not the wild man we've learned way too much about in recent months, Disney would still need to reboot Pirates of the Caribbean (the current plan) or drop the franchise altogether.
So far, there have been five -- count 'em -- Pirates movies all starring Johnny Depp. The way brand spanking new franchises work is that if the first movie does pretty well, successful sequels will do even better than the first movie at the box office. Eventually, though, later sequels will see the success wear off. Pirates of the Caribbean has already followed that trajectory. Here is the box office intake for all five movies:
Why Making More Pirates Of The Caribbean Movies With Johnny Depp Is A Bad Idea
Looking at the numbers above, there are a few things we need to address. The first is that domestic interest began waning before global interest. Starting with the fourth movie (and again please note sequels tend to do better than the first movie in a franchise until interest starts to wane), domestic interest began greatly wearing off. There is an outlier there in that if you count the global intake for the fourth movie, Dead Men Tell No Tales, worldwide it was still dominating and making over a billion dollars, but the studio takes in a much smaller percentage of box office totals in countries outside of the U.S., so the domestic downtick after #3 is really the first worrying sign.
Then, it seems by the fifth movie, global opinion caught up to domestic opinion. Reviews for Dead Men Tell No Tales were more brutal then previous installations (though the movie hit on nostalgia a bit more) and the box office also followed suit. Sure, the movie made more overall than the first movie originally did and might be considered a success, but there's one more factor to consider as well.
Ballooning Budgets on Pirates Of The Caribbean
After five movies, Johnny Depp's Pirates of the Caribbean franchise is a behemoth. Budgets balloon as people working on cash cow movies ask for more money. Directors want to do more with stunts and explosions and even the catering budgets can grow to an outrageous amount, and we literally know the wild catering budget for Pirates. The franchise was already dealing with the law of diminishing returns, and to finally tie in to Depp's legal troubles, it's unlikely the ensuing press would do anything but exacerbate that.
To me, regardless of where Disney stands in relation to Johnny Depp's personal life, making another Pirates movie with a huge budget and the original cast would be a risky monetary proposition. No, I'll go ahead and take that a step further and say it's a bad idea. Clearly hundreds of thousands of petition signers disagree with me, but even if we aren't factoring in Mr. Depp's personal and legal troubles, I daresay this is one idea that is probably dead in the water.
Your Daily Blend of Entertainment News
Reality TV fan with a pinch of Disney fairy dust thrown in. Theme park junkie. If you've created a rom-com I've probably watched it.