Clea DuVall Says It's 'Remarkable' Being Able To Make An LGBTQ Film Like Happiest Season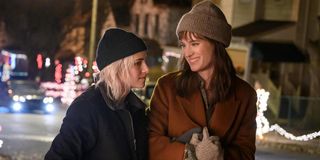 Happiest Season, a beautiful new Hulu original movie, follows a lesbian couple Harper (Mackenzie Davis) and Abby (Kristen Stewart) as they visit Harper's family for the holidays. Small problem: Abby's family doesn't know she's gay. This leads to many hilarious moments with the lengths the two go to hide their relationship, but also many raw and real moments of self-discovery. The director of the film, Clea DuVall, has shared why making an LGBTQ film like this is remarkable.
Making a film with an LGBTQ storyline isn't new to Clea DuVall. She starred in the 1999 film But I'm a Cheerleader, which is about a teen girl sent to rehab camp by her parents when they suspect that she is gay. Due to the timing each of these films were made, Happiest Season is much more honest and real, and DuVall compared the two when she was asked about her feelings on being able to create a film like Happiest Season. In her own words,
To celebrate this year marking the 20th Anniversary of Clea DuVall's cult classic LGBTQ film But I'm A Cheerleader, Lionsgate will release a Director's Cut on Digital 4K Ultra HD on December 8th. The Director's Cut has exciting new features, including an audio commentary and cast reunion. It will be available on AppleTV and wherever you buy movies.
We're seeing LGBTQ+ representation in film more and more, across multiple genres, and it's always a delight for the community when that representation is front and center like in Happiest Season. The film addresses the struggles of hiding your true identity, and that extends beyond sexuality.
Happiest Season features storylines where characters struggle to find their identities within jobs or families, creating a film that virtually anyone can find a relatable moment. It's a hilarious film, for sure, with well timed humor that doesn't allow jokes to kill the painfully honest moments. The emotional depth of Happiest Season reaches a place that many romantic comedies miss and it's that heart of the story that really makes it worth watching, and re-watching.
You can watch Happiest Season right now on Hulu. If you love romantic comedies, see if your favorites made it into our top 10 of the decade, and if you're looking for more holiday movies to keep you in the festive spirit, we've got you covered there as well.
Obsessed with Hamilton and most things Disney. Gets too attached to TV show characters. Loves a good thriller, but will only tolerate so much blood.
Your Daily Blend of Entertainment News
Thank you for signing up to CinemaBlend. You will receive a verification email shortly.
There was a problem. Please refresh the page and try again.