Croods 2 Box Office: A New Age Puts Up Some Surprising Numbers Over The Thanksgiving Holiday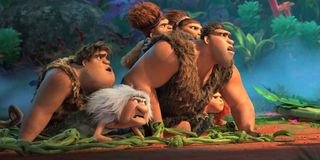 Thanksgiving weekend is traditionally a big one for Hollywood, and the reasons should be obvious. With the holiday set up on a Thursday, the work week is cut short, allowing more time for audiences to catch a movie on the big screen; and it also creates a scenario in households where extended families are gathered together and looking for any kind of way to kill time (especially when there are a lot of kids running around). Unfortunately, the on-going pandemic has had a massive impact on all things Thanksgiving-related in 2020, with theater-going most definitely proving to be no exception – but the silver lining to be found is that the biggest new release this past weekend actually managed to overperform and exceed expectations. Admittedly folks weren't expecting a whole hell of a lot from Joel Crawford's The Croods: A New Age, but it still managed to put up some surprising numbers.
In my last box office column earlier this month I made the observation that the majority of significant new releases actually playing in theaters were making between $3.5-4 million in their first three days, but the new feature from DreamWorks Animation has crushed that figure and become the biggest "blockbuster" since Christopher Nolan's Tenet first arrived at the end of summer. According to The Hollywood Reporter, The Croods: A New Age made $3.9 million on Black Friday alone, and over the course of the normal Friday-to-Sunday it made $9.7 million. Being a Thanksgiving movie, though, it got a bit of a head start at the box office, being released on Wednesday. With those numbers in, the film has made a little over $14 million thus far domestically. It is currently playing in over 2,200 screens – which is approximately every screen that is currently available to it, with major markets like Los Angeles and New York still closed.
Given this news, what should surprise few is that the audience for The Croods 2 skewed heavily in the "young" category. Per the survey system PostTrak, 41 percent of those who went to go see A New Age were under the age of 17.
A direct sequel to The Croods, which made a stunning $587.2 million when it was first released in March 2013, the film follows its titular family (Nicolas Cage, Emma Stone, Catherine Keener, Cloris Leachman, Clark Duke) as they encounter another clan, the Bettermans (Leslie Mann, Peter Dinklage, Kelly Marie Tran), who are far more evolved than they are – having established a full farm and homestead while the cave people continue to scrounge for scraps and sleep in a pile. A strange kind off class warfare kicks off, with Ryan Reynolds' Guy trapped in the middle, having both been accepted by the Croods, and having known the Bettermans as a child.
The Croods made $43.6 million domestically in its first three days, though its definitely unfair to compare those numbers to the sequel given all of the extenuating circumstances.
The trade report adds that The Croods: A New Age has made $35.8 million globally – but it's interesting to note that the film's moneymaking opportunities aren't going to be strictly relegated to theatrical ticket sales. Though its a DreamWorks Animation production, the film is being distributed by Universal Pictures, which struck a special mid-pandemic deal with AMC Theatres this past summer that will allow the studio to launch the animated sequel on PVOD platforms in just 17 days. That means that The Croods 2, in a way, has a chance to have its cake and eat it too. It's currently making more cash than expected from its contractually-obligated big screen release, and then on December 15 it will have the chance to make even more money as families who don't feel comfortable going to auditoriums right now will rent and/or purchase it digitally. When all of the dust settles the film won't be looking at half-a-billion in purchases, but it's not impossible to believe that it will turn at least some kind of profit.
One downside is that it's likely that we will see a rather steep decline in box office sales for The Croods 2 from this weekend to the next one. It's easy to imagine that the numbers are particularly frontloaded in this circumstance, with all of those who are willing to go to a theater to see it right now likely having seen it at some point during the extended holiday weekend.
With most other big releases scared off into 2021, The Croods: A New Age is one of the last major releases of 2020, though there are some notable ones coming up at the end of next month. Following multiple delays, Patty Jenkins' Wonder Woman 1984 will be heading to theaters and HBO Max simultaneously on Christmas Day. Providing it some competition that same day will also be Paul W.S. Anderson's video game adaptation Monster Hunter, which will start as a big screen exclusive. We'll continue to provide you with major box office updates as we get closer to the end of the year, so stay tuned here on CinemaBlend.
Assistant Managing Editor
NJ native who calls LA home and lives in a Dreamatorium. A decade-plus CinemaBlend veteran who is endlessly enthusiastic about the career he's dreamt of since seventh grade.
Your Daily Blend of Entertainment News
Thank you for signing up to CinemaBlend. You will receive a verification email shortly.
There was a problem. Please refresh the page and try again.