Upcoming Emma Stone Movies And Shows: Cruella, Croods 2, And More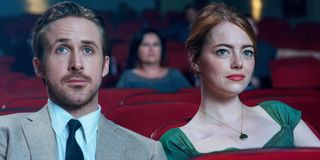 Few modern actresses have made as big of a leap as Emma Stone has throughout her exceptional career. Once a prominent supporting player in Superbad, The House Bunny, and Crazy, Stupid, Love., Stone proved her star power with 2010's Easy A, and she continued proving her star power in the years to follow through acclaimed performances in The Help, The Favourite, Battle of the Sexes, Netflix's Maniac, Birdman, and La La Land, for which she won her Oscar.
There's no doubt that Emma Stone is a very capable talent, showcasing a flair for comedy, drama, musicals, historical biopics, and more. And the A-list star has a number of promising upcoming movies to add to her growing resume, including (but certainly not limited to) The Croods: A New Age, Cruella, Babylon, and a couple more projects where she'll sit in the producer's chair.
Certainly, if you're an Emma Stone fan, you have a few movies to look forward to in the future. Here's what coming up next.
The Croods: A New Age - November 25th, 2020 (Completed)
The dawn of a new age is soon set to come. Seven years after their first movie landed in theaters, The Croods return with DreamWorks Animation's latest sequel, The Croods: A New Age, which finds returning voice cast members Nicolas Cage, Catherine Keener, Clark Duke, Ryan Reynolds, Cloris Leachman, and Emma Stone joined by newcomers Peter Dinklage, Leslie Mann, and Kelly Marie Tran (Star Wars: The Last Jedi). Following the newfound adventures of our titular family and their surprise discovery of the Bettermans, who claim to be more advanced and, well, better than our leads, this CG-animated sequel has leapfrogged considerably across the calendar, particularly with September and December slots previously set in place.
In the midst of this ongoing global pandemic, it's unclear if this November release date will stick, but nothing has changed so far for Joel Crawford's feature directorial debut.
Cruella - May 28th, 2021 (Post-Production)
Similar to how Sleeping Beauty's main antagonist got her own side of the story told in 2014's blockbuster, Maleficient, and last year's sequel, Maleficient: Mistress of Evil, Emma Stone will tell us the tale of Cruella de Vil, the woman who would become the central antagonist in 1961's One Hundred and One Dalmatians (as well as 1996's live-action remake and its 2000 sequel with Glenn Close), in the upcoming Cruella. Considering that this title character is such an iconic creation in Disney's animation history, Stone has her work cut out for her with this new movie — though the actress appears eager to take on the challenge nevertheless.
The movie wrapped up production last year, and it's currently in post-production — presumably near completion, too. Due to the coronavirus pandemic, however, it's been pushed back to May 28th, 2021. So far, all we've got from this movie is the photo above.
Untitled Greek National Opera Project - TBA 2021 (Post-Production)
Last January, Emma Stone had a chance to reunite with The Favourite director Yorgos Lanthimos for his next project. But it's not a feature. Rather, it's an intriguing short film. Currently untitled, this piece for the Greek National Opera Project is already shot and expected to come out next year. Part of The Artist on the Composer series, this new short film (produced with Neon) was once expected to be presented with an installation in May 2020. Those plans were dashed, however, due to the COVID-19 pandemic.
Now, it's expected to be screened sometime in 2021, though the date remains uncertain. Additionally, the plot of this Greek National Opera Project is currently unknown, though Yorgos Lanthimos also wrote and produced his short film. French actor Damien Bonnard (Dunkirk) co-stars alongside Emma Stone.
Babylon - December 25th, 2021 (Pre-Production)
Certainly, La La Land was a triumphant success for Emma Stone, resulting in the actress earning her Oscar for her outstanding lead performance in this modern Hollywood-based musical. Therefore, it's not terribly surprising to see the star reuniting with writer/director Damien Chazelle. If anything, it's surprising that they haven't worked together again sooner. Just as Chazelle reteamed with Ryan Gosling for 2018's First Man, Chazelle will, once again, join forces with Stone to make Babylon, a Golden Age of Hollywood drama that's set to co-star Brad Pitt.
Also rumored to feature Tobey Maguire, who's on-board to produce, Babylon would find Emma Stone playing Clara Bow, an early sex symbol and Hollywood icon who was considered the first "it" girl. The project was slowly coming together last year, with Paramount expected to foot the bill. It's currently in pre-production and hoping to be ready by next Christmas.
Love May Fail - TBA (Announced)
Back in late 2015, it was announced that Emma Stone was set to star in Love May Fail, based on the book of the same name by Matthew Quick (Silver Linings Playbook). Telling the story of a woman who escapes her cheating husband by returning to her South Jersey hometown, where she tries to help her embattled high-school English teacher, the screenplay comes from Mike White (School of Rock) and it was previously set to be directed by Sam Raimi. While it would've been a lot of fun to see The Amazing Spider-Man actress working with the Spider-Man director, Raimi left the project and there has been no word yet on who will replace him. Therefore, one might reasonably assume that this project is completely stalled — perhaps even for good.
Considering that it was announced prior to Emma Stone's Oscar win, her schedule is a lot busier than it was before, which might factor into its delay.
The Curse (Showtime TV Comedy - Announced)
In December 2020, Showtime announced that they ordered a new half-hour comedy series called The Curse, which stars Emma Stone, who's also executive producing, along with Josh and Benny Safdie (Uncut Gems). Described as a "genre-bending" scripted comedy, the series will follow a newly married couple who co-star on a "problematic new HGTV Show" and are trying to conceive a child while also dealing with an alleged curse, which disturbs their relationship. The pilot will be directed by Nathan Fielder. As this is recent news, there's no word yet on a premiere date for this new Emma Stone TV show.
Zombieland 3? - TBA (Proposed)
Will we get Zombieland 3 someday? It's still too early to say, but the folks involved with the first two movies are at least inclined to come back... if not immediately. There was a decade-long wait between 2009's horror-comedy Zombieland and last year's Zombieland: Double Tap, and according to director Ruben Fleischer, it might take three decades total to finish the Z-Land trilogy. He admits that Emma Stone proposed the idea of returning once every ten years to make a new Zombieland movie, which would certainly be an interesting way to go forward with this recent action-comedy franchise — especially one that's based around the braindead apocalypse.
Nevertheless, this is an idea that's being proposed maybe in jest, so there are no guarantees that this threequel will ever come to be. But it's very amusing to imagine the Zombieland franchise as being something akin to the Before trilogy... with a bunch of flesh-eating zombies running around.
Producer: When You Finish Saving The World - TBA (Pre-Production)
Having proven herself as a highly-demonstrable actress, particularly with an Oscar to her name, Emma Stone is ready to jump into the next phase of her career: producing.
Joined by her husband, Drew McCary, Emma Stone's first film in the producer's chair will be When You Finish Saving the World, Jesse Eisenberg's feature screenwriting and directorial debut. A24's upcoming drama will follow a similar mother-son story heard in Eisenberg's Audible audio drama of the same name from earlier this year, and the film version is slated to star Finn Wolfhard and Julianne Moore (who's also a producer). Wolfhard was heard in the original audio version of this story alongside Eisenberg and Kaitlyn Dever.
While Emma Stone will have an active hand in the making of this new film, it appears that she's staying strictly behind the camera this time around. Of course, that's subject to change once the cast gets finalized. But for now, the first-time producer is keeping her producer hat glued to her head.
Producer: The Shadows - TBA (Announced)
In addition to producing Jesse Eisenberg's forthcoming directorial debut, Emma Stone and husband Drew McCary are also slated to produce a TV adaptation of The Shadows, based on the debut thriller novel by Stacy Willingham. Details are limited otherwise, as it was reported by Deadline, though we should hopefully be hearing more about Stone's work as a producer in the months and years moving forward. Through their newfound production company, Fruit Tree, it's clear that this married couple wants to produce a variety of exciting new movies and shows — both scripted and documentary-related — under their banner, particularly with some expansive, dynamic stories at the forefront.
Hopefully, Emma Stone's work as a producer proves to be as diversified and distinguished as her work as an award-winning actress. She clearly has a sharp eye for talent and collaborators. We hope that only continues as her career moves forward.
We'll have to keep an eye out for more promising and exciting movies and shows set to star actress/producer Emma Stone in the days, months, and years ahead. It's clear that she has a desire to expand and evolve as a performer, bringing new and distinctive characters to her continuously evolving filmography. For now, though, you can look forward to these titles (or potential titles) in the near future. And you can always be sure to check back here at CinemaBlend for more news and information about the starlet (and more). We should hopefully expect many more intriguing and worthwhile projects from the actress in the not-too-distant future.
But let's hear from you! Do you love Emma Stone? What upcoming project of hers are you most looking forward to seeing in a movie theater near you someday? As always, be sure to let us know in the comment section below!
Your Daily Blend of Entertainment News
Will is an entertainment writer based in Pittsburgh, PA. His writing can also be found in The Playlist, Cut Print Film, We Got This Covered, The Young Folks, Slate and other outlets. He also co-hosts the weekly film/TV podcast Cinemaholics with Jon Negroni and he likes to think he's a professional Garfield enthusiast.