Upcoming Ryan Reynolds Movies: What's Ahead For The Deadpool Star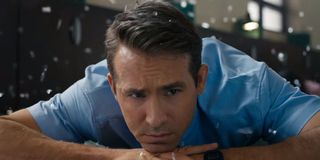 Ryan Reynolds is a busy man. The Deadpool actor keeps himself busy with his commitments to the Merc with a Mouth, but he's also lent his talents to several other high-profile movies of late, including Detective Pikachu and 6 Underground, most recently. Next, the actor will star in the new blockbuster, Free Guy, and he's got a few more sequels in store, as well as a few original projects as well. But these films are all in various stages of development, with a few only being announced right now.
It's also hard to know which of these projects will remain impacted by delays and other setbacks and woes related to the ongoing COVID-19 pandemic. In any case, Reynolds certainly has a fine number of projects in the works. Let's see what's in store for Mr. Reynolds.
The Croods: A New Age - December 23rd, 2020 (In Production)
As this article will show, Ryan Reynolds has quite a few sequels waiting for him (or potentially waiting for him) in the near future. While The Croods isn't the movie that audiences commonly associate with the A-lister, Reynolds played a prominent role in the original 2013 Dreamworks Animation family film. Now, alongside Nicolas Cage, Catherine Keener, and Emma Stone, Reynolds returns to the voice booth for this animated sequel.
At the moment, the sequel is considered "in production," though it's expected to come out on December 23rd — just in time for the holiday season. Alas, with no promotional materials to date, it's hard to believe this 2020 release will be etched in stone. But right now, The Croods: A New Age hasn't moved its release date. Similar to Trolls World Tour, this sequel could end up being a VOD exclusive.
Free Guy - August 13, 2021 (Post-Production)
Up next, Ryan Reynolds stars in Free Guy, an original action-comedy which sees the actor playing a non-player character (NPC) in a game called Free City (a mix of Grand Theft Auto and Fortnite) who becomes aware of his place in a video game and takes it upon himself to be the hero instead. This is certainly a very fun premise, and the trailers showcase Reynolds' signature goofy humor in this cartoony world.
Hopefully, this new comedy, which isn't dissimilar to Wreck-It Ralph, will serve as another fun starring vehicle for the comedic performer. Certainly, Reynolds hasn't been shy about how much he liked making this movie, which should hopefully be a sign of confidence. Originally slated for release on July 3, 2020, Free Guy has been pushed back to August 13, 2021, and there's no guarantee right now that this release date will stick.
The Hitman's Wife's Bodyguard - August 20th, 2021 (Post-Production)
The Hitman's Bodyguard became an unlikely hit when it premiered in 2017. While it was met with tepid reviews, it became a box office hit, earning a crowd in no small part thanks to the high energy chemistry shared between Samuel L. Jackson and Ryan Reynolds. Thus, a sequel is on its way.
The Hitman's Wife's Bodyguard once again stars Jackson, Reynolds, and Salma Hayek, as well as Frank Grillo, Richard E. Grant, Antonio Banderas, and Morgan Freeman. The sequel was filmed last year and it was expected to hit theaters on August 28th, but COVID-19 prevented the studio from making that release date happen. Now, it's set to be released on August 20th, 2021, a week shy of a year later. That's a long while to wait, though with theaters in an unsure state right now, it's an understandable one.
Red Notice - TBA 2021 (Filming)
Next year, Ryan Reynolds reunites with Netflix for a new action blockbuster, Red Notice. This new action-comedy-thriller also stars Dwayne Johnson and Gal Gadot and sees Reynolds playing the world's greatest con-man who is being hunted down an INTERPOL agent (Johnson), who happens to be the world's greatest tracker. Whether or not the movie itself will be great is still undetermined.
Production started in January but it was halted in March due to the COVID-19 pandemic throughout Italy, which is where filming was expected to continue following its initial Georgia shoot. Filming was then expected to resume in September, though Johnson tested positive for COVID-19. Therefore, it's now unclear when the production will begin again. Currently, Red Notice is expected to premiere on Netflix sometime in 2021. Probably late 2021 to match last year's 6 Underground's release. But with all these delays, that's uncertain.
Untitled Ryan Reynolds/John Krasinski Film - November 17, 2023 (Announced)
Ryan Reynolds is set to star alongside Jack Ryan's John Krasinski in a movie that's described as a "fantastical comedy." According to a report from The Hollywood Reporter from October 2019, Paramount was in a bidding war to acquire the movie, which would not only star Ryan Reynolds, but would also star John Krasinski, who's writing, directing and producing the film. The story follows a man who can see people's (sometimes forgotten) imaginary friends and interact with them. Forgotten imaginary friends apparently sometimes turn evil, which leaves Ryan Reynolds' character the task of trying to protect the world from them. In THR's report, the movie was aptly titled Imaginary Friends, however that may not be the title anymore. In April 2021, when Paramount announced the November 17, 2023 theatrical release date for the film, its current status appears to be "untitled." So stay tuned for more updates on this one.
Untitled Netflix Time Travel Project - TBA (Pre-Production)
Ryan Reynolds and Shawn Levy really enjoy each other's company, it seems. The actor and director worked on this year's Free Guy and now they're set to reunite for an upcoming untitled time travel movie for Netflix. Once called Our Name Is Adam, this new movie would supposedly follow two men named Adam who unite for reasons unknown. It's an intriguing premise, and it's easy to see how Reynolds could have fun working off himself.
Their involvement in this movie only came to light earlier this year, and they're still putting the final touches on Free Guy, it would appear, so we might not get this movie for a little bit. And that's not taking into account restrictions imposed by COVID-19, which might prevent cameras from rolling for this movie. In any case, Levy and Reynolds clearly are eager to work together again.
Everyday Parenting Tips - TBA (Pre-Production)
For my money, Simon Rich is one of the best screenwriters working today. His high concept comedy mixed with warm emotional sincerity makes for a highly enjoyable mix, as seen in Man Seeking Woman, Miracle Workers, and, most recently, An American Pickle. Next, he'll bring his New Yorker short story, "Everyday Parenting Tips," to the screen with the help of Ryan Reynolds and producers Phil Lord and Chris Miller.
This new comedy will see what it is like to try to incorporate parental guidance during a monster upbringing. It's an entertaining premise, and it's one that Reynolds could play up well. To make things even better, it's set to be directed by Paul King (Paddington). These are a great group of collaborators. Hopefully, this new comedy will come together in fine fashion. Though, right now, it's currently in the very early stages of development.
Clue Remake - TBA (Pre-Production)
1985's Clue is one of the rare board game movies that actually works. Therefore, it might be a bit foolhardy to try to recreate that success. But hey, that hasn't stopped Hollywood before. Over the past few years, there have been at least a few attempts to bring Clue back to the big screen. Nothing has come into fruition, thus far, at least, but this latest push might actually move forward.
Ryan Reynolds has been attached to the film since at least 2018, and he brought on his reliable Deadpool screenwriters Rhett Reese and Paul Wernick to shape up the screenplay. At one point, Jason Bateman was set to star and direct the film, though he has since dropped out. Now, James Bobin (2011's The Muppets) is signed on to direct this board game remake, and he's currently in the midst of shaping it up.
Christmas Carol - TBA (Pre-Production)
There have been dozens of adaptations (movie or otherwise) of Charles Dickens' classic 1843 novel A Christmas Carol throughout the years, but how many of them star Ryan Reynolds and Will Ferrell? None. Until now (potentially).
Nearly one year ago, Ferrell and Reynolds signed on to star in a new take on the timeless holiday tale, though it's unclear what roles they'll play in this retelling. Is Ferrell playing Scrooge? Is Reynolds playing Bob Cratchit? Visa versa? Neither? Details have been kept secret for the time being, though it's set to be directed by Sean Anders and John Morris, who previously helmed Daddy's Home. With their involvement, along with Ferrell and Reynolds, one assumes this version will be more comedic in nature. But it has also been revealed that it'll be a musical. Sounds like jolly good tidings! Currently, it's believed to be in pre-production.
Deadpool 3 - TBA (Announced)
When it comes to Ryan Reynolds' future, the million-dollar question is centered around Deadpool 3. It's no secret that these movies were enormously successful for the actor/producer, and he's heavily involved with both installments. But when Fox merged with Disney, the future for this foul-mouthed character was left uncertain.
While Disney claims they'll keep Deadpool as he is, it's hard to believe that they'll leave the character as he is now. And it is hard to imagine the fans being eager to see a Deadpool movie where he isn't true to himself. If the plan is to put Deadpool inside the MCU, it would be even harder to imagine the character being integrated into this wide audience cinematic universe without some serve changes to his crass ways. It's with that in mind that Deadpool 3 is currently a big shrug, though it's certainly been discussed.
Detective Pikachu 2 - TBA (Rumored)
While he wasn't the casting choice that some folks expected when the project was announced, Ryan Reynolds provided an appealing performance in the title role of Detective Pikachu, allowing his prominent grown man voice to play well against the character's adorably fuzzy appearance. As the first live-action Pokémon blockbuster, Detective Pikachu was an intriguing experiment to see if film audiences young and older would go to the theater to see their favorite characters on the big screen. At least domestically, however, the movie didn't meet his expectations — though it did well enough overseas that the possibility of a sequel isn't unreasonable.
Talk of a sequel has circulated since the original's release, though it hasn't been greenlit or possibly even discussed with any serious intention. Certainly, with a universe as expansive as Pokémon, you'd like to see a sequel. But nothing is official yet.
6 Underground 2? (Speculated)
Now, this one is purely speculative. At the moment, there are no confirmed plans — or even concrete rumors — about Netflix greenlighting a sequel to Michael Bay's 6 Underground, which was released this past December. But when he was asked if he would do a sequel to the streaming blockbuster, Reynolds didn't hesitate to say that he'd love to work with everyone involved for another rodeo.
While he would be "thrilled" if it came together, there's nothing set up at the moment — so far as we can tell. Even if it does end up happening, it'll take a few years, at least, for it to come together. It's not a guarantee that Bay will be involved. But it sounds like something Reynolds has given at least a passing thought, and it sounds like he will jump at the chance to do it.
Which Ryan Reynolds movie (or potential Ryan Reynolds movie) are you looking forward to the most? Please let us know in the comment section below!
Will is an entertainment writer based in Pittsburgh, PA. His writing can also be found in The Playlist, Cut Print Film, We Got This Covered, The Young Folks, Slate and other outlets. He also co-hosts the weekly film/TV podcast Cinemaholics with Jon Negroni and he likes to think he's a professional Garfield enthusiast.
Your Daily Blend of Entertainment News
Thank you for signing up to CinemaBlend. You will receive a verification email shortly.
There was a problem. Please refresh the page and try again.