Godmothered Star Talks Indian Representation, Having 'No Choice' In Becoming An Actor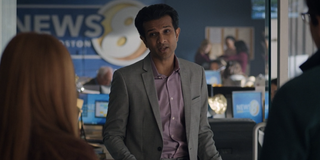 When it comes to representation in the media, the goal is for everyone to be able to see themselves in a positive light and have someone to relate to. Utkarsh Ambudkar (Pitch Perfect, Godmothered) is that manifestation for many in the Indian community. I got the opportunity to sit down with Utkarsh Ambudkar for an interview with CinemaBlend, and he spoke about representation, as well as feeling led to be an actor.
Being a minority myself, I was used to growing up and seeing Black characters on TV be the best friend or other supporting characters, unless the show was specifically about a Black family. For many years I wondered if that's all Black actors were being offered. This made me curious about the first time Utkarsh Ambudkar saw someone who looked like him on TV or film. Here's what he said:
Wow. It's a little hard to hear, but important to address. And thankfully, Utkarsh Ambudkar was not deterred from gracing our screens with his brilliance and energy (along with his rapping and DJ skills!). Acting didn't give him a choice. He was determined to pursue this career. In his own words,
That's where the magic is. We all need community, no matter what the foundation of it may be. If your community is movie lovers, then keep it here at CinemaBlend because you're in good company. You can see Utkarsh Ambudkar in Godmothered currently streaming on Disney+ and in the upcoming film Free Guy.
Obsessed with Hamilton and most things Disney. Gets too attached to TV show characters. Loves a good thriller, but will only tolerate so much blood.
Your Daily Blend of Entertainment News
Thank you for signing up to CinemaBlend. You will receive a verification email shortly.
There was a problem. Please refresh the page and try again.