Candice Patton, Anna Diop And More Share Stories About Why Representation Matters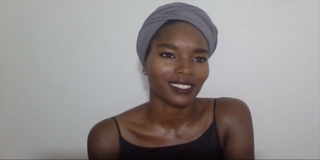 DC FanDome's BAWSE Females of Color Within the DC Universe panel gathered superhero bawses. What is a BAWSE? Pronounced like boss, a BAWSE has confidence and reaches their goals. They do what it takes to get into the room and to be seen and heard. DJ D-Nice and Grammy-winning singer/actress Estelle hosted the panel with actresses across DC television and film to discuss how they use their confidence and vulnerability to navigate their careers in Hollywood, with a focus on the importance of representation in the media.
For young children, seeing characters who look like them when growing up is powerful because it expands a child's idea of what they can be and achieve. During the live panel, Candice Patton, who plays Iris West on The Flash, recalled receiving a tweet from a mother who said she was watching the show with her young daughter who said:
It's heartbreaking that a child would even ask this but, for many, that's the reality. After years of being limited and restricted in what you're allowed to do (like always being a side character), it's hard to lift the lid off the box and dive into new opportunities. This was a positive interaction for Patton because it solidified the influence the role has given her. She was excited to respond and send a message to the little girl.
Representation extends beyond looks. Depending on a person's environment, any aspect of their personality could stand out and, unless they are surrounded by open and accepting people, it can be difficult to accept themselves, too. For these people, seeing whatever aspect sets them apart or makes them different being portrayed on television or in film in a positive light can help them embrace that part of themselves.
An example of this was discussed during the panel by Nafessa Williams, who plays the first black lesbian superhero, Anissa Pierce/Thunder on Black Lightning. She recalled a conversation she had a Comic-Con where a girl told her:
It seems like a heavy burden to carry, making someone else feel normal, but also rewarding. As things change and evolve in the entertainment industry over time, diversity will become normal, accepted, and celebrated, and these women will forever be a part of that history.
While eight women being brought together for this panel representing various superheroes in the space is an amazing feat in itself, not all were received kindly when cast in their roles.
Anna Diop spoke of the backlash she received after booking the role of Kory Anders/Starfire in Titans. People were upset with a black woman being given the role which had historically been white:
When characters are adapted from a book, comic, or other previous story, it's not hard to understand people wanting the characters to be as close to the way they had originally seen them, or have become used to seeing them as possible. Fans love something for a reason and have every right to desire that reason to remain intact throughout multiple iterations of whatever it is they love.
That being said, every individual that works on a story, be it the writer, director, actor, etc. has something new and unique to bring to it, and limiting them by keeping a character constrained to one way they have always been portrayed also limits their creative ability and ultimately the story being told.
Diop is no stranger to this idea and also touched on when she realized she could and would make a difference. Despite what were historically normal or expected stories for women of color to tell in the industry, Diop kept auditioning, and learned to lean into what worked. During the panel, she said:
Instead of seeing her skin as a deterrent in Hollywood, she's flipped the script and started using it to her advantage, which is sure to be an inspiration to all aspiring female BIPOC actresses. This has given us the Starfire we've come to know and love, and I'm sure there are many more to come in the future!
There's no stopping any of these ladies, so be on the lookout for their future work.
Who is your favorite female superhero of color in the DC Universe? Let us know in the comments!
Obsessed with Hamilton and most things Disney. Gets too attached to TV show characters. Loves a good thriller, but will only tolerate so much blood.
Your Daily Blend of Entertainment News
Thank you for signing up to CinemaBlend. You will receive a verification email shortly.
There was a problem. Please refresh the page and try again.