8 Great Black '90s Sitcoms and Where To Stream Them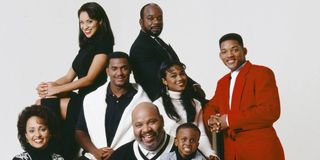 You know what show I could never really get into back in the '90s? Friends. While I loved "working class" shows like Married…With Children, Roseanne, and of course, The Simpsons, I would just sit and watch Friends and think, I do not relate with this show in any way whatsoever. So, how did I get my Friends fix back in the day, since it was all the rage in the '90s? Well, by seeking out more relatable shows, such as The Fresh Prince of Bel-Air (Hey, I've been to West Philadelphia!), Living Single and The Wayans Bros.
While I understand that you don't have to be white to enjoy Friends (My Filipino wife grew up loving the show), there was just something about it that didn't click with me. Today, I can watch reruns of Friends and have a chuckle here or there (I do like Chandler). But I'm glad I had shows with people who actually looked like me when I was growing up that I could enjoy. So, here are some of the best black sitcoms of the '90s. How many of these did you watch when you were younger?
The Fresh Prince of Bel-Air (1990-1996)
The Fresh Prince of Bel-Air, like The Cosby Show (Though, uh, let's not talk about that one) is the kind of "black show" that you kind of forget was a black show since it became so mainstream. It was all because of the Fresh Prince himself, Will Smith. I mean, seriously, who didn't do the Fresh Prince and Jazzy Jeff handshake, or the Carlton Dance when they were younger?
I say it was Will, but it was really all of the characters that made the show so good. The uptight but adorable Carlton (played by Alfonso Ribeiro), the surly teddy bear, Uncle Phil (Played by James Avery, who also voiced The Shredder from the Ninja Turtles cartoon!) Aunt Viv (Both of them! Janet Hubert AND Daphne Maxwell Reid), the so-into-herself Hilary (Karyn Parsons), and, of course, my crush growing up, Ashley (played by Tatyana Ali). There was just some kind of strange magic when they all came together, and it shows, since Will and the Banks family captivated all of America, not just my own household.
You can find The Fresh Prince of Bel-Air streaming on HBO MAX
Living Single (1993-1998)
You would think a show about four black, single women wouldn't appeal to a boy who used to bang Transformers into each other and make explosion noises, but I used to LOVE Living Single. It was actually kind of like the black version of Friends (I was going to say the black version of Seinfeld, but it wasn't as wacky). Khadija (Queen Latifah), Synclaire (Kim Coles), and Regina (Kim Fields) are roommates in a Brownstone Apartment, while Maxine (Erika Alexander), their lawyer friend, would stop over every now and then to visit and talk about her day. Next door to them are Kyle (T.C. Carson—who also once voiced Kratos from God of War) and Overton (John Henton). Kyle would always trade barbs with Maxine, which I didn't understand at the time was sexual tension, but I just knew I liked it.
The show was fun, and it was great seeing black people on television having successful careers. Khadija was an editor, which inspired me to want to be an editor. Max was a lawyer, and Kyle was a stockbroker. Seeing them all hanging out together gave me the Friends vibe that I was looking for, but couldn't find when it came to Rachael, Ross and Monica.
You can find Living Single streaming on Hulu
The Wayans Bros. (1995-1999)
I'll never forget the first time I saw the intro to The Wayans Bros. In it, Marlon and Shawn "help" an old lady cross the street, only for her to get hit by a bus and flung into the air. I laughed so hard when I first saw that, that I missed most of the jokes for the rest of the episode because I couldn't stop laughing. Thankfully, the rest of the show and the series itself was also hilarious.
Shawn and Marlon Wayans (from the famous Wayans family) live together in an apartment and occasionally stop by their father's restaurant to crack jokes on each other. There was more to it, of course, but when you have the late, great John Witherspoon making funny faces and dancing, do you really need anything more out of a TV show?
You can stream The Wayans Bros. on Sling TV
Martin (1992-1997)
I feel bad knowing that some people didn't grow up watching Martin. I really do. Starring Martin Lawrence as the eponymous character, Martin was a DJ who eventually went on the host of his own public access TV show. His girlfriend, Gina (played by Tisha Campbell), worked in Public Relations…and that's about it as far as story is concerned. The show was more about how Martin would act a fool—especially with Gina's best friend, Pam, and just crack jokes.
So, how the hell did this show last for five seasons? It's because Martin Lawrence was (and still is) hilarious. Whether it was Martin donning a wig and playing Sheneneh, or Bruh-Man (from the fifth flo') coming downstairs to get some sandwiches from Martin's fridge, there was always just some kind of hilarity going on, and it's still funny today.
You can stream Martin on BET+
Family Matters (1989-1998)
Family Matters, like The Fresh Prince of Bel-Air, is another black sitcom that you'd be forgiven forgetting was actually a "black sitcom," because it blew up to such huge proportions. And, it's all because Jaleel White made America fall in love with the nerdy neighbor he played, Steve Urkel.
The show, which was a spin-off of Perfect Strangers and originated on the TGIF block on ABC, was about the Winslow family, who lived in Chicago. Over the years, the show got more and more ridiculous, eventually involving body swaps (Hello, Stefan Urquelle), and even a storyline where Steve went into space! Craziness aside, I love that America could invite a black family into their homes every Friday night and think nothing of it. This was not a "black" family. It was just a family. Honestly, I think that's beautiful, and shows the power of art.
You can stream Family Matters on Hulu
Hangin' with Mr. Cooper (1992-1997)
If Living Single was a black version of Friends, then Hangin' With Mr. Cooper was an innocent, black version of Three's Company. Another show on the TGIF block, it followed Mr. Cooper (played by Mark Curry), who lives with his best friend, Robin (played by Dawnn Lewis), and also Vanessa (played by 21 Jump Street's Holly Robinson Peete). When he's not clowning around and flirting with Vanessa, he's a high school substitute teacher. But, like, the best and coolest one ever.
Hangin' With Mr. Cooper, when sandwiched between show's like Full House and Step By Step, really stood out, and in the best way possible. It was wholesome, silly fun, and one of the shining shows to appear on the Friday night block.
You can stream Hangin' With Mr. Cooper on Hulu
A Different World (1987-1993)
Grown-ish way before Grown-ish was a thing, A Different World was yet another spin-off, this one from The Cosby Show (I really can't escape The Cosby Show, can I?) The show took place at a fictional black college, and actually addressed stuff like race, and even AIDS, back when those kinds of topics were taboo.
The show started with Denise Huxtable (Played by Lisa Bonet), and Maggie Lauten (Marisa Tomei) as her white friend, but then changed dramatically by Season 2 after Lisa Bonet became pregnant and was taken off the series (Bill Cosby apparently didn't want Denise Huxtable to be seen as a single mother). The show then shifted to a bigger focus on a black cast (Like Sinbad!). The show may be a little disjointed, quality-wise, but it took bold stances and tackled some hard topics. So, for that, it should be watched.
You can stream A Different World on Amazon Prime
The Parkers (1999-2004)
Yet another spin-off (This one from Moesha), The Parkers is still technically a '90s show, even if only its first season appeared in the '90s. The show has a dynamite plot as it's about a mother and daughter, Nikki and Kim Parker (played by Academy Award winner Mo'Nique, and Countess Vaughn, respectively) who go to the same college together and even become roommates. Gradually, the mother and daughter grow closer with both of them learning more about each other as the series progresses.
I love everything about The Parkers. And just like how I find Fraiser superior to Cheers (I know. I know, and I'm sorry), I also find The Parkers superior to Moesha. I love Nikki's persistence in trying to nab Professor Oglevee (Dorien Wilson) and his persistence in playing hard to get, I love what a big heart Kim has, and I just love the overall feeling of the show. It's a winner.
You can find The Parkers streaming on Sling TV
There are plenty of other black sitcoms in the '90s that I would have loved to have talked about (The Jamie Foxx Show, Roc, and The PJs, just to name a few), but not all of them are streaming. Thankfully, we do have these gems from the '90s to watch today. What was your favorite black sitcom of the '90s? Take our poll, below, and sound off in the comments!
This poll is no longer available.
Your Daily Blend of Entertainment News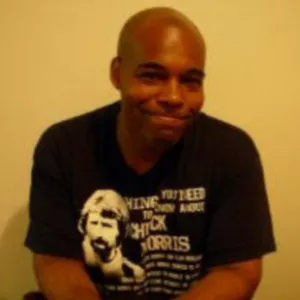 Rich is a Jersey boy, through and through. He graduated from Rutgers University (Go, R.U.!), and thinks the Garden State is the best state in the country. That said, he'll take Chicago Deep Dish pizza over a New York slice any day of the week. Don't hate. When he's not watching his two kids, he's usually working on a novel, watching vintage movies, or reading some obscure book.