Ryan Reynolds Is Reuniting With Free Guy Director For Time Travel Movie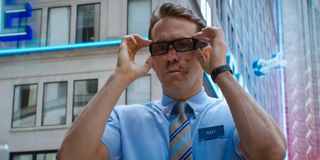 If you've ever thought to yourself, "Ryan Reynolds should star in a time travel movie," today is your lucky day. Even though his most recent film, Free Guy -- an upcoming comedy about a man who realizes he is living as a NPC in a soon-to-be finished violent video game -- is still in post production, he's already reteaming with the film's director to bring a new sci-fi story to the big screen.
Per THR, will be Shawn Levy and Ryan Reynolds' second collaboration. As with Free Guy, both Shawn Levy and Ryan Reynolds will produce the film along with partners from Skydance and Maximum Effort.
While the film doesn't currently have a name, it is said to be reconfigured from a T.S. Nowlin script called Our Name Is Adam. That project has been in the works since 2012 and, at one point, Tom Cruise was set to star. At the time that it was announced, the plot was being kept under wraps. But we now know that the film will follow Ryan Reynolds' character as he travels back in time to enlist the help of his 13-year-old self. After they team up, they run into their late father, who is the same age as Ryan Reynolds' character.
While it will still be awhile before we can see Free Guy -- its release date is currently pushed back to December, at the earliest, but it seems to bode well that the director and actor were willing to work together again so quickly. Shawn Levy has helmed some big projects in the past few years, including the Night At The Museum series, Big Fat Liar, and Stranger Things.
Even though the details are still scarce, it sounds like it has the potential to blend action, comedy and drama -- all things we know Ryan Reynolds excels at. It also sounds like it has the ability to connect with a pretty wide audience - Onwards recently reminded us that there are definitely some compelling (if heartbreaking) "son finds dead father" stories to be told.
There's no word yet on a release date, but the new project is tentatively scheduled to begin filming at the end of this year, depending on how long Hollywood productions are kept on hold. It's one of several projects that Ryan Reynolds will be balancing in the coming months.
According to THR, the actor seems to be in talks for an adaptation of the classic video game Dragon's Lair. He's also got promotional duties for multiple upcoming movies like The Hitman's Bodyguard 2. Then, of course, there's Deadpool 3, which we're still holding out hope for, even though we really have absolutely no idea when we can expect to see it. We'll see how it all shakes out in the coming weeks and months -- but at least we have a few exciting projects to look forward to.
Your Daily Blend of Entertainment News
Your Daily Blend of Entertainment News
Thank you for signing up to CinemaBlend. You will receive a verification email shortly.
There was a problem. Please refresh the page and try again.