Spider-Man 3 Fan Art Gives Jamie Foxx's Electro A Comics-Accurate Look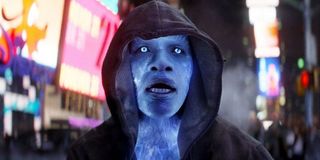 At this point, we barely know anything about what lies in store for Peter Parker in Spider-Man 3. But at the very least, we do know that the film will pit the wall-crawler against the powerful Electro, who will once again be played by Jamie Foxx. When Foxx first played the character, fans had varied thoughts on his appearance, though the vast majority of fans weren't too high on it. The character's MCU look has yet to be revealed, leaving fans to wonder about the direction this time around. Well, it seems that at least one person has thought about the classic, comic-accurate suit, as evidenced by this fan art.
Many may remember that when Electro (Max Dillon) first appeared in the pages of The Amazing Spider-Man, he was sporting a green and yellow suit, complete with an over-the-top yellow mask. This apparently served as inspiration for an Instagram user named @bobby_art when he was designing this cool piece of art for Spider-Man 3. Check it out down below:
The design here still pops out at you due to the bright colors but, overall, it's pretty straightforward. The actual suit seems to be derived from Electro's Amazing Spider-Man 2 look, with the artist just giving it a new color scheme. It's honestly a design that works, especially since it doesn't have the mask.
The Amazing Spider-Man 2 took a lot of inspiration from the Ultimate Marvel Universe when crafting the character of Electro. This universe discarded the classic look for a more ostentatious interpretation. Instead of appearing as a human wearing a costume, this Electro appeared as a being made of pure electricity – at least, when he didn't have his containment suit on.
Marc Webb's Amazing Spider-Man 2 depicted Max Dillon as a "nobody" who idolized Spider-Man and was an employee at Oscorp. After falling into a tank of genetically-engineered eels, he would gain powerful abilities and later team up with Harry Osborn to take down Spider-Man. Ultimately, the villain met his end during the final battle.
It's hard to say how Electro might come into play in the Marvel Cinematic Universe. With Peter Parker's identity no longer a secret, there are plenty of ways that the young hero could get on Dillon's radar. Hopefully, he proves to be an interesting antagonist, which was true for both Michael Keaton's Vulture and Jake Gyllenhaal's Mysterio.
It may seem crazy, but it's there is a chance that Marvel Studios could opt to go a more traditional route with this iteration of Electro. After all, the studio did go all in with Mysterio by giving him the cape and fish bowl helmet. Jamie Foxx's duds may not be completely comic-accurate, but they're sure to be closer to the character's roots. As the actor has even confirmed (before deleting his post), he won't be blue this time around.
Spider-Man 3 is currently scheduled to swing into theaters on December 17, 2021.
Covering superheroes, sci-fi, comedy, and almost anything else in film and TV. I eat more pizza than the Teenage Mutant Ninja Turtles.
Your Daily Blend of Entertainment News
Thank you for signing up to CinemaBlend. You will receive a verification email shortly.
There was a problem. Please refresh the page and try again.