Spider-Man 3: 6 Questions We Still Have About The Tom Holland Marvel Movie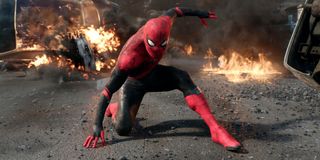 Tom Holland recently landed in Atlanta, Georgia with the intention of kick-starting the filming of Marvel and Sony's Spider-Man 3. Now, we know this sequel is not going to be called Spider-Man 3 when all is said and done. That movie already exists, and it's kind of the film that killed Sam Raimi's run in Sony's Spider-Man universe. Knowing how Sony and Marvel have been approaching these movies, we expect Home to be in the title. How it will be used is just one of MANY questions we have as this sequel gets underway.
There will be a lot of news dropping in the next few weeks and months as more cast and crew join Tom Holland and director Jon Watts for Marvel and Sony's Spider-Man 3. But even basing all that we know on what has been reported, as well as what has happened at the end of Spider-Man: Far From Home, here are some major questions we will be thinking about while we wait for the sequel to drop on December 17, 2021.
What Is The Title Of Spider-Man 3?
We don't know what the Spider-Man 3 title is yet, though we expect to hear it soon. The last time, as Tom Holland was ramping up for Spider-Man: Far From Home, he leaked the official title (though that was a set up, we are certain). For a hot moment, we thought that was going to happen again, as Holland recorded himself picking up the script for what he calls Spider-Man 3 on a video, and he drops an iPad with the script on it. At that moment, I figured we'd see the title, but alas, we still have to wait a bit longer to find out what it is.
We are also going to assume that the title of the third MCU Spider-Man will have "Home" in the subtitle. This happened for Homecoming (which represented Peter Parker's return to Marvel) and Far From Home (which sent Peter on a European trip). Now he's back home in New York City, and his identity has been revealed to all. Will that dilemma factor in to the clever title cooked up by the studios and the marketing team?
Who Is The Villain Of Spider-Man 3?
Right now, we know of one actor who has been cast as a villain in Spider-Man 3, but even that casting comes with a lot of questions, so let's start there. In October 2020, it was reported that Jamie Foxx would be joining the untitled third Spider-Man movie, with the news stating that he would be playing Electro in the film. That might sound familiar to Spider-Man fans, because Foxx played Electro in The Amazing Spider-Man 2, directed by Marc Webb.
So that's odd. Will Foxx be one of the first characters to cross from one Spider-Man franchise to the other? And how would that even be possible? The news has many Spider-Man fans speculating on the introduction of the Multiverse concept (which we will be talking about in a later section), but it's also possible that Foxx is playing a different version of Electro. He did state, in a social media post that was quickly deleted, that his Electro would not be blue in this movie, so that's a hat tip.
Other rumors regarding possible villains for the untitled third Spider-Man movie involved Kraven the Hunter. Jon Watts made it clear while doing press for Spider-Man: Far From Home that he wanted to take a crack at the character, and Kraven is a foe we haven't seen on screen before. To some, it made sense that Kraven would come to New York City to hunt Peter Parker, now that it's clear he is Spider-Man. But we'll find out soon if the Russian tracker is part of the sequel or not.
Will Spider-Man 3 Hold Its December Release Date?
The great unknown. Tom Holland recently landed in Atlanta to begin filming Spider-Man 3, so that would leave time for production and post-production ahead of a December 17, 2021 release date. But the state of the theatrical model is so fluid, a lot could happen during 2021 that would potentially bump Spider-Man 3 into 2022.
Right now, Sony's third Spider-Man movie with Tom Holland would come on the tail of two other movies in the studio's Spider-Verse of films. Jared Leto's origin story Morbius is due to hit theaters on March 19, 2021, while the Venom sequel Venom: Let There Be Carnage will drop on June 25, 2021. If theaters still are not able to open safely in time for those features to screen, Sony could bump everything back, giving Spider-Man's prime December slot to Venom: Let There Be Carnage (likely).
There are also three MCU movies scheduled to reach theaters before Spidey: Black Widow (May), Shang-Chi and the Legend of the Ten Rings (July) and The Eternals (November), though they are all disconnected and aren't building toward any story in Spider-Man that we know of, so the order of their release could shift and still leave Spider-Man 3 in December.
Will Doctor Strange Introduce The Multiverse In Spider-Man 3?
Another bit of official casting on Tom Holland's Spider-Man 3 has led to infinite columns of internet speculation, and we totally understand why. Benedict Cumberbatch will play Doctor Strange in this upcoming Spider-Man movie, making the third major MCU character (after Tony Stark and Nick Fury) to play a significant supporting character in a Marvel Spidey movie.
Here's where things get exciting. We know that it's Marvel Studios' intention to eventually introduce the multiverse to their big-screen (and small screen) storytelling. The idea likely will begin in the Disney+ series WandaVision, where Scarlet Witch (Elizabeth Olsen) might be responsible for peeling back the barrier between our world and other universes. We also know for sure that the Doctor Strange sequel that is coming on March 25, 2022 is titled Doctor Strange in the Multiverse of Madness. So by then, we expect to be fully plunged in the multiverse concept. But is Sony and Marvel dropping Strange into this third Spider-Man because he's based in New York City, like Peter? Or is his role going to play a significant part in expanding the notion of the multiverse in the MCU?
The next section explains why that might be really important…
Will Tobey Maguire And Andrew Garfield Appear In Spider-Man 3?
The minute that the term "multiverse" was mentioned with regards to Spider-Man, fans started to imagine a live-action version of the animated Spider-Man: Into the SpiderVerse, where Tom Holland finally would get to interact with the two actors who previously played Spider-Man in the big screen: Tobey Maguire and Andrew Garfield.
Will this happen? Unlikely… at least, not in Spider-Man 3. There's a lot of story that almost needs to be set up before you just go bringing Maguire and Garfield over into the MCU, even if savvy fans would understand what the heck was going on. Casual fans need to be educated on the multiverse concept, and a reveal like that feels like it really has to be built up to, and established. A strong foundation on which that concept could be built.
This Peter Parker is going to have to contend with his identity being revealed by Mysterio (Jake Gyllenhaal) and J. Jonah Jameson (JK Simmons, of course). I still think we are getting a proper villain, and Electro (Jamie Foxx) won't have to carry the whole show.
So, when do I think we might see Tobey Maguire and Andrew Garfield alongside Tom Holland? I believe it will happen in a Sony movie – and not in a shared MCU production – because Maguire and Garfield were integral to Sony's success in the Spider-Man franchise. And I think they will be saved for the Sinister Six movie that Sony has been teasing for years. Tom Holland's Spidey will have to face a threat that is worthy of summoning two additional Spider-Men.
If Sony can properly build its own live action Spider-Verse using other movies, they could get to a point where Maguire and Garfield are needed, facing off against villains they met in their own movies. Like Jamie Foxx's Electro. Get it?
Will Spider-Man 3 Connect With Venom And Morbius?
This brings us to our final question about Tom Holland's Spider-Man 3, and that's if (or how) the movie will connect to Venom: Let There Be Carnage or Morbius. And I think that it will, because Sony wants to establish a version of The Sinister Six that includes their own villains. We'd have Venom (Tom Hardy), Carnage (Woody Harrelson), Morbius (Jared Leto), Vulture (Michael Keaton, who appeared in the Morbius trailer), potentially Foxx's Electro, Jake Gyllenhaal's Mysterio (if he survived) and Michael Mando's Scorpion, who was jailed at the end of Spider-Man: Homecoming.
There's a significant amount of world building that is happening on both sides of the Spider-Man equation, and it has been extremely beneficial to both Marvel and Sony. They likely will continue to figure out how to work together for years to come, but one simple Spider-Man sequel can lay out so many intriguing threads that can be picked up by storytellers eager to expand Spider-Man's on-screen world.
Your Daily Blend of Entertainment News
Sean O'Connell is a journalist and CinemaBlend's Managing Editor. He's frequently found on Twitter at @Sean_OConnell. ReelBlend cohost. A movie junkie who's Infatuated with comic-book films. Helped get the Snyder Cut released, then wrote a book about it.
Your Daily Blend of Entertainment News
Thank you for signing up to CinemaBlend. You will receive a verification email shortly.
There was a problem. Please refresh the page and try again.