Jamie Foxx's Return To Spider-Man Might Lead To Much Bigger Things In The MCU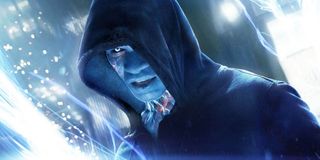 The casting of Jamie Foxx as Electro in an upcoming Spider-Man movie might have had you scratching your head… or at least checking your watch to see if we'd somehow traveled back to 2014. (Nope, psyche, it's still 2020 and everything is horrible.) As you likely recall, Foxx already played Max Dillon, and his alter ego Electro, in Marc Webb's The Amazing Spider-Man 2, where he served as the primary villain but also had to share scenes with the Green Goblin (Dane Dehaan) and the Rhino (Paul Giamatti). Is this the same Electro? A different Electro? How are they going to pull this off?
Immediately, my mind went to the multiverse – and judging by the reactions on Twitter, I wasn't alone. Several Spider-Man fan who already were plugged in to the knowledge that the MCU is inching toward exploring the multiverse imagined a scenario where Jamie Foxx's Electro stepped over from the world created for Andrew Garfield and into the Marvel Cinematic Universe, where Tom Holland rests.
How might this work? The "multiverse" concept means that other worlds with alternate versions of characters we know can be (and are) existing at the exact same time as the one that we are watching. The Oscar-winning animated feature Spider-Man: Into the Spider-Verse explained this, with Jake Johnson's Peter Parker coming over to Miles Morales' New York City to help him after Miles' world loses THEIR version of Peter Parker (voiced by Chris Pine).
It can get confusing, but other pop-culture worlds have been playing around with the notion. The CW Arrowverse dove deep into the multiverse concept that allowed characters from television shows like The Flash, Supergirl, Black Lighting and more to appear on each other's programs. And Marvel is slowly gearing up to take the plunge into multiverse storytelling, which can go a long way towards explaining how Jamie Foxx ends up playing Electro again.
Here, I'll concede that in an Instagram message that he eventually deleted, Jamie Foxx told his followers that his Electro will not be "blue" in the MCU, referring to his Ultimates look that he rocked in Amazing Spider-Man 2.
Assuming that's accurate, it doesn't mean that he's not playing the Max Dillon that audiences met in Marc Webb's sequel. In fact, I don't think that Sony and Marvel would hire Foxx for the untitled MCU Spider-Man 3 if it wasn't to have him play the same character. Foxx's version of Electro wasn't SO iconic that you can't imagine any other actor potentially playing the villain on screen (as was the case with JK Simmons, who basically had to come back as J. Jonah Jameson in Spider-Man: Far From Home, because duh). And asking Foxx to play Electro, but making it a DIFFERENT Electro, only sets up audience confusion, and that makes no sense from Marvel and Sony's point of view.
So, why would they do this? Again, as many started to speculate, Marvel and Sony might be blurring the line between their franchises so that Andrew Garfield, and maybe even Tobey Maguire, can join Tom Holland in a live-action Spider-Verse movie.
That's a Billion Dollar Idea.
It's easy to step back and see that Electro showing up in Tom Holland's Spider-Man world can be a foot in the door as to explaining how Garfield would follow. Bringing Electro over from the Sony-specific Spider-Man films also builds the villain pool so that we are even closer to a Sinister Six movie,
Giving Tom Holland a reason for needing assistance from Garfield and Maguire.
But how can the multiverse take shape? There are two Marvel projects that are expected to set the stage for multiverse projects, and one of them, Disney+'s WandaVision, will occur before Spider-Man 3 reaches theaters. Scarlet Witch (Elizabeth Olsen) easily could do something that tears a whole in the fabric of time and space, opening a portal to the multiverse that invites Foxx's Electro to walk on through. The second project was meant to be Doctor Strange in the Multiverse of Madness, but because of theatrical delays, that sequel will come out AFTER the third MCU Spider-Man movie, so it won't be used to set up any kind of crossover in the Spidey films.
Don't think for a second, though, that I didn't get excited about possible Tobey Maguire inclusion because Marvel hired Sam Raimi to replace Scott Derrickson on that Doctor Strange sequel.
All of this could be fan-fiction. It's very possible that Jamie Foxx really has been cast as the MCU version of Electro, even after he played Electro for Sony in 2014's The Amazing Spider-Man. But I don't think that makes any sense. Marvel and Sony have since gone out of their way to use villains who have not been used in previous Spider-Man films. They're certainly free to make Electro the first villain to double dip in the MCU… but would they really use the SAME actor to play him on screen? I don't think so.
Instead, to me, if feels very much like Sony and Marvel are floating a trial balloon to see how audiences respond to a character from the Garfield movies moving over to the MCU. You even see a strange sharing of characters in the recent Morbius trailer, when Michael Keaton's Adrian Toomes (introduced in Spider-Man: Homecoming) appeared and interacted with Jared Leto. Not a mistake, and very intentional.
And if the balloon floats? It will be encouragement for Sony sand Marvel to figure out a scenario in which three beloved live-action Spider-Men take on a Sinister Six that can include the Vulture (Keaton), Mysterio (Jake Gyllenhaal), Electro (Jamie Foxx), Morbius (Jared Leto), the Scorpion (Michael Mando) and Venom (Tom Hardy). That's not exactly Avengers: Endgame. But if you are a Spider-Man fan, it would be must-see cinema, on the biggest screen possible.
What do you guys think? What version of Electro is Jamie Foxx playing on screen when Spider-Man finally returns to the MCU? Do you think a live-action Spider-Verse movie is possible, or does it require too many moving pieces for Sony an Marvel to pull off? Hit the comments below and weigh in with your thoughts.
Your Daily Blend of Entertainment News
Sean O'Connell is a journalist and CinemaBlend's Managing Editor. He's frequently found on Twitter at @Sean_OConnell. ReelBlend cohost. A movie junkie who's Infatuated with comic-book films. Helped get the Snyder Cut released, then wrote a book about it.
Your Daily Blend of Entertainment News
Thank you for signing up to CinemaBlend. You will receive a verification email shortly.
There was a problem. Please refresh the page and try again.