Chadwick Boseman's Ma Rainey's Black Bottom Co-Stars Share Memories Of His Playful Spirit On Set Of Netflix Film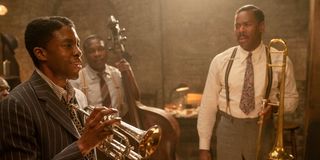 Beloved by family, friends, co-workers and fans alike, Chadwick Boseman certainly made an impact before his passing in August. Perhaps best known for playing Black Panther, Boseman held quite the resume and displayed a wide range of roles. The character that will cement him in the minds of many, however, is his final character, Levee in the Netflix film Ma Rainey's Black Bottom. Boseman's co-stars shared memories of his playful spirit on set in an interview with CinemaBlend.
Ma Rainey's Black Bottom, based on the play of the same name by August Wilson, tells the story of legendary "Mother of the Blues," Ma Rainey (the phenomenal Viola Davis) and the members of her band as they work to record a new album. Tensions rise as Ma battles with her producer and manager over control of her music, and bandmate Levee (Chadwick Boseman) who wants to make a name for himself in the music industry. In contrast to the drama unraveling in the story, things were very light on set. As Colman Domingo (who plays fellow band member Cutler) said of Boseman:
Make no mistake, every actor that appears in this film is phenomenal. The performances are truly captivating, yet among all this talent, Chadwick Boseman steals the show. When his character is elated and optimistic, so are we, and when he hurts, we feel that too. We get to go on this emotional journey with him scene by scene and Levee is absolutely one of Boseman's greatest performances.
Co-star Michael Potts (who the band calls Slow Drag) shared a memory of something Boseman and his character Levee have in common: playing the trumpet. The music featured in Ma Rainey's Black Bottom is incredible, and one of the sources of contention between Viola Davis' Ma and Chadwick Boseman's Levee is deciding who made the better arrangement of the song. Levee is a great trumpet player, and it turns out Boseman was as well. He loved playing the trumpet, and always had a good time on set. Here's what Potts shared:
Glynn Turman plays Toledo in the film, also part of Ma Rainey's band, and he shared a very personal memory of Chadwick Boseman. It's well known that Boseman was a kind and caring man with an energy that lifted everyone around him. Turman particularly noted the love Boseman shared with his wife. Here's what he told CinemaBlend:
It sounds like Chadwick Boseman was truly one of the most wonderful human beings, and he is certainly missed. His legacy will live on forever, through his family and friends, as well as his films. Boseman's final movie, Ma Rainey's Black Bottom, is available streaming on Netflix December 18.
Your Daily Blend of Entertainment News
Obsessed with Hamilton and most things Disney. Gets too attached to TV show characters. Loves a good thriller, but will only tolerate so much blood.
Your Daily Blend of Entertainment News
Thank you for signing up to CinemaBlend. You will receive a verification email shortly.
There was a problem. Please refresh the page and try again.