Black Panther's Chadwick Boseman Shares Adorable Fan Letter Written In Wakandan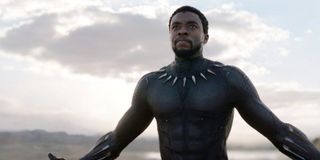 Celebrities know that fan mail, often tons of it, comes with their public figure status. Some fans want to gush and thank their heroes for impacting them so deeply. Others want to impress with clever gimmicks or turn heads with strange spins on popular approaches. And still others want to connect with their favorite celebrities through fan theories. One of the more interesting expressions of thanks involved Black Panther star Chadwick Boseman, who recently received a fan letter written in Wakandan from a young boy named Ben.
Hannah Beachler created the alphabet, which the boy then used to attract Chadwick Boseman's attention. Given how interested Boseman is in Wakandan accents and language, the tweet pleased the actor to no end, as you can see below.
Hannah Beachler, a production designer, combined the Nigerian language Nsibidi with a more contemporary spin inspired by her time working with acclaimed director Ryan Coogler on Black Panther. The project took her a whopping six months, a process that would've taken much longer had she not created two Wakandan bibles earlier in the film's production. Marvel, impressed by her diligence, commitment, and skill, hired her shortly after this. For her work, she definitely deserves that gig (and many more).
Building from those bibles, she used lines and dots from languages such as Dogon, Chinese, Murci, and Arabic to create this rich new language. Coogler, an extremely skilled filmmaker whose advice other Marvel directors have happily heeded, approved of Beachler's work and included her language in the film.
Boseman doesn't usually like MCU-related questions, but when fans come to him with new ways to thank him, he's absolutely appreciative. As for the aforementioned tweet, it translates to, "Dear Black Panther, my name is Ben. I am your biggest fan. Could you please tweet me back thank you." Cute, right? Chadwick Boseman thinks so too, and he didn't hesitate to shout out to Ben on Twitter. It's an adorable story, but Boseman had better prepare himself for similar tweets seeking that same recognition. No doubt they'll come pouring in.
Chadwick Boseman can be seen in a number of MCU films, his most recent appearance being a brief comeback during the climax of Avengers: Endgame. He will definitely get a sequel in Phase 4 but we don't know when production will start or when the film will hit theaters. I'm betting we won't get it for a while, as Kevin Feige recently revealed Ryan Coogler is only just now starting to work on the project.
Before scoring the biggest role of his career, Chadwick Boseman starred as Jackie Robinson in 42, as Thoth in Gods of Egypt, and in various other slightly smaller films. If you're more interested in Wakandan language than Boseman's career, be sure revisit Black Panther and watch for the symbols Hannah Beachler created for various scenes (including ones taking place in the throne room).
Great job, Hannah!
Your Daily Blend of Entertainment News