One Role Leslie Odom Jr. Lost After Hamilton He Was Really Bummed About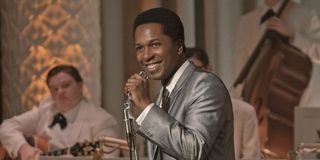 After leaving the cast of Hamilton in 2016, Leslie Odom Jr. set out to build a career beyond the stage. While he's had a good share of big moments in the years since, he's also had some major disappointments. And there's one role in particular he was very disappointed to lose out on.
Leslie Odom Jr. put his name on the map with his performance in the groundbreaking 2015 musical, Hamilton. Like other actors in the original Broadway cast, Leslie Odom Jr. has proven he has major range as an actor. After Hamilton, he booked roles in films like Murder on the Orient Express and Tubman. However, he told Entertainment Weekly there's one project he set his sights on, only to be dealt a disappointing blow:
It's understandable why Leslie Odom Jr. would have been drawn to The Trial of the Chicago 7. For many actors, working with Aaron Sorkin is a bucket list moment, and the Netflix film, which has seen some major buzz since it premiered in October, has received tons of critical acclaim, including a five-star review from CinemaBlend's own Sean O'Connell.
Still, Leslie Odom Jr.'s 2020 wasn't a loss by any means. Hamilton's arrival on Disney+ has marked a resurgence in interest in the musical and recognition of his stunning portrayal of narrator-turned-villain Aaron Burr. It's given him a chance to reflect on the significance of the musical, both in his life and in its impact on others around the world.
Missing out on The Trial of the Chicago 7 also, as he pointed out, gave Leslie Odom Jr. the chance to take on another real-life role. In Regina King's historical drama One Night in Miami, he plays Sam Cooke, who meets up with fellow legends-in-the-making Cassius Clay, Malcolm X and Jim Brown to celebrate the boxer's historic defeat of Sonny Liston in 1964.
Leslie Odom Jr. also had a chance to star alongside his real-life wife, Nicolette Robinson, in the Freeform miniseries, Love in the Time of Corona, and he lent his voice to the Apple TV+ animated sitcom Central Park. One Night in Miami will be released in theaters and on Amazon Prime Video on Christmas Day.
Your Daily Blend of Entertainment News
Your Daily Blend of Entertainment News
Thank you for signing up to CinemaBlend. You will receive a verification email shortly.
There was a problem. Please refresh the page and try again.