Harriet: How Historically Accurate Was The Harriet Tubman Biopic?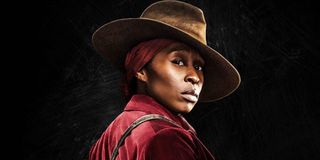 History has been proven to not only be written by the winners, but also by those who choose to tell it. And as the person behind the pen varies from time to time, various versions of the story told in films like co-writer/director Kasi Lemmons' Harriet will include certain accuracies and inaccuracies. That's usually because the artists involved in such biopics want to create a crossroads between historical fact and symbolic legend, bringing the history of figures like Harriet Tubman to life in a way that the textbook cannot.
It's those differences we'll be discussing today, as Harriet does have a couple surprising inventions up its narrative sleeve, and they're included for compelling reasons. What's even more compelling is the fact that there's also a good amount of things that the film got correct, as it took the opportunity to straighten out the legacy of the real Harriet Tubman in this biopic.
While this won't be a definitive list of what Harriet gets right or wrong, these are the most notable examples we've noticed in our research. We'll start with one of the most surprising facts that Harriet delivered to its audience, and it all has to do with Ms. Tubman's very freedom.
Harriet Tubman Was Legally Free Before She Escaped
In Harriet, we see the key legal point of Cynthia Erivo's Harriet, who went by Araminta or "Minty" earlier in her life, being known as a freed slave. One of the most surprising facts that Kasi Lemmons depicted from Harriet Tubman's life was the fact that she and her siblings were free, per a legal agreement that stated that her mother, Rit Green, would be freed past the age of 45.
On top of Rit's own freedom, any children born past that age would also be manumitted, as per legal verbiage instituted by her previous owner. But as we saw in Harriet, the family that owned Harriet and her family would not honor that legal claim, and to fight it would have cost too much and taken too much time.
Joe Alwyn's Harriet Character Is A Fabrication
This leads into one of Harriet's biggest fabrications, as Joe Alwyn's character, Gideon Brodess, the supposed grandson of plantation owner Edward Brodess, is the chief antagonist when it comes to the pursuit of the escaped Harriet Tubman. In real life, Jonathan Brodess was the son of Eliza, who was played by Jennifer Nettles in the film.
And while some historical documents have been a bit vague on what sort of role her son played in the history of the Brodess plantation, Eliza was well documented (opens in new tab) as being not so pleasant, and possibly even worse than she was depicted in the film. So Gideon is more of a fictional composite of behaviors in both his family, as well as culture itself.
Harriet Tubman Really Did Have Visions
Throughout Harriet, Cynthia Erivo's incarnation of Harriet Tubman is seen to have almost divine visions of the future. She falls into trance-like spells where she loses consciousness, and sees the path ahead in life with a degree of clarity that could be called clairvoyant. As surprising as it may seem, this is something that was captured as a bit of truth in Harriet's personal history.
Stemming from a childhood injury that saw a two-pound weight striking her in the head, Harriet Tubman was thought to have suffered from a form of Epilepsy as a result of her injury, according to historian Kate Larson. Tubman saw these visions as messages from God, and as such, Harriet depicts them with a certain degree of historical accuracy.
When Harriet Tubman Changed Her Name Is Up For Debate
A huge moment in Harriet occurs when our subject finally reaches Philadelphia after making an historically accurate crossing to freedom. Finding her way to the office of abolitionist William Still (Leslie Odom Jr.), the woman previously known as Araminta Ross chooses her new name right there in his office. "Minty" no more, Harriet Tubman is born and a legend is formed. While she did change her name, when exactly Araminta Ross became Harriet Tubman is up for discussion, as there are a couple of different stories surrounding that event.
One account says she changed her name once she had married her husband, John Tubman, while another follows the history that the Harriet Tubman biopic chooses to depict. In either case, it was after her marriage to John that the decision to change her name had occurred, with Tubman taking her new first name from her mother's full name, which was shortened to "Rit," much as Araminta was known as "Minty."
Janelle Monae's Harriet Character Is A Fabrication As Well
During her acclimation to life in Philadelphia, Harriet Tubman is introduced to a woman named Marie Buchanon, played by Janelle Monáe. The proprietor of an inn that also helped resettle escaped slaves on the Underground Railroad, Marie is a key figure in aiding Harriet's protagonist into her new life. And as it turns out, she doesn't exist in history at all.
That's not to say there weren't black female proprietors in that era, allowing Marie to exist in historical spirit. But rather, Marie herself is a fabricated character, much like Joe Alwyn's Gideon Brodess. Both resemble attitudes and mores of the era they live in, as well as other persons that existed. However, they never existed as real people.
Harriet Tubman Actually Did Use Guns
The final historical point that Harriet brought to light is, as it turns out, a true story. While some may have assumed that Cynthia Erivo's rough and tumble version of Harriet Tubman was merely an image that director Kasi Lemmons had in mind for the character, the part of the story where Tubman becomes a gun-toting badass is actually true.
In fact, Lemmons stated that history actually softened Harriet's image so that her story would be easier to teach those learning of her history. But, as it turns out, Tubman was actually comfortable handling not only a pistol, but also a sharpshooter's rifle, both of which are seen in her hands during various points of Harriet's cinematic history lesson.
With the film opening rather well in theaters last weekend, Harriet will undoubtedly continue to attract the attention of those who want to learn more about the history of this often mythologized figure. As such, keeping an eye on what's true and what's dramatized will be key in helping the public decode who Harriet Tubman truly was, and it's where guides like this will really come in handy.
Harriet is in theaters now, ready for audiences to experience its mix of historical truth and cinematic fantasy.
CinemaBlend's James Bond (expert). Also versed in Large Scale Aggressors, time travel, and Guillermo del Toro. He fights for The User.
Your Daily Blend of Entertainment News
Thank you for signing up to CinemaBlend. You will receive a verification email shortly.
There was a problem. Please refresh the page and try again.