Why Viola Davis Doesn't View Her Ma Rainey's Black Bottom Character As The Protagonist Or Antagonist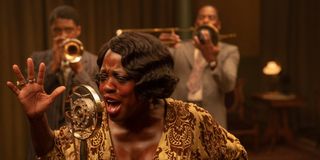 In the Netflix film Ma Rainey's Black Bottom, the titular character played by Viola Davis is a force to be reckoned with. Put plainly, Ma ain't takin' no shit from anybody. Davis does a phenomenal job displaying both power and sensitivity in this role. For the audience, in some scenes they're on Ma's side, rooting for her to win, and in other scenes they're fighting against her. In an interview with CinemaBlend, Davis explained why she doesn't view Ma as either the protagonist or the antagonist.
The film takes place almost exclusively inside the recording studio where Ma and her band are recording her next album. Late to the session, Ma arrives with various demands that must be met before she'll record. With the film being set in 1927, I wanted Ma to succeed from the get-go simply because she is a Black woman making a record for a manager and producer that are both white. She has a vision and it doesn't match theirs. But then Chadwick Boseman's Levee the trumpeter is thrown into the mix, he's made a better arrangement of the song, and Ma seems hell-bent on stopping Levee's dreams from coming to fruition. This made me see her as the villain. I had the opportunity to to ask Viola Davis about this shift in her character, and here's what she said:
How brilliantly put, and exciting to get an inside look into how an actor may view their character differently than the audience. Understanding that Ma is a woman who knows her worth shifts the view of her. In scenes where her words seem harsh or rude and she may look like a bully, the truth is that she's entitled to certain things as an artist, and she's got to put her foot down to make sure others understand that and accommodate her. Although Ma is in a position to help Levee with his own career, it makes sense that her recording session is not the place for him to ask. Either way, it's up to each viewer to conclude on their own.
I'm convinced there could not have been a better fit for this role than Viola Davis. Whether you love or hate her character scene by scene, she is present. There is not a moment in the film where I didn't feel like I was in the room with her or that I was reminded that I was watching a film. Davis conveys emotion like no other. She truly embodies Ma Rainey and gives a performance that will be remembered for years and years to come.
Ma Rainey's Black Bottom is streaming on Netflix (opens in new tab) December 18. Our official review rated it 4.5 out of 5 stars, so you don't want to miss it. If you love Viola Davis, let us know your thoughts on our ranking of her best performances.
Your Daily Blend of Entertainment News
Obsessed with Hamilton and most things Disney. Gets too attached to TV show characters. Loves a good thriller, but will only tolerate so much blood.
Your Daily Blend of Entertainment News
Thank you for signing up to CinemaBlend. You will receive a verification email shortly.
There was a problem. Please refresh the page and try again.