Songbird Ending: What Happened, And Where All The Main Characters Ended Up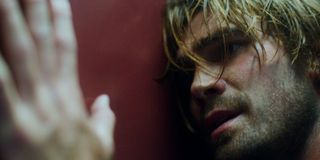 Warning: spoilers for Songbird are in play. If you haven't seen the film yet, and want to remain unspoiled, this is your official warning.
While it looks like a simple, race against the clock thriller, Songbird has a more complex and intercutting narrative. Co-writer/director Adam Mason could have had a more tangled web on his hands, but with the story shorn down to the most basic bones needed to propel the film along its course, there's a lot of loose threads that need to be closed up in Songbird's ending. Thankfully, the movie finds a way to wrap all of the main character's storylines, and even finds a way to give Alexandra Daddario a crucial role to putting the world right. If you haven't seen Songbird, we're about to dive into the nuts and bolts of the ending. So take this as your final signal to turn away from the spoiler zone.
What Happened At The End Of Songbird?
After a tense journey against a ticking clock, Nico (KJ Apa) intercepts his girlfriend Sara (Sofia Carson,) just as she's being brought to a government Quarantine Zone for imprisonment. Handing her an immunity pass bracelet, the guards at the facility check her tag and her ID, confirming she's good to go. If it wasn't for this last minute happening, Sara might have gone away for good, as she was apprehended under suspicions that she may have caught COVID-23 from her late grandmother.
Strangely enough, it turns out that Sara is actually an "Immunie," the new slang term for those who are immune to this newer, deadlier strain of the COVID-19 virus. So Nico's pass not only arrives at the right time, it basically exonerates Sara from the restrictions every other significant character in Songbird is held to. All making up a complex web of figures that made this ending possible, everyone has their own story to tell.
How Nico Saved Sara In Songbird's Third Act
As one could have guessed, Songbird's immunity bracelets could, in fact, be bought through the black market. Piper Griffin (Demi Moore) and her husband William (Bradley Whitford) were the key sources of those bracelets, and Nico's been unknowingly helping them circulate these passes through his job as a courier for Lester (Craig Robinson). After an unsuccessful attempt at trying to have him killed, Piper is eventually visited by Nico, who just wants to get the bracelet he needs to escape from L.A., with Sara by his side.
Convinced he's not going to reveal the operation that she and William have been running, Piper is convinced to create the bracelet Sara will need to show that she's immune. Cue a frantic race against time to intervene on his girlfriend's behalf, and we see Nico saving Sara at the last possible second from being wrongfully entered into a Q-Zone. With that story wrapped, there's another loose thread that finds itself snipped rather effectively as well.
How Alexandra Daddario's Songbird Character Plays Into The Film
Piper wants husband William to make sure their immunity bracelet racket isn't exposed, thanks to a bit of a complication from William's affair with aspiring singer May (Alexandra Daddario). Trying to stop him from harassing her any further, May mentions she has tapes of their illicit encounters together, and part of those tapes contains William's promise to give her an illegal immunity bracelet. Piper finds out about this, and eventually it's on William to clean up this mess, through silencing May by any means necessary.
In a fit of rage, jealousy, and all sorts of emotional disorder, William tries to kill May, heading to her motel room with a purpose. He gets close to his goal, as May's attempt to flee is delayed by a car that won't start. Shattering her window with an oxygen tank, William starts to strangle the woman he's been carrying on with, and she looks like a goner. That is, until her online admirer admirer Dozer (Paul Walter Hauser) saves the day with a weaponized drone, as he shoots William with his remote device of defense.
Where Do The Main Characters Of Songbird End Up
Surprisingly, there's only two casualties in the story of Songbird. In addition to William's death by drone, Sara's grandmother Lita (Elpidia Carrillo) is the only other person to die in the film, as she succumbs to COVID-23. The rest of the major characters in Songbird make it out of the film with their lives, and a potentially sunnier futures, as the upbeat and hopeful message leads to somewhat of a happy ending.
With Nico and Sara escaping LA, they're headed to where the weather is warm and the beaches are inviting. We see them zooming on the highway to their new life together, as we learn from the postcard that Nico sent Lester. That card comes in a package that also includes an immunity bracelet for Nico's former boss, feeling like an invitation for him to escape the city himself. Which is good, considering that sort of invite is about to become more rare to come by.
Piper Griffin swears off selling immunity bracelets, and uses her husband's recent death to her advantage. Pinning the illegal racket she used to help run on her now dead husband, as well as the corrupt head of sanitation in L.A. (Peter Stormare,) Piper and her daughter (Lia McHugh) are now free to live in security. As for May and Dozer, the two are still in contact, and look to have a bit of a relationship blooming through their online correspondence.
Leaving the audience with what those involved intend to be a hopeful message, Songbird drenches its final frames in the California sunlight that we all wish was shining down on us at this particular moment in time. While it's through the magic of cinema, you can practically feel the rays as you watch this film, which is currently available for rental through Video On Demand. If you're ready to take the adventure, it's waiting for you to enjoy in the safety of your own home. Of course, if you're looking for one of the other fresh movies headed your way before the end of the year, you can check our 2020 release schedule and see what's coming.
CinemaBlend's James Bond (expert). Also versed in Large Scale Aggressors, time travel, and Guillermo del Toro. He fights for The User.
Your Daily Blend of Entertainment News
Thank you for signing up to CinemaBlend. You will receive a verification email shortly.
There was a problem. Please refresh the page and try again.