The Prom: The 10 Best Songs In the Movie, Ranked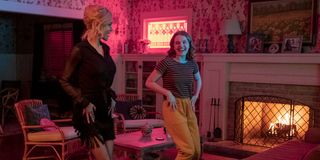 (Image credit: (Netflix))
If you finished The Prom without 'one thing's universal, life's no dress rehearsal' ringing in your head, did you even see Ryan Murphy's Netflix musical? The movie based on the Broadway musical has audiences jumping out of their seats to sing and dance the catchy earworms throughout the sparkly and star-studded adaptation. The movie tells a sweet message about empathy, acceptance and inclusivity. But it's also a big theatre mood, which means we're all for the drama of it all. There can only be one best The Prom song, and this is where we make this distinguishment.
First off, I will be getting into some spoilers ahead about The Prom**, so be warned**! It also should be noted that music is subjective. The song I loved the most may be completely different from the one that most spoke to you, and in a month I may look at this list and disagree with this ranking. It should also be noted that this list will be ranking the quality of the songs after distancing myself a bit from the flashy numbers themselves in the film and putting on the soundtrack itself (opens in new tab). If it was up to the visuals themselves, Nicole Kidman, James Corden, Andrew Rannells and Meryl Streep dancing in unison down Broadway in sequins would have been high in the running. Now, let's get to the ranking:
10. You Happened
In total, there are 19 songs in The Prom, which means not every song makes this list. I chose to leave off the glitzy opening number "Changing Lives," Jo Ellen Pellman's yearning song "Just Breathe," and James Corden's "Barry Is Going To Prom" number, but there's still a ton to gush about when ranking the ten best. At number 10 is a catchy, fun High School Musical-like tune called "You Happened." It's an ensemble piece that revolves around the school's prom-posals going on throughout the school. This is a cute one, but it'll get old, I can just tell.
9. Dance With You
There's nothing like a great ballad in a musical and this one is as magical as they come. Jo Ellen Pellman and Ariana DeBose sound like Disney princesses as the orchestra swells behind them. And when their harmonies combine later on in the song, it reminds me of the power of Idina Menzel and Kristen Chenoweth's Elphaba and Glinda in their duet "For Good" in Wicked. It's a beautiful love song about the simplicity of Emma's hope and dreams at the prom and the scene in the movie certainly sweeps us off our feet too.
8. The Lady's Improving
Meryl Streep in The Prom is purrfect. Her Dee Dee Allen is over-the-top, dramatic and fun. In this third act song, Dee Dee tries to get Keegan-Michael Key's Principal Tom Hawkins back after he was alienated about her initial intentions to come to the Indiana town. Meryl belts out some inspired lyrics about her becoming self aware about her shortcomings. At the same time, it's fun to see Key try to deflect his attraction with funny remarks in between. It's a glowing number that shows off the two actors' chemistry.
7. Tonight Belongs To You
This is the centerpiece tune of The Prom and many lists will place this on top I assure you. It's probably the song that blew away Broadway attendees before the curtains come down for intermission. It starts with Corden and Pellman going shopping before handing off the memorable chorus to more of the cast, including rare bars from Kerry Washington within The Prom. "Tonight Belongs To You" is the most memorable of the songs, which strangely enough for this soundtrack, makes me want to listen elsewhere in order to get the "life's no dress rehearsal" part from growing as a permanent new brain cell to replace a section of my brain.
6. Unruly Heart
The most magical tune to come from Jo Ellen Pellman's debut into Hollywood for The Prom is "Unruly Heart," a song Emma sings in the third act of the movie on her own in her room. "Unruly Heart" also has all the Disney Princess vibes, but a beautiful message behind it about accepting one's self. When the song involves other young people who have watched and identified with her YouTube video, the goosebumps start poking out and The Prom really sings all the right notes.
5. We Look To You
Another sweeping tune that defines The Prom's best moments rounding into the best five is "We Look To You," which Keegan-Michael Key sings to Meryl Streep in an Applebee's during their date. I was not expecting the Key & Peele actor to have such a stunning song moment, but he killed with an emotional number that hits especially hard in 2020, when theater shows have been shut down across the world. The song may not have had the same effect when he says "we look to you, as strange as it seems, when reality goes to scary new extremes" if it had not come out this year. It's more relatable than ever, as musicals and plays like Hamilton have been our lifeblood this year with big-budget movies delayed. It's a beautiful ode to what musicals and Broadway means to us.
4. Zazz
I'm sorry, but the amount of serotonin in Nicole Kidman's raspy voice saying "razzmatazz" and "zazz will make fear become your bitch" in the same song was off the charts. Nicole Kidman is an absolute gem in general, but wow has it been too long since she's done the musical thing. And Moulin Rouge she was not given all this room to be the powerful 5'11 queen she is. "Zazz" is an empowering and funny tune that implements some classic Fosse dance moves and jazz influences. When Kidman and Pellman finally come together to duet for the number, it's pure movie musical bliss.
3. Alyssa Greene
This is probably a wildcard pick for No. 3, but it goes to show how truly great Ariana DeBose is. For most of the show, DeBose plays more so the "love interest" character who does not have as much of an active role in the film as Jo Ellen Pellman's Emma. But, in "Alyssa Greene," we get her entire story and emotion associated with what's going on with her in just two minutes. It's done really effectively in such a short time and makes up for a lot of the moments in the musical where one is probably trying to figure out what's going on with her. This one's an expertly-crafted heartbreaker.
2. It's Not About Me
If you came for Meryl Streep (which is why most of us are here), this is where she truly delivers. Dee Dee Allen makes a grand Broadway approach into the PTA meeting to sing a funny song, full of fun quirks and tango stylings. This is a perfect song for Streep to absolutely kill it and shows some cracks in activism often going on within the entertainment community when an issue presents itself for them to come after. It serves as a great parody for celebrities, it's a fun song-and-dance number and one of the most memorable in The Prom.
1. Love Thy Neighbor
That's right, I believe the jam of all jams in The Prom is "Love Thy Neighbor" lead by the impeccably talented and perhaps underrated Andrew Rannells from Book of Mormon and The Boys in the Band. Not only is the scene in the mall with the ensemble cast incredibly entertaining to watch play out, it's a challenging song about looking at one's beliefs from another perspective. There's a lot of really clever dialogues happening throughout the song, but it's the most foot-stomping, welcome ear worm in The Prom soundtrack, that takes advantage of its cast and score to its outmost degree.
What do you think? What's the best song in The Prom? Vote in our poll below and check out what other big Netflix movies are coming out before the end of 2020.
This poll is no longer available.
YA genre tribute. Horror May Queen. Word webslinger. All her writing should be read in Sarah Connor's Terminator 2 voice over.
Your Daily Blend of Entertainment News
Thank you for signing up to CinemaBlend. You will receive a verification email shortly.
There was a problem. Please refresh the page and try again.