8 Tessa Thompson Movie And TV Roles You May Have Forgotten About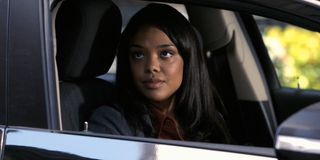 Over the past four or five years, Tessa Thompson has ascended from promising up-and-coming talent to a bonafide A-list star who's headlining major blockbusters, while also appearing in premiere paid cable series. This career transformation didn't happen overnight, though. The actress has demonstrated her talents in a number of movies and TV series over the past 15-plus years, including a handful of high-profile shows that you might not associate with the star. While you probably know Thompson best from movies like Dear White People, Creed I and II, and Thor: Ragnarok, as well as HBO's Westworld, she has also made guest star appearances in several signature shows, while also providing supporting turns in some notable movies. You're forgiven if you've overlooked her presence in these recognizable titles.
Here are a few performances you might've forgotten from Tessa Thompson, including appearances in shows like Grey's Anatomy, Veronica Mars, Rizzoli & Isles, and Heroes.
Scarlet - When A Stranger Calls (2006)
Playing the part of Scarlet, the best friend of Camilla Belle's Jill Johnson, Tessa Thompson made her feature film debut in the psychological horror film, When A Stranger Calls, Simon West's 2006 remake of the 1979 horror movie of the same name.
While this chilly February flick got the cold shoulder from critics, it was a moderate box office hit, and it gave the up-and-coming actress a sizable role in a major studio picture. Indeed, while When A Stranger Calls isn't a classic of the genre, everyone needs to get their start somewhere on the silver screen, and this not-so-scary film ultimately wasn't the worst way to kick off a movie career. Thankfully, Tessa Thompson's future big-screen roles would later prove to be a better showcase of her versatile acting skills.
Jackie Cook - Veronica Mars
As Jackie Cook, a fellow Neptune High School student who doesn't get along with our titular teenage sleuth, Tessa Thompson received one of her first prominent roles in the beloved series, Veronica Mars. In fact, for many viewers, this show served as their introduction to the future star. But, since her part in the series was well before she found starry roles in Dear White People, Creed, and Thor: Ragnoak, to name only a few, it's understandable if you forgot Thompson's involvement in this cult-favorite show. That said, while Thompson only appeared in 22 episodes, she made a big impression, eventually becoming one of Neptune High's most successful alums.
Camille Travis - Grey's Anatomy
Playing the part of Camille Travis, Richard Webber's cancer-stricken niece, Tessa Thompson had an emotional role in the second season of ABC's popular medical drama, Grey's Anatomy. Though the actress only appeared in two episodes, this recurring guest spot provided Thompson with a pivotal part during the show's ratings height. Alas, when Camille returned in Season 4, Thompson had been recast. Still, this prominent television role certainly benefitted her continued career growth.
Zoe Salter - Private Practice
In addition to her brief role in Grey's Anatomy, Tessa Thompson played another, completely separate character in Private Practice, ABC's spin-off, which ran from 2007 - 2013. As Zoe Salter, a pregnant woman whose embryo is mistakenly implanted into another woman, Thompson similarly only appeared in two episodes of this show's 100-plus episode run, though she still played a prominent part. While the series never gained the same popularity as its (still ongoing) predecessor, Private Practice was another major show with a brief-but-meaningful role for Thompson. Each of these performances played its part in expanding her resume and leading to her eventual fame.
Rebecca Taylor - Heroes
Playing the part of Rebecca Taylor, i.e. Becky, an evolved human who can turn invisible, Tessa Thompson can be seen in three episodes in Heroes' fourth and final season. While the actress would soon gain a great deal of fame for playing Valkyrie in the constantly-expanding Marvel Cinematic Universe, it was actually in this show that Thompson got her start in the superhero genre — though her time in this once-popular series was ultimately short-lived.
While Heroes had jumped the superpowered shark at this stage and lost fans to the point of cancellation, the NBC drama was still a big deal for the rising actress. Based on its limited viewership at the time her episodes aired, however, you'd be forgiven if you don't remember Thompson in this genre series.
Nyla/Purple - For Colored Girls
As one of the most increasingly prolific writers/directors/producers/studio heads in the industry, there's a high volume of well-known performers who've worked with Tyler Perry, including Taraji P. Henson, Tiffany Haddish, Gabrielle Union, Alfre Woodard, Kathy Bates, Idris Elba, Kerry Washington, Janet Jackson, Thandie Newton, and Tessa Thompson. Regarding the latter, the soon-to-be-famous actress starred in For Colored Girls, 2010's big-screen adaptation of the acclaimed 1976 theater piece For Colored Girls Who Have Considered Suicide / When the Rainbow Is Enuf.
In what became one of her earliest high-profile roles, Tessa Thompson played Nyla Adrose, who represents the color purple, in this intense film. Certainly, the material is dark and challenging, and this part is one of her most dramatic and devastating. While Perry's movie adaptation wasn't met with an overwhelmingly positive response, the performances were widely praised and it's considered one of his best works. Thus, it gave Thompson a prominent movie part at the start of her best career decade to date.
FBI Agent Anna Farrell - Rizzoli & Isles
In the role of FBI Agent Anna Farrell, Tessa Thompson made a guest star appearance in a 2011 episode of TNT's Rizzoli & Isles. While the procedural crime drama never became a major pop culture hit like some its broadcast competitors, the series kept a dependable audience, resulting in seven seasons and over 100 episodes. Thompson's brief-but-notable Season 2 role came shortly before she starred in BBC America's Copper — previously one of her biggest roles before she would hit the big leagues.
Still, even among the most diehard fans of Rizzoli & Isles, this is probably not the performance that audiences most commonly associated with the rising star. But, as we noted before, the small-but-active role in this dependable cable favorite helped Tessa Thompson gain notice and recognition, particularly as her career grew.
Lady - Lady and the Tramp (2019)
Admittedly, Tessa Thompson's voice-only role in Disney+'s live action(-ish) Lady and the Tramp remake was a pretty high-profile gig for the actress and her A-list career. But, even one year after its streaming debut, Disney's small-screen redo is mostly unremembered, to the point where I, at least, forgot about it completely when I was perusing Tessa Thompson's resume to research this article.
That's not to disparage the movie's general quality, which is relatively harmless, at least as far as Disney live-action remakes go. Rather, it's to note that, if I forgot about it, surely other folks did, too. While it was one of Tessa Thompson's most recent starring roles, in the same year she prominently appeared in Annihilation, Men in Black: International, and Avengers: Endgame, it probably won't be remembered as one of her greatest screen parts. Still, having one-half of the title roles in this shiny remake of a Disney classic isn't a small deal.
Do you remember these Tessa Thompson performances? What are some other forgotten roles from the Men in Black: International actress that you know or love? Let us know in the comment section below!
Will is an entertainment writer based in Pittsburgh, PA. His writing can also be found in The Playlist, Cut Print Film, We Got This Covered, The Young Folks, Slate and other outlets. He also co-hosts the weekly film/TV podcast Cinemaholics with Jon Negroni and he likes to think he's a professional Garfield enthusiast.
Your Daily Blend of Entertainment News
Thank you for signing up to CinemaBlend. You will receive a verification email shortly.
There was a problem. Please refresh the page and try again.