What The Veronica Mars Cast Is Doing Now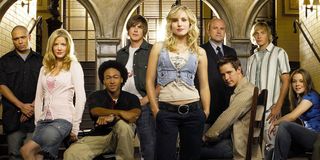 Between its network jumps, its Kickstarter-funded movie, and its late-in-the-game fourth season on Hulu, Veronica Mars hasn't had the smoothest run, but the noir-influenced show continues to amass a loyal following, particularly thanks to Kristen Bell's beloved lead performance. Over the years, Bell and several other cast members, including Tessa Thompson and Krysten Ritter, have found fame, which showcases the detective show's sharp eye for up-and-coming talent. Though, of course, it's possible these stars wouldn't be where they are today if this acclaimed program didn't give them a boost. Who can say? With that said, here's what the Veronica Mars cast is doing now.
Kristen Bell (Veronica Mars)
As the titular teenage investigator, Kristen Bell was given the role that paved the way for her star status. Prior to this performance, Bell starred in Spartan and Pootie Tang and episodes of Deadwood, Everwood, and The Shield. Since then, Bell's profile ballooned enormously, notably with Pulse, Forgetting Sarah Marshall, Fanboys, When In Rome, Burlesque, Scream 4, and the Bad Moms movies. Most notably, Bell provides the voice of Anna in Disney's ever-popular Frozen films. On television, Bell played key roles in Gossip Girl, House of Lies, and Heroes. She also gave a Golden Globe-nominated performance in NBC's The Good Place, which ended its celebrated run in January.
Currently, Kristen Bell is the host and presenter of Disney+'s Encore. She also provided her voice to Central Park, though she recently left the role. Up next, Bell will star in Queenpins alongside Leslie Jones. Additionally, last year, outside of acting, Bell and her husband, Dax Shepard, founded the company Hello Bello, which is a plant-based baby care product line. It's available exclusively through Wal-Mart. And, of course, Bell reprised her title role in Hulu's fourth season of Veronica Mars.
Enrico Colantoni (Keith Mars)
In the role of Keith Mars, the father of Veronica Mars, Enrico Colantoni played a parental figure throughout this teenager-based series, as well as her private detective mentor. Previously, he was best known for his starring roles in Just Shoot Me and Hope & Faith, as well as Galaxy Quest, A.I. Artificial Intelligence, NYPD Blue, and Money Train. In the following years, Colantoni played lead roles in Flashpoint and Remedy, while also starring in Person of Interest, The Mysteries of Laura, American Gothic, and The Good Fight. Recently, Colantoni was seen in A Beautiful Day in the Neighborhood, Feel the Beat, and Westworld. Outside of acting, Colantoni directed episodes of Remedy, Nasty Habits, and iZombie.
Percy Daggs III (Wallace Fennel)
As Wallace Fennel, Veronica's best friend and occasional investigating partner, Percy Daggs III played a prominent role in Veronica Mars. Previously seen in Boston Public, NYPD Blue, The Amanda Show, and Freaks & Geeks, Veronica Mars was easily the actor's most high-profile role. Since then, Daggs starred in the web series, The New Adventures of Peter and Wendy, while also making appearances in iZombie, Undone, and Southland. He also starred in American Son, Detention, In the Hive, and Restored Me. He also reprised the role of Wallace in Play It Again, Dick, and the newest season of Veronica Mars. Recently, Daggs made the TV movie, Christmas in Louisiana. Next, he'll star in Delicate State.
Jason Dohring (Logan Echolls)
In the role of Logan Echolls, Veronica's future husband, Jason Dohring plays a central character in Veronica Mars, both as Veronica's love interest and for his frequent involvement in the ongoing drama. Before this show, Dohring was known for Deep Impact, Baywatch, JAG, and more. In the following years. Dohring played a main role in Moonlight (the show) and a recurring role in iZombie. He also appeared in Searching For Sonny, CSI, Supernatural, Ringer, and more. He also co-narrated the audiobook for The Moral Instruments: City of Heavenly Fire alongside Sophie Turner. He also plays Terra in the Kingdom Hearts video games. He was last seen in You Are Here and All Rise. Next, he'll star in Violet.
Ryan Hansen (Dick Casablancas)
Playing Richard "Dick" Casablancas, Logan's womanizing and trouble-making best friend, Ryan Hansen was a recurring character who became a main player. Outside of Veronica Mars, Hansen is known for Party Down, which was also created by Rob Thomas. He was in the main cast of Friends With Benefits, Bad Teacher, and Bad Judge and he had recurring roles in Burning Love and 2 Broke Girls. He also starred in Superhero Movie, Friday the 13th (2009), G.I. Joe: Retaliation, Jem and the Holograms, Central Intelligence, Hit & Run, Bad Santa 2, CHIPS, Unicorn Store, and, recently, Like a Boss. He was last seen in Fantasy Island and Bless this Mess. Next, he'll star in Friendsgiving. He also played a fictionalized version of himself in YouTube Premium's Ryan Hansen Solves Crimes on Television.
Francis Capra (Eli "Weevil" Navarro)
As Eli Navarro, i.e. "Weevil," Francis Capra played the head of a local biker gang who served as an ally to our titular teen detective. Prior to Veronica Mars, the actor appeared in A Bronx Tale, Kazam, Free Willy 2: The Adventure Home, and SLC Punk. In the following years, he appeared on iZombie, NCIS: Los Angeles, The Strain, Blue Bloods, Friday Night Lights, and Heroes. Next, Capra stars in Shadows.
Teddy Dunn (Duncan Kane)
As Duncan Kane, Veronica Mars' ex-boyfriend, Teddy Dunn played a key role in Seasons 1 and 2. He also appeared in Gilmore Girls, 2004's The Manchurian Candidate, Jumper, Grey's Anatomy, CSI: NY, and Kill Theory, but Dunn quit acting in 2009 with A Good Funeral, morbidly enough, to practice law. He worked for the law firm Walden Macht & Haran LLP until this year, when he became Assistant U.S. Attorney at the District of Columbia United States Attorney's Office.
Kyle Gallner (Cassidy "Beaver" Casablancas)
As Cassidy "Beaver" Casablancas, the central antagonist of Veronica Mars Season 2, Kyle Gallner played an emotionally complex character. Prior to Veronica Mars, Gallner starred in Wet Hot American Summer and Red Eye. Following his time on Veronica Mars, Gallner worked on Smallville, CSI: NY, Law & Order: SVU, Big Love, The Walking Dead, and The Shield. Movie-wise, Gallner is known for Jennifer's Body, The Haunting in Connecticut, Red State, Beautiful Boy, A Nightmare on Elm Street (2010), Dear White People, Beautiful Creatures, and American Sniper. Gallner also starred in and produced 2015's dramedy, Welcome to Happiness. He also played the lead role in the short-lived Outsiders and reprised Beaver Casablancas in Play It Again, Dick. He's currently starring in Interrogation. Next, he stars in The Catch.
Tina Majorino (Cindy "Mac" MacKenzie)
In the role of Cindy MacKenzie, i.e. "Mac," Tina Majorino was a computer hacker who became a good friend and a great resource for our titular sleuth. Outside of Veronica Mars, Majorino is a former child star best known for Andre, Waterworld, When a Man Loves A Woman, Corrina, Corrina, and Napoleon Dynamite. Following Veronica Mars, Majorino appeared in several prominent TV shows, including Big Love, Bones, True Blood, Grey's Anatomy, Legends, and Scorpion. She also reprised her character of Deb for Fox's short-lived Napoleon Dynamite animated series. Most recently, Majorino appeared in Into the Dark. While offered a chance to return for Veronica Mars' fourth season, she declined when she realized it was a cameo.
Michael Muhney (Don Lamb)
As Don Lamb, one of Veronica Mars' main enemies, Michael Muhney played one of the more prominent adult characters in this teen-based mystery-noir series and was often at odds with Veronica. Prior to this show, Muhney had bit roles in JAG, ER, Charmed, Without a Trace, and Numb3rs. Shortly after his final Veronica Mars appearance, Muhney became Adam Newman on The Young and the Restless. Since leaving the soap, Muhney works notably less; his most high-profile appearance was in The Good Doctor in 2017. Additionally, in 2011, Muhney co-wrote, produced, and starred in the indie dramedy, Act Your Age.
Tessa Thompson (Jackie Cook)
As Jackie Cook, Wallace's romantic love interest, Tessa Thompson established herself as an actress through this second season character. Since her time on the show, Thompson became a star, particularly through Dear White People, Selma, Creed I & II, Sorry to Bother You, Annihilation, Thor: Ragnarok, Little Woods, Avengers: Endgame, Men in Black: International, and 2019's Lady and the Tramp. Currently, Thompson is seen on HBO's Westworld. Her other TV credits include Grey's Anatomy, Private Practice, Heroes, and a primary role on Cooper. Next, Thompson stars in Sylvie's Love, which she also produced, and Passing. Thompson also co-produced/lent her voice to the mystery sci-fi podcast, The Left Right Game, earlier this year. Amazon picked it up. We'll also see her reprise her role as Valkyrie in Thor: Love And Thunder.
Julie Gonzalo (Parker Lee)
Playing Parker Lee, Mac's extroverted roommate who goes through a traumatizing event at the start of her freshman year, Julie Gonzalo played a prominent role in Veronica Mars Season 3. Prior to this role, Gonzalo starred in Dodgeball: A True Underdog Story, A Cinderella Story, Must Love Dogs, Freaky Friday (2003), and Christmas with the Kranks, as well as Drake & Josh and NCIS. Following Veronica Mars, including her Season 4 guest star role, Gonzalo stayed on television, notably with Eli Stone, Dallas, and Supergirl, as well as supporting roles in Grey's Anatomy, Lucifer, CSI: Miami, Nikita, and Castle. Most recently, Gonzalo starred in the indie horror-thriller, A Dark Foe, which played on the film festival circuits. Next, Gonzalo appears in the TV movie, Jingle Bell Bride.
Chris Lowell (Stosh "Piz" Piznarski)
Playing Stosh "Piz" Piznarski, Wallace's roommate, Chris Lowell had a fun role during Veronica Mars' third season and its Kickstarter-funded film. Before Veronica Mars, Lowell had a main role in the short-lived teen drama, Life As We Know It. Following Veronica Mars, Lowell earned lead roles in Private Practice, Enlisted, Graves, and, most recently, GLOW. Outside of TV, Lowell starred in Up in the Air and The Help. He also wrote, directed, and produced 2014's Beside Still Waters. Next, Lowell appears in Promising Young Woman and Breaking News in the Yuba County. Outside of acting, Lowell is a vocalist and a harmonicist for the acoustic band, Two Shots for Poe.
Krysten Ritter (Gia Goodman)
As Gia Goodman, a fellow Neptune High student, Krysten Ritter had a recurring role in Season 2 and Veronica Mars' movie adaptation. Prior to that, Ritter appeared in Mona Lisa Smile and Someone Like You. In the years since her time in the movie and series, Ritter's profile rose by starring in one of the lead roles in Don't Trust The B in Apartment 23, a significant part in Breaking Bad, and the title role in Netflix's Jessica Jones — a character she also played in The Defenders. She also starred in such films as 27 Dresses, Listen Up Philip, Big Eyes, She's Out of My League, and Margaret. She starred and co-wrote the 2011 indie comedy, L!fe Happens. She also wrote the novel Bonfire and sings and plays guitar in the band, Ex Vivian.
Amanda Seyfried (Lilly Kane)
As Lilly Kane, Veronica Mars' slain best friend who dramatically altered our main character's life forever, Amanda Seyfried played a small-but-pivotal role in Veronica Mars. Previously, Seyfried was best known for All My Children and As the World Turns, as well as her scene-stealing character in Mean Girls. Since then, Seyfried's profile has risen enormously, notably with starring roles in the Mamma Mia movies, Les Miserables, Dear John, Red Riding Hood, In Time, Jennifer's Body, Chloe, Alpha Dog, Lovelace, First Reformed, Ted 2, Letters to Juliet, and more. She also played significant roles in Big Love and Twin Peaks' third season. Most recently, Seyfried was seen in You Should Have Left and The Art of Racing in the Rain and heard in Scoob! Next, she'll star in Things Heard & Seen, Mank, and A Mouthful of Air, which she also produced.
Syndey Tamiia Poitier (Mallory Dent)
Playing Mallory Dent, i.e. Ms. Dent, Veronica Mars' journalism teacher, Syndey Tamiia Poiter (the daughter of Sidney Poitier) played a primary role during Veronica Mars' first season. Previously, Poitier had a recurring role in Joan of Arcadia and the titular part in Abby. She also starred in Clint Eastwood's True Crime. Since then, Poiter stayed primarily on TV, notably with a main role in the short-lived Knight Rider reboot, as well as recurring roles in Chicago P.D. and Homecoming. She also played brief parts in Grey's Anatomy and Hawaii Five-0, as well as Death Proof, Nine Lives, Clinical, and Too Late, among other film roles. Nowadays, Poitier plays a main role in the Canadian cop series, Carter.
Who is your favorite Veronica Mars actor? Please let us know in the comments!
Will is an entertainment writer based in Pittsburgh, PA. His writing can also be found in The Playlist, Cut Print Film, We Got This Covered, The Young Folks, Slate and other outlets. He also co-hosts the weekly film/TV podcast Cinemaholics with Jon Negroni and he likes to think he's a professional Garfield enthusiast.
Your Daily Blend of Entertainment News
Thank you for signing up to CinemaBlend. You will receive a verification email shortly.
There was a problem. Please refresh the page and try again.