Charlie Kaufman Shares His Feelings About The Criticism Of Netflix's I'm Thinking Of Ending Things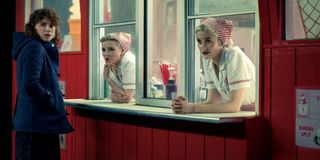 Charlie Kaufman's latest film, I'm Thinking of Ending Things, is the first direct-to-streaming feature from the Oscar-winning director and screenwriter. The genre-bending film, based on Iain Reid's novel of the same name, follows a woman and her soon-to-be ex-boyfriend, played by Jessie Buckley and Jesse Plemons, as they visit his parents' farm in the midst of a blizzard. Since premiering on Netflix in September, it has been met with praise from various critics, including our own. But no film is safe from critique, positive or negative. Kaufman could tell you about that, as he recently spoke out about the criticism has received about the Netflix film.
Getting to his comments is going to require a little backstory. While reading a round up of The New York Time's top films of 2020, in which I'm Thinking of Ending Things was notably absent, Charlie Kaufman discovered a chain of comments celebrating the omission. He then shared his frustration as part of a larger roundtable panel with Indiewire about the movie. At that time, he noted that commenters seemed like they were going beyond criticism of the film, saying things such as "Thank God," and instead taking aim at the director himself:
Charlie Kaufman isn't first director to have his work lambasted by the internet, nor will he be the last, but trashing the director directly feels like it is more common in a large franchise than it usually is for a one-off Netflix adaptation. This isn't the first Kaufman's work has been considered polarizing, either. His unique style manages to stand out in almost all of his projects, including those he didn't even direct.
Fortunately for those who enjoy I'm Thinking of Ending Things, Charlie Kaufman was quickly supported by the rest of the panel, which included filmmaking stars Tamara Jenkins, Yorgos Lanthimos, Boots Rile and Richard Linklater. The panel took time to discuss how they navigate the reactionary waters surrounding their own projects. Richard Linklater, who directed the critically-acclaimed Before Trilogy and stoner-classic Dazed and Confused, offered Kaufman this sage advice to keep in mind when dealing the internet:
On one hand, I get it. The internet can be a scary place. Who needs that? Bleak negativity and sadness permeate Kaufman's work (hello Synecdoche, New York). The man is no stranger to the feeling of inadequacy. He earned his second Oscar nomination for his Adaptation screenplay, which was notably brutal to write. However, it must be near impossible to avoid the online chatter when other outlets are putting I'm Thinking of Ending Things in their top ten films of the year.
Regardless of where I'm Thinking of Ending Things lands on your 2020 film list, it's apparent that Charlie Kaufman's film and signature cerebral intrigue, will continue to polarize audiences for years to come. Well, so long as he can get the financing. I'm Thinking of Ending Things is currently streaming on Netflix (opens in new tab), along with some of his other projects (If you haven't watched Eternal Sunshine of The Spotless Mind you should do that like, right now.) In the meantime, stay tuned with CinemaBlend for the latest updates on movies, television and entertainment news.
Your Daily Blend of Entertainment News
Into tracksuits by Paulie Walnuts, the Criterion Channel and Robert Eggers.
Your Daily Blend of Entertainment News
Thank you for signing up to CinemaBlend. You will receive a verification email shortly.
There was a problem. Please refresh the page and try again.