The Lovely Way Liam Neeson Surprised Frontline Workers Helping Covid Patients In 2020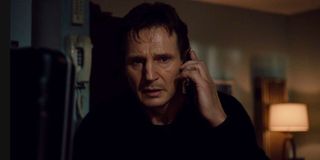 Liam Neeson has carved out quite a niche for himself as an action star over the past several years. He has thrilled audiences with performances in movies like Taken and Honest Thief, and he doesn't seem to be showing any signs of slowing down. However, he did take the time to pause and send a sweet message of gratitude to frontline workers while filming his newest action movie.
While shooting his new movie (Blacklight) on location in Melbourne, Australia, Liam Neeson made an unexpected gesture. He sent flowers and a note of encouragement to the medical professionals working at the Royal Melbourne Hospital. One frontline worker shared photos of the surprise gift on the facility's Twitter page:
It is especially touching that Liam Neeson took the time to find out which unit at the hospital had been designated a COVID-19 unit. While everyone has felt the impact from the pandemic this year, there's no denying that doctors, nurses, and other essential medical workers have faced unique and unprecedented challenges and dangers. The employees of the Royal Melbourne Hospital's Acute Medical Unit were clearly touched by Liam Neeson's gift.
Liam Neeson's new film, Blacklight, is yet another action thriller directed by Mark Williams. According to NME, it will be the first movie to be filmed using the Melbourne Convention and Exhibition Centre. The Australian government has made a push to bring overseas film production to their region this year, and Blacklight appears to be one of the first films that is a product of that effort. After a period that lasted over 100 days and helped curb the spread of COVID-19, Melbourne lifted its strict lockdown measures, making it one of the safer regions in the world for life to go back to normal.
Blacklight may be the first film to be made in Melbourne's Convention and Exhibition Centre, but it is one of many films that has faced unique logistical challenges this year due to the ongoing pandemic. Studios have halted and delayed the production of countless projects.
Those that have resumed filming this year adopted unprecedented safety protocols to try to curb the spread of the virus on sets around the world. Films like Jurassic World: Dominion and Red Notice required cast and crew to quarantine and undergo regular testing for COVID-19.
It's unclear exactly what safety measures are being taken on the set of Blacklight, but his gift to the frontline workers make it seem as though Liam Neeson is well aware of the importance of following pandemic protocols. Hopefully, he and the rest of the Blacklight crew will be able to complete production safely in the coming weeks. There's no word yet on when we can expect to see Blacklight.
Your Daily Blend of Entertainment News
Thank you for signing up to CinemaBlend. You will receive a verification email shortly.
There was a problem. Please refresh the page and try again.