Gal Gadot Reveals The Tough Challenges Of Filming Netflix's Red Notice During A Pandemic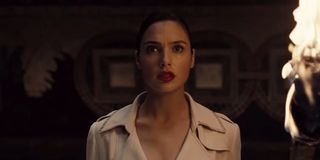 As Hollywood has started to get back to work in the midst of the COVID-19 pandemic, its biggest stars have gone out of their way to let fans know they're staying safe. Some have even been up front about just how challenging it is to film a movie in these unprecedented times. Gal Gadot is among them, as she's shared some insight into what life was like on the set of Netflix's Red Notice.
The action comedy, which also stars Dwayne "The Rock" Johnson and Ryan Reynolds, shut down production in March. While the delay was initially set to last only two weeks, it stretched on for months as the global situation with the pandemic worsened. Ultimately, the cast and crew didn't make it back onto set until this fall.
Before she headed back to work, Gal Gadot uploaded photos of herself getting a COVID-19 test to her Twitter account. Now, it appears she has finished filming Red Notice -- and she opened up about the experience of working with the threat of the pandemic in a gracious message on Instagram:
Gal Gadot also made sure to pay tribute to the film's director and her co-stars and let fans know that all the hard work the Red Notice crew put in will be worth it:
In late September, Dwayne Johnson also shared an update from the Red Notice set, where he detailed all the precautions the crew was taking as production rolled along. They included wearing face masks and face shields and establishing multiple zones to keep the more than 300 crew members safely socially distanced while on set.
Despite the new safety measures, it seems as though Gadot and her co-stars had plenty of fun together on the set. This spilled over into social media, as Ryan Reynolds took a friendly jab at Dwayne Johnson.
Netflix is currently planning to release Red Notice in 2021. Stay tuned to CinemaBlend's 2021 movie release guide for more information!
Your Daily Blend of Entertainment News