Mark Hamill, Billie Lourd And Star Wars Fans Pay Tribute To Carrie Fisher On The Anniversary Of Her Death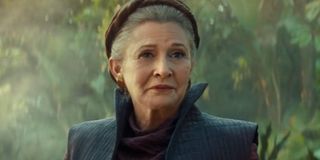 To say the last four years have flown by would be an understatement. It seems like just yesterday that it was 2016, the year we faced a lot of devastating Hollywood deaths, including Carrie Fisher's. When she passed away on December 27th at the age of 60, she left behind countless loved ones and fans. From co-stars like Mark Hamill to family members like Billie Lourd and millions who never even met her, many took to social media today to remember her on the anniversary of her death.
Carrie Fisher's breakout Hollywood role was as Princess Leia Organa in Star Wars. She cemented her place in cinematic history with that role and also developed several off-screen friendships that lasted the rest of her life. That, of course, included her Star Wars co-star Mark Hamill, who honored her with a short but meaningful post on Twitter:
The broken heart emoji is seriously a mood -- and a sentiment shared by Carrie Fisher's daughter, Billie Lourd. She used a different social media platform to reflect on her mother's death, but her post was every bit as meaningful:
Her thoughts on universal grief feel especially poignant this year. Her sadness over Carrie Fisher's death was also shared by countless fans, who joined together under the #AlwaysWithUs hashtag on Twitter to reminisce about what the actress' legacy means to them. One fan on Twitter shared a collage of photos of the actress during her Star Wars days as they poured out their own grief:
Many other fans shared their favorite words of wisdom from the actress. One of her most famous sentiments is a memorable quote about living life in spite of fear:
The late actress' legacy was one that had plenty of reach. As proof of just how long-lasting Carrie Fisher's legacy will be, other fans shared personal anecdotes about what she meant to their lives:
Before Carrie Fisher passed away, she endeared herself to all those who loved her with her unforgettable combination of humor, intelligence and honesty. She talked candidly about her life in Hollywood and her struggles with addiction and mental health, which made it easier for many to be open about their own struggles.
The last role Carrie Fisher filmed footage for was, perhaps fittingly, General Leia Organa in 2017's Star Wars: The Last Jedi. Despite this, movie magic allowed for her character to appear one last time in Star Wars: The Rise of Skywalker.
Regardless of whether you knew Carrie Fisher from Star Wars or from other roles, or maybe even as an author, it's impossible to deny the impact she had on several generations of fans. It probably goes without saying, but it we will be mourning her loss for years to come and celebrating the work that she gave us while she was here.
Your Daily Blend of Entertainment News
Thank you for signing up to CinemaBlend. You will receive a verification email shortly.
There was a problem. Please refresh the page and try again.